Hosted Contact Center vs. Cloud Contact Center: Which One is Best for You?
Hosted Contact Center vs. Cloud Contact Center: Which One is Best for You?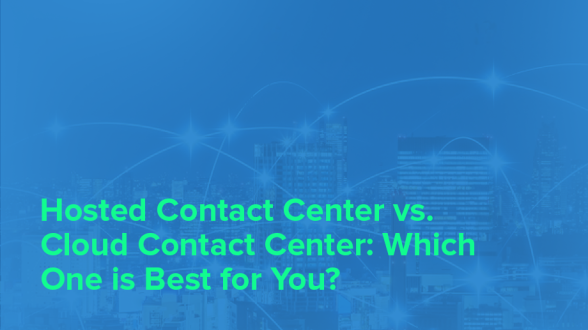 Today, customers have an array of options for contacting businesses, be it through phones, emails, text messages, or other online sources. A cloud-hosted contact center or contact center deals with these communication channels so companies don't miss out on critical communication opportunities with their customers.
However, as per a North Ridge Insight report, post-pandemic, first contact resolution times have decreased from 53% to 42% increasing frustration and leading to greater churn rates.
Our latest contact center performance report reiterates these findings. Abandonment Rates have trebled from 2019 to 2022 revealing an increasing impatience amongst callers. This puts an added pressure on agents who are expected to level up & provide faster responses.
The bottom line is customers want their queries to be resolved as quickly as possible. In fact, the speed of query resolution is forecasted to be the number 1 CSAT driver in the coming years. 
To meet these customer expectations in an agile and efficient manner, many companies are turning to cloud or hosted contact centers. Businesses find that these solutions help them minimize costs, maximize customer experience, and stay up to date with the latest technology. 
But as a business owner, you might be confused between an on-premise contact center, hosted contact center and cloud contact centers. Which is the best option for your business?
This article explores the differences between a cloud and hosted solution and helps you decide which one is right for your business.
Other top negative experiences that customers face include:
66% face problems in accessing live support.
73% experience long waiting times to reach an agent.
60% have to repeat information multiple times.
In this article, we will explore:
What Is a Hosted Contact Center?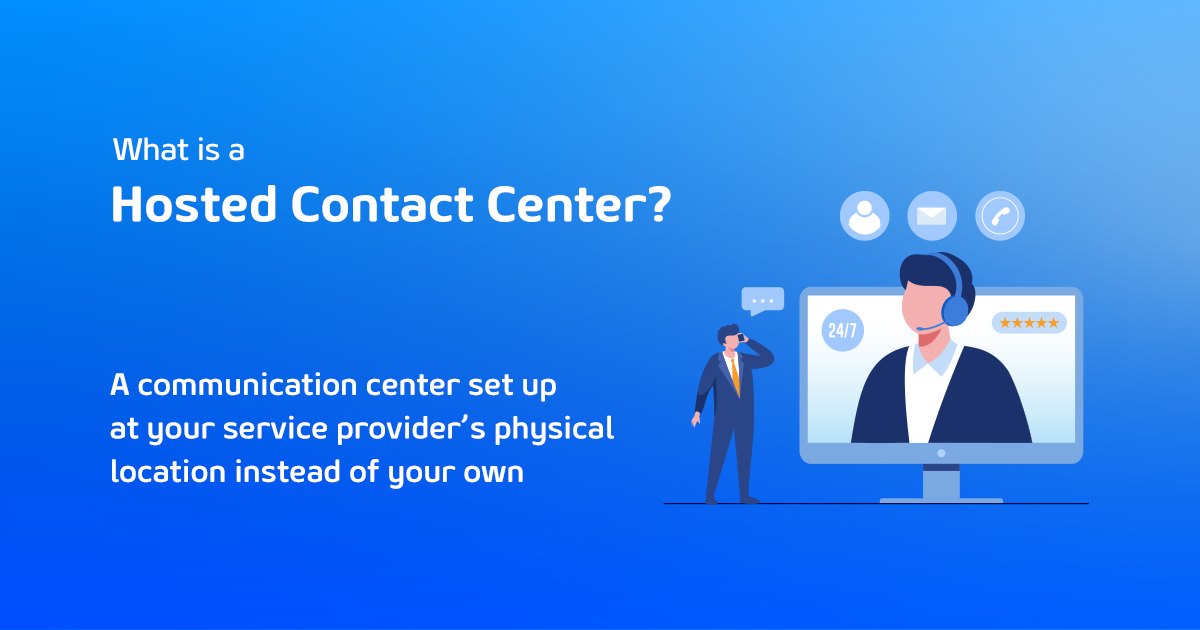 A hosted contact center is a step ahead of a traditional contact center. In a hosted contact center, the server and hardware for your communications is hosted off-site at a service provider's location. 
A third-party service provider or manufacturer manages it, and your team can access it from anywhere at any time by connecting to the remote server using a network connection.
Hosted contact centers require low maintenance and low investment costs. This makes them an ideal option for businesses looking to reduce operating costs. On the downside, since the technology still depends upon physical hardware, it isn't that flexible when it comes to upgrades and integrating the latest technologies. 
Hosted contact centers also offer a hybrid approach where some infrastructure is on the premise, and some are on the cloud. It's important to note here that hosted contact centers allow companies to communicate across various channels, like calls, emails, live chat, instant messages, social media, and SMS text.
Depending on your service provider, these contact centers may also provide features like:
Interactive Voice Response (IVR) to provide call routing features.
Auto-dialers to handle repetitive calls and minimize agent idle time.
call accounting solutions to track inbound and outbound calls.
speech analytics to gather insights and improve agent training.
What Is a Cloud Contact Center?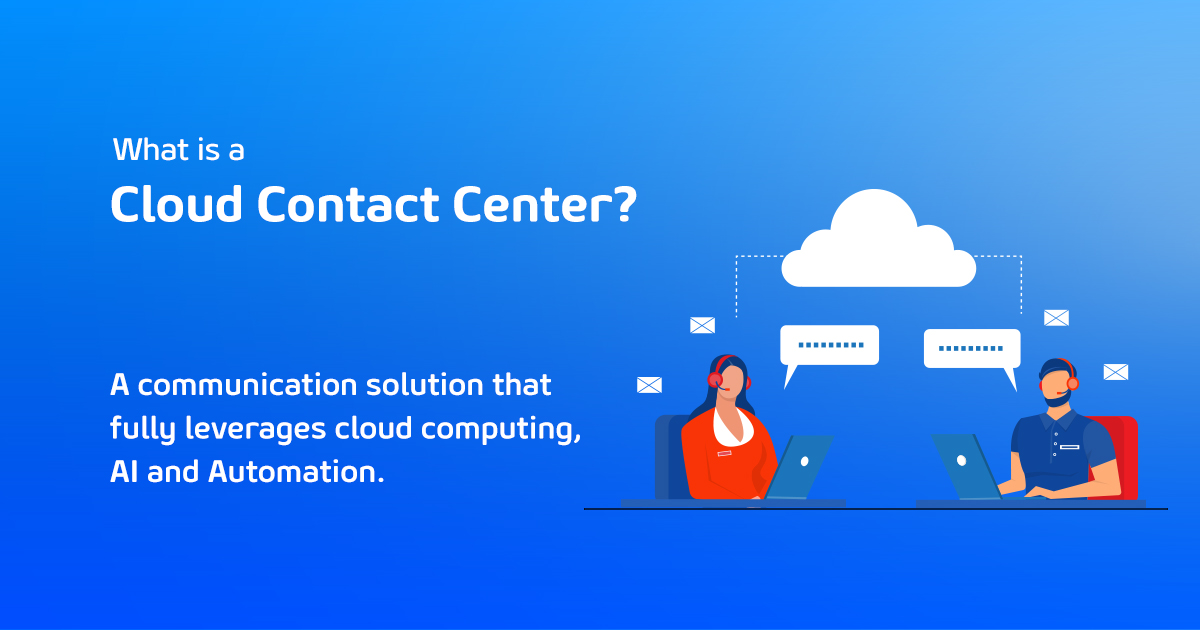 In a cloud contact center setup, the entire contact center is run via cloud computing. In place of dedicated physical servers, the entire solution works on a virtual service with Voice over Internet Protocols. 
When compared to on-premise and hosted contact centers, this solution is the most agile and easy to upgrade. Because there is no geographical dependency, this solution also offers you higher resilience.
Typically, Call Monitoring software has these features:
Unified call recording and monitoring (desktop, voice, and mobile screens).

End-to-end call recording security and data compliance as per the latest guidelines including CCPA and GDPR.

Automated agent performance analytics and data reporting.

Track call idle time and interruptions.

Next-gen AI-based analytics.

Content Management for sales enablement, agent training, and coaching.
On-Premise Vs Hosted Contact Center: What Is the Difference?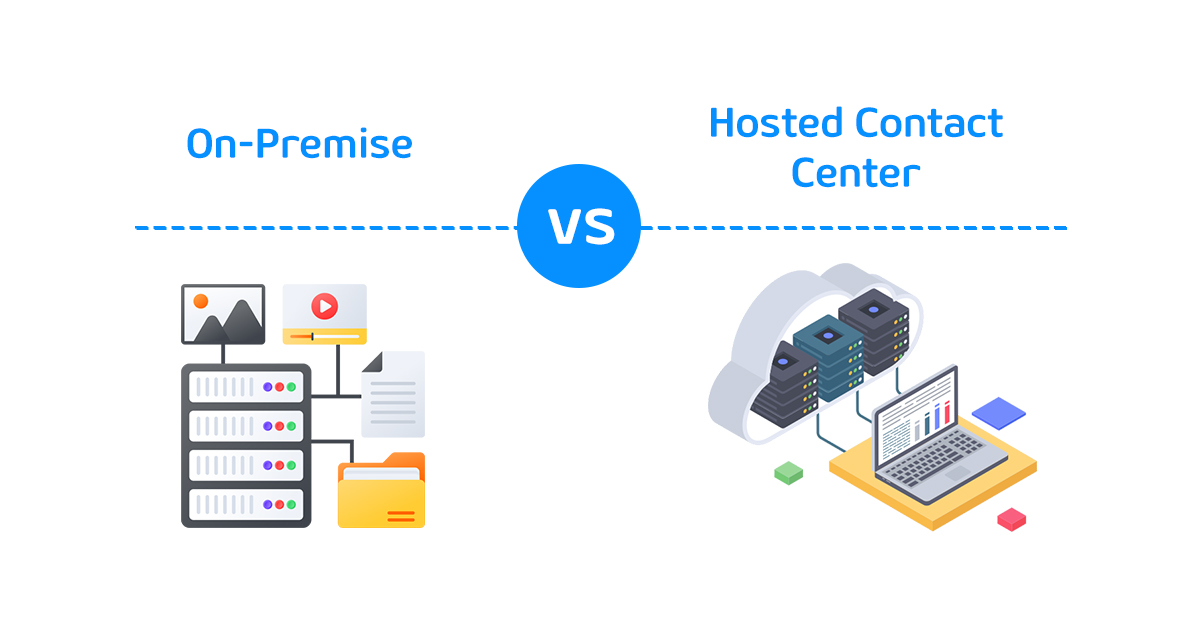 On-premise contact centers are hardware-based and on the traditional spectrum of things where everything like communication hardware, software, dedicated communication servers, and other infrastructure is located at your organization.  
These contact centers are generally cost-heavy as they require regular maintenance, updates, installation, and upkeep of servers, headsets, and other integration support. You will also need an on-premise IT team that takes care of all these things and resolves problems if anything comes up. This is in stark contrast to hosted contact centers that don't require you to have anything on-premise. This also means your business doesn't have to invest in an IT team or cost-intensive infrastructure.
 Below are a few advantages of opting for hosted contact centers:
Service providers maintain these contact centers, which are usually very secure, and some also offer multi-site redundancy for assurance against downtime or other problems.
The provider is responsible for the upkeep, maintaining, and upgrading, so you don't have to invest in IT professionals or have an on-premise team to look after these activities.
 You can quickly get everything set up compared to on-premise contact centers.
You can get customized solutions as per your requirements, but they may demand an additional price.
Cloud Contact Center Vs. Hosted Contact Center: What's the Difference?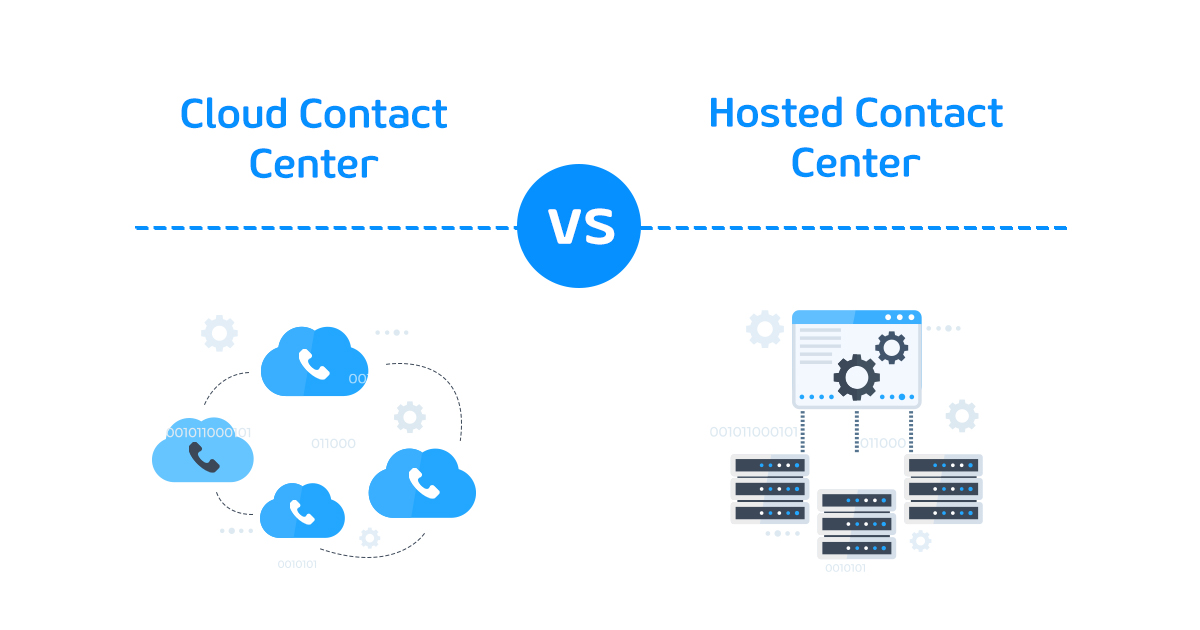 Cloud contact centers are hosted in the cloud by a business server, and you can interact with your customers from anywhere using an internet connection. Your team just needs to have enough internet access bandwidth to accommodate all the users. Many businesses are increasingly shifting to these cloud contact centers because of their advantages for remote work.
Although a cloud contact center and a hosted contact center might sound similar, there are several differences between them. While both hosted and cloud contact centers save you costs because there is no need to implement a heavy-scale infrastructure on your premises, cloud contact centers are preferable as you can easily scale operations as and when needed.
As there is no reliance on physical servers, you are also assured that there will be less downtime or chances of malfunctions when it comes to cloud contact centers. You can also enjoy a level of business continuity resilience that neither hosted nor on-premise contact centers can offer.
Another difference is that hosted contact centers have traditional, expected features, but if you are looking for advanced technologies and regular updates that you can make yourself, cloud contact centers provide you with that chance.
Limitations of Hosted Contact Centers
Although hosted contact centers are a step above on-premise solutions, they still lack scalability characteristics like those in cloud-based alternatives. This is important for those industries that face a lot of seasonal fluctuations and may need to scale up or down quickly.
You may not get access to new features and functionalities as quickly as in cloud solutions.
It costs more than cloud contact centers. The reason is that cloud solutions eliminate all parts of data center management that involve expenses and people required.
 You are still tied to physical servers, and this solution can be less resilient as it relies on specific direct network connections and servers.
Why Are Cloud Contact Centers a Better Alternative?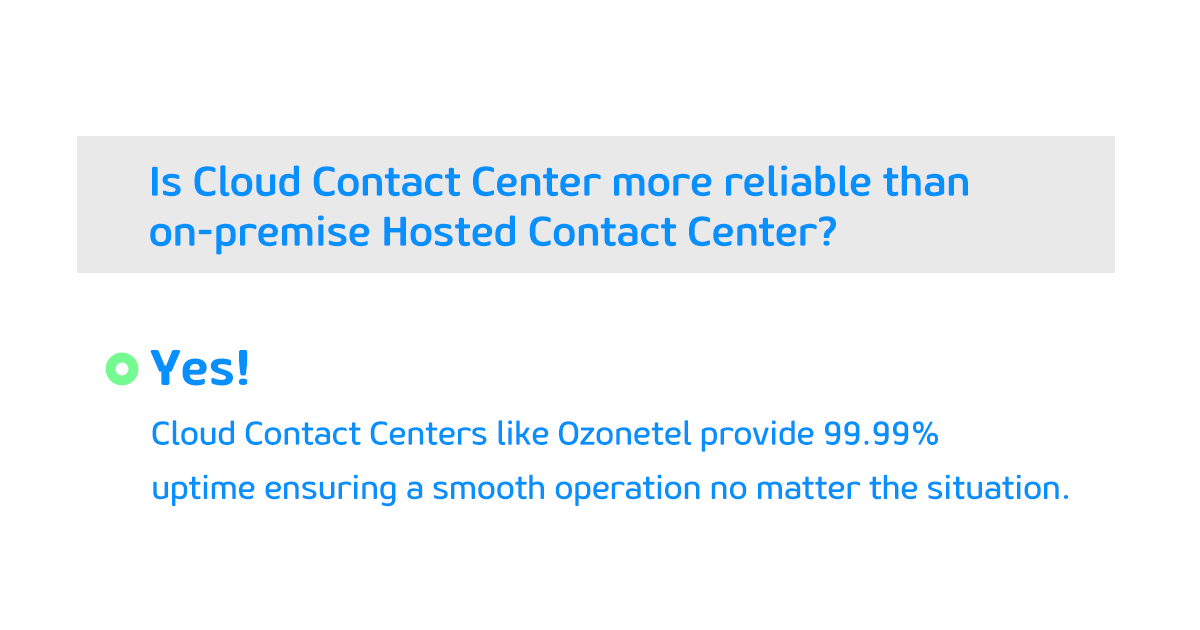 The world is shifting to the cloud, and there couldn't be a better way to manage your contact centers. Your team can access it even if they are working remotely, and you don't need to manage all the different data as the storage happens on the cloud.
 You would be surprised to know that 60% of the world's corporate data is stored in the cloud.
 But why should you shift to a cloud-hosted contact center?
Here Are Five Strong Reasons Why:
Everything in a cloud contact center happens online — the processing, data, call handling logic. Because of this reason, these centers are easily scalable and flexible.
You can access things from multiple devices like tablets and phones if you have an internet connection. 
Your business can save a lot of money as these solutions are often cost-effective. A major reason is that they don't require physical space and any kind of infrastructure, saving you high equipment and utility bills.
Managers can have visibility into contact center operations worldwide if your business works in multiple locations.
You don't have to spend on maintenance and get automatic upgrades and new functionalities quickly.
All these benefits allow your contact center agents to focus on high-value activities instead of administrating and maintaining equipment.
In fact, according to a survey by Deloitte, 75% of contact centers plan to move to the cloud within the next two years. And that is primarily because of certain features of a cloud contact center that differentiate it from the rest. They are:
Live dashboards to monitor the contact center's operations.
Advanced features like integrated voice response, queue call-back options, personalized messages, data analytics, speech recognition, and more.
A pay-as-you-use model that saves costs.
Highly scalable and flexible.
No requirements to maintain specialized staff to handle the technology.
A 360-degree omnichannel experience.
Migrating from Hosted Contact Center to the Cloud: Things to Consider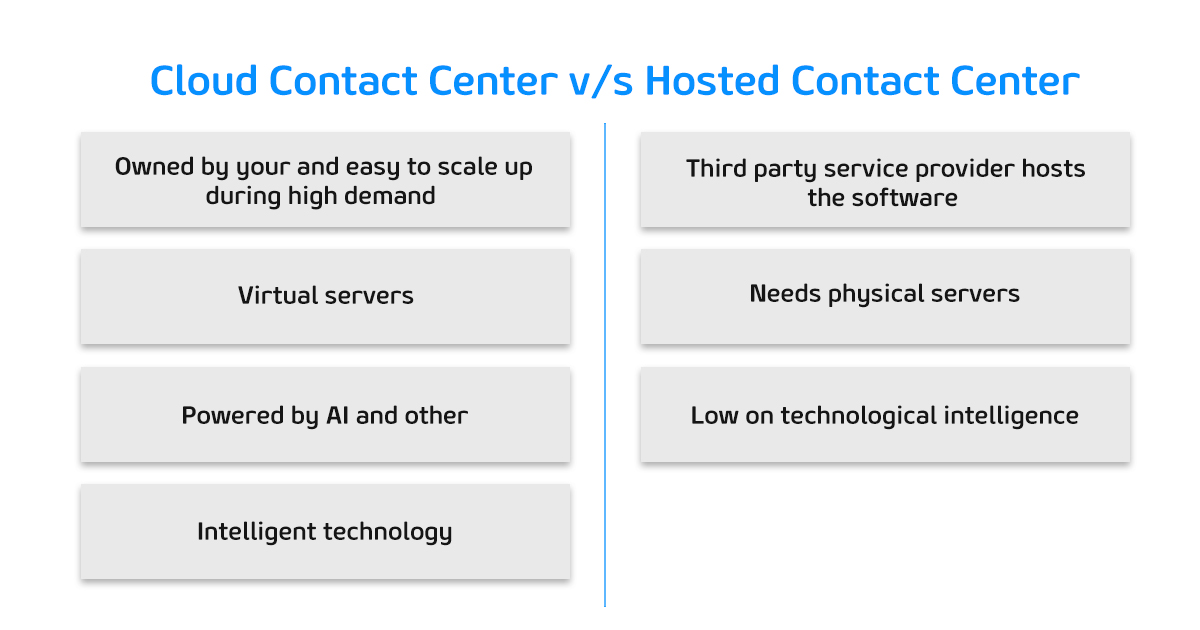 Shifting from hosted contact center to the cloud requires you to take care of a few things. 
 Ask yourself the kind of communication channels your contact center will need to manage. Depending on that, you may opt for an omnichannel contact center.
 Do a thorough study of the various CCaaS solutions available. Also, discuss with your cloud provider if they can meet various regulatory compliance levels, data encryption, data security, etc. And ask if there are any APIs so your team can build custom integrations. If not, does the provider have in-built integrations?
Develop a detailed migration plan with concrete timelines and all the terms mentioned in the agreement. Then, figure out the downtime that will be there during the actual transition and create an effective plan to address the gaps and issues that might arise during that time.
 Train your agents in operating the new system and the changes that might apply to their daily work.
For instance, when you choose Ozonetel, you get access to an intelligent and state-of-the-art CCaaS solution that comes equipped with a suite of features like:
Powerful CTI integrations – Click to call, Auto logging, screen pops, Unified Windows, and advanced APIs.
Power Dialers – Predictive dialer, Power Dialer, and IVR dialer.
AI-based features – Voice bots, chatbots, and speech analytics.
Agent Dashboard – Call forwarding, Customized hold music, and Call controls (one-click mute, blind transfer, hold, and warm transfer).
IVR Features – Self-Service, Conversational IVR, and Drag and Drop Interface.
Conclusion 
The future of contact centers belongs to the cloud. When you decide to move to the cloud, it needs to align with maintaining your organization's competitive advantage as well as achieving its objectives. You need to deeply assess every part of the revamp plan, the overall impact on the IT infrastructure along with all the possibilities and outcomes.
With Ozonetel's contact center solution, you can cut operational costs, go live within a day, and get access to many integrations. Not only that, but you also get access to many powerful features like power dialer, predictive dialer, IVR, intelligent routing, screen recording, and a lot more to make work easier and faster for your team.
 You can try the platform's features today with a free trial of 21 days. Subscribe now.
Frequently Asked Questions