Maximizing Efficiency: Four Ways to Speed Up Your Customer Service
Maximizing Efficiency: Four Ways to Speed Up Your Customer Service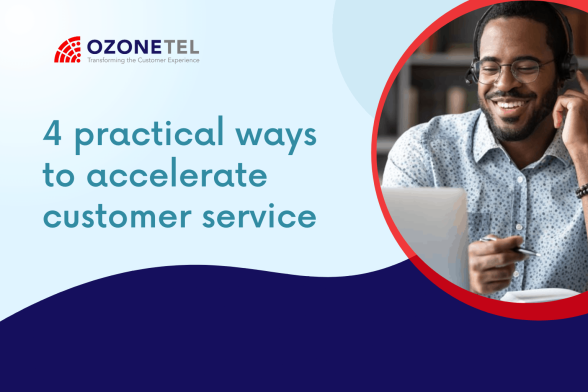 Customers want agents who truly understand their issues on a human level, they want empathy. However, empathetic customer service doesn't always translate to long, warm-hearted conversations. Often, customers want quick and simple resolutions; in such cases, the empathetic behavior would be to provide fast support and respect their time.
In this blog, we explore four ways you can give your customers the fast customer support they crave, even as you scale up your business.
In this article, we will explore:
Four ways to give your customers the fast customer support they crave
1. Self-Service:  Give instant options to customers.
Self-service isn't just a great method to make your customer support faster and more efficient, it's also what your customers want. According to Harvard Business Review, across industries, 81 percent of customers first attempt to take care of matters themselves before reaching out to a live customer service representative. 1
Self-service also makes your business available to customers 24 x7 and often makes simple transactions like cancellations faster. Moreover, based on our various self- service implementations, we've noticed that every query that you can answer with self- service makes your contact center 12% more efficient by increasing your ability to manage higher chat and call volumes and making call and chat queues shorter. 
Of course, as Sue Duris mentions in her recent blog that "it is important for an organization to know which customer support activities should be automated and those that require live agent help". 
And this leads us to our next method to improve customer service, efficiently routing queries to the right agent.
2. Queue Management: Fast access to high-quality agents
Not all queries can be answered by chatbots and voice bots. To prevent customer frustration, it is critical that you route customers to live human agents as soon as the conversations become too complex for your bot to handle. 
However, the entire experience is ruined if the customer then has to wait in a long call or chat queue before the live agent can speak to them. Across industries, the average time callers waited in a queue to speak to an agent was 37 seconds. Yet some businesses ensure that 95% and more customers speak to a live agent within 10 seconds of reaching their call center. How do they do this?
Yet despite your best efforts, Fine you may not be able to answer every single customer within 10 seconds or less. Also, you may not yet be ready to invest this heavily in expanding your team. Thirdly, if you have peak loads at certain hours, you may need to solve the problem of distributing work evenly throughout your agents' shift timings. For all these three reasons, automated callbacks can be the answer
3. Automate Callbacks
Offering automatic callbacks is just one more way businesses' can acknowledge the value of their customers' time. What a customer finds most frustrating about being made to wait in a call queue is the disrespect for their time. If you cannot answer a customer's call or chat within 10 seconds or less, you can offer to call back. 
You can use automated callbacks to speak to customers who may have abandoned your call queue too. 
Automated callbacks work on a simple premise where they assign calls to agents whenever these agents are idle. 
Here is how it works
Many businesses that use automated callbacks have found an increase in customer satisfaction rates. Moreover, many callers opt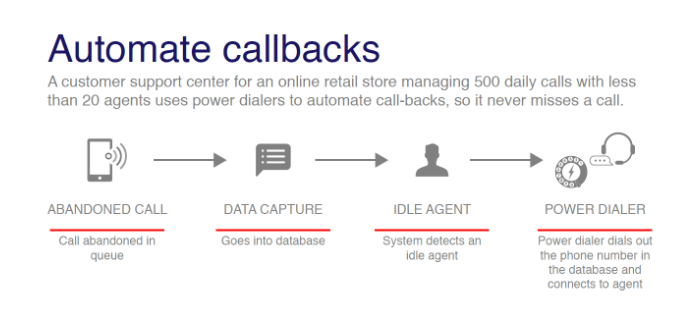 for a callback option, leading to shorter call queues, and faster customer service for those callers who need to speak to your agents more urgently.
4. Improve efficiency with Integrations
To run an efficient contact center, it is very important to integrate the various technology pieces that your business uses. For instance, your contact center software needs to deeply integrate with your CRM tools. This simple move often boosts agents' efficiency by 30% or more, leading them to close calls/chats faster and be available for more customers.
Other integrations your business can consider is an integration of your call center software with Slack or any other productivity tool you use. This enables call center managers to get faster "call queue" and "abandoned call" alerts, so they can take action faster when things slow down at your customer support center. 
Businesses can enable self-service using various technologies:
By creating a customer-facing knowledge base.
This includes your FAQ pages, tutorials, and guides.  Use your customer conversations to determine what kind of content you should provide to your customers. For instance, check your call recordings, call dispositions, and L1 tickets to understand what resources your customers most frequently seek out.
Via chatbots on their website and apps.
Chatbots can answer queries 24 x 7 on your website, app, and even on your google chat.  AI-based chatbots can handle most L1 queries quite efficiently. They can answer FAQs, lead customers to the right web resources, transfer calls to a live agent, or schedule appointments if the agent is unavailable. 
Using self-service IVR on their voice channels.
Self-service IVR can answer calls and offer assistance via DTMF input menus or conversational AI. They can update ticket or delivery status, answer FAQs, take down voice messages, or direct  callers to the right agent.
Here are their call/chat queue management best practices. 
Skill routing. Skill routing distributes calls to various departments. Because each department specializes in a task, they handle it more efficiently leading to lower handle times and higher agent availability.
Accurately project call and chat volumes based on your historical reports. Use the Reports within your contact center software to analyze call/chat volumes and peak load times so that you can plan staff accordingly.
Train agents. Agent training plays a key role in helping agents to respond faster, communicate efficiently, and wrap calls/chats faster. Invest in regular training to keep your team working at its optimum, and this, in turn, will enable shorter call/.chat queues.
Conclusion
Offering great customer service is no longer just a 'nice to have'-it is fast becoming the key differentiator between business success and failure. In other words, if you snooze, you lose. Luckily for you, Ozonetel has been built with the express purpose of providing quick service. 
While the role of planning and training cannot be understated, technology plays a key role in creating faster and more efficient customer service. Want to see what truly fast customer service looks like in action? Request a demo of our flexible, feature-rich, easy-to-set-up contact center software today.