Exploring the Evolving Customer Service Industry With Mike Aoki
Exploring the Evolving Customer Service Industry With Mike Aoki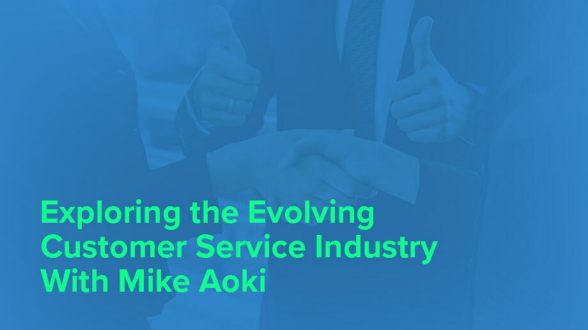 The customer experience (CX) industry isn't always easy to pin down. In addition to moving at a blinding pace on a daily basis, the way businesses handle consumer interactions evolve over time. This naturally raises the question: What goes into impactful customer service, and how will things look in the days to come?
We sat down with Mike Aoki of TMG International to explore these questions and more. With twenty five years of experience in customer experience, sales, and management training – including everything from being an agent to becoming a thought leader – Mike has witnessed change firsthand. Here's what he had to say.
In this article, we will explore:
How have customer conversations and communication channels evolved over the years?
We kicked off with a topic truly fundamental to customer service: How people talk to each other.
Years ago, most contact center communication took place over the phone. As technology changed, however, so did people's preferred methods of interaction – Today, phone calls account for less than half of communications, while emails and chats have come to predominate interactions.
Mike also pointed out that not everything is fresh and new. Helping people is still the most important goal of customer service.
How have agent requirements evolved to keep up?
Mike said that one of the biggest changes he's seen involves the skills agents must possess to perform well in challenging customer service environments.
Having a good phone voice and excellent verbal communication skills were once the most important job skills an agent could possess. Now, the focus on written communication demands they be able to write and adapt to the difference in formality during chat and email conversations.
How have channels and customers evolved?
Agents aren't the only ones who need to juggle between vocal and written communication. Modern contact centers that may have once concentrated solely on phone intakes are branching out too.
Some organizations solve this problem by focusing on one channel. Others take a blended approach that requires their agents to have skills in both areas.
When it comes to customers, Mike noted that the general public enjoys far more access to information than it once did. Thanks to the internet, people may even be more knowledgeable about products than the agents themselves. Consumers are also more demanding and impatient, particularly in the wake of events like the pandemic.
These factors can result in higher stress levels for agents – who commonly encounter patients that simply want to vent. Successful customer service staff can't get by on the old skill sets alone: They also require a higher level of emotional maturity.
How do we deal with angry customers?
According to Mike, agents can't handle angry customers without help from their organizations. It's up to leaders to establish healthy boundaries for their teams, and it's critically important that these frameworks draw a line in the sand regarding acceptable customer behavior towards agents.
Setting rules is just the beginning: Organizations also need to let their agents know they've got their backs when customers use racial, ethnic, or sexist slurs and other forms of profanity. Agents should also know they don't have to settle for threats of physical violence, and creating a code of conduct can help set the right tone.
Mike said it's important to train agents early. For instance, a customer might be yelling about how unhappy they are, but if they're not swearing, the agent still needs to help them – it's a normal part of customer service. In such a case, your agents should already know what to do because you've trained them on how to de-escalate situations and calm people down as a coping mechanism.
Once again, this takes emotional maturity and intelligence, but you can't expect agents to master such skills without help. Leaders must train their teams, including their least-experienced members (who often end up dealing with the angriest customers!) on effective ways to fix upset-customer situations. In addition to teaching agents to use calming conversational techniques, leaders should instill in them the value of demonstrating empathy, such as by acknowledging when customers are upset.
Effective Thought Leadership in CX
Mike also pointed out a potential leadership hitch he's grappled with firsthand: In a corporation, it's easy to get so wrapped up in the day-to-day challenges and operational issues that you lack the time or mental capacity required to look outside of your company.
The problem with falling into this trap is that such tunnel vision makes it impossible to stay current on industry trends and best practices. Mike suggested broadening your horizons, whether this means attending CX industry conferences or reading trade journals and websites.
Mike also said that networking is crucial, even if today's post-pandemic virtual business model makes it harder. No matter how you accomplish it, you need to make an effort to promote leadership outreach that keeps fresh ideas flowing: Leaders who fail to explore new perspectives end up siloing their own companies and limit their development potential.
How do contact centers contribute to overall business outcomes?
Mike said that in most organizations, contact centers don't receive the attention they merit. People tend to view customer service as a kind of catch-all – something that merely picks up where customer experience fails.
Mike pushed back against this idea, maintaining that while marketing teams typically have an optimistic outlook, customer service staff have to be realists. For instance, imagine that your marketing team rightfully predicts that 99 percent of customers will love a product and only 1 percent will call in with complaints. That lone 1 percent still accounts for 100 percent of what the customer service team has to deal with – which could account for thousands of calls.
Mike also said that this tug of war shouldn't be the norm – or even exist at all. In his experience, companies that work well exhibit a high degree of organizational alignment. For example, many create cross-functional teams where marketers consult with customer service specialists to look at what could go wrong with product launches – not just what might go right.
Your goal should be to proactively prevent problems from happening in the first place. Bear in mind that this strategy only works with efficient, intentional cooperation.
Workplace Culture and the Gaps in Modern Contact Centers
Modern contact centers are increasingly remote. As Mike pointed out, however, workplace support systems haven't caught up with the trend. 
This problem reflects the fact that today's working setups tend to isolate employees. Work-from-home agents routinely talk to customers, but they've grown increasingly distant from their professional peers.
The onus is on team leaders to be lifelines for agents. Companies must train their managers to serve as anchors in their support systems. Those that don't will find it incredibly tough to retain agents in highly competitive job markets.
Humanizing Contact Center KPIs to Close the Gaps Between Technology and People
KPIs are important, but directors and VPs need to pull back and take in the broader human picture too. For instance, focusing on factors like agent turnover and absenteeism as bellwethers of organizational health and job satisfaction can dramatically improve attitudes and make it easier to correct problems.
Staffing metrics are just as vital as understanding performance results. Mike suggested using tools like attitude surveys and other inward-facing indicators to improve your workplace, but he also added a warning: These solutions work best when you apply them in advance – not after a problem has already cropped up.
Workplace Culture and the Gaps in Modern Contact Centers
Employees need to feel heard. Agents are no exception, regardless of whether they're onsite or working remotely. In addition to providing organizational lifelines, companies need to go beyond simply putting bandaids on issues.
Mike underscored the importance of not only hearing customers' voices but also listening to employees' concerns regarding workplace challenges. For instance, you might close a feedback loop by having your IT team troubleshoot a common customer problem to relieve pressure on frontline agents. This could increase engagement by showing your team that they're not constantly fighting uphill battles because you're invested in doing what it takes to make their lives easier – and building on their input with real action.
Communicating positive feedback from customers goes a long way. Instead of just telling agents where they're falling short, sharing successes at the individual and departmental levels can help your team feel like they matter.
Stress Management Within Contact Centers
Stress is a problem across the board at contact centers – but somehow, it tends to get overlooked. Being empathetic takes energy, and people outside the industry rarely recognize how stressful working at a contact center is for agents and managers alike.
Mike pointed to several possible coping mechanisms that can help, such as employee assistance, gym memberships, and other programs. Letting your people know it's OK to take care of themselves is a good start, but you also need to internally publicize your focus on corporate wellness and put your money where your mouth is.
For instance, good companies subsidize purchases like home-office equipment to relieve everyday stress for their agents. At the management level, support systems that let leaders discuss their stressors and explore what their peers are doing can be powerful coping mechanisms.
The Relationship Between Customer Experience and Customer Happiness
Mike said that the ties between CX and customer happiness are more complex than you might think. Every customer's definition of happiness is different, so it's critical to understand what makes your audience tick.
According to Mike, it's easy to meet a customer's minimum expectations, but it's way harder to truly make people happy. Exploring your customers' desires in depth can help you chart a clearer path to going above and beyond.
Defining Customer Loyalty to Inform Better Business Practices
Earning people's repeat business isn't enough – Businesses also need to understand why customers are coming back for more. For instance, are your customers loyal because you actually provide great service, or are they just sticking with your brand for your competitive pricing? Being able to tell the difference can inform smarter business decision-making and help you determine how best to invest in your contact centers.
What comprises effective sales training – and what makes a poor customer experience?
Companies should train their sales teams to prioritize relationship building. Whether you're doing outbound sales calls or contact marketing, you need to ensure that each engagement is mutually beneficial.
Aim to strike a balance between attending to the customer's needs and upselling, promoting, or marketing products and services. Mike had another helpful pointer here: Your sales training will be more effective when it's conversation-oriented. Instead of being pushy, your agents should be professional, engaging in authentic dialogue to determine whether there's actually a need for extra products or services. 
Scripted conversations can be another pitfall that leads to customer resentment and poor experiences, but Mike offered a clever solution. Instead of scripting entire interactions, companies can train their agents on how to use key phrases and work topics into their conversations organically. Teaching agents to identify customers who might be better sales prospects based on their profiles is a great way to make dialogue feel more natural.
Being professional instead of pushy is also more beneficial in the long run, and your choice of metrics definitely plays a role. Instead of rating agents on sales alone – which can contribute to unrewarding customer experiences and high return rates – you can help your agents succeed by taking a holistic approach that incorporates performance factors like customer satisfaction.
Expanding Your Agents' Knowledge Base
Customer service organizations like contact centers should strive to become environments for continuous learning. This might entail hosting regular new product refreshers or holding team information-sharing sessions and huddles, but building a culture that proactively keeps people updated is vital either way.
Customers change, and so do buying trends, so it's critical to provide a living, adaptable knowledge base that's easily searchable. Mike said that contact centers should consider shifting to visual systems, like flow charts and graphical tools, that agents can easily navigate instead of having to search through huge chunks of text.
One insightful piece of advice is that you should use permissions intelligently. Even if everyone at the company is using the same knowledge base, restricting which data points individual agents can access makes it easier to find relevant information quickly and provide more satisfying answers.
Translating Empathy Into Action Within Contact Centers
Coming back to the importance of empathy, Mike underscored the idea that a well-rounded approach typically works best. Many contact center metrics, such as sales numbers, are quite transactional, but it's equally important to highlight the indicators that define healthy customer relationships.
There are many ways to promote empathy, but it has to come from the top. Managers need to serve as compassionate role models so their agents have good examples to follow.
As 2022 transforms the industry with new technology, contact center leaders will have to work even harder to retain staff and potentially explore investing in candidates who have growth potential, if not the required skills. In other words, empathy can't just be a part-time affair: It should inform every aspect of what you do.
This was an amazing chat, and while we'd have loved to include everything here, we had to focus on the highlights due to space constraints. Watch the full video to learn more – or check out some of Mike's insightful content around the web.
To learn more about how Ozonetel helps businesses build better contact center experience, visit our product page, or talk to our sales team.