Technology has made it possible. Today, every small business can access advanced tools to manage and improve their inbound and outbound calls.
Take Big Basket, for example. 10 years back, they had just 7 agents for customer service. They took advantage of cloud contact center software to ensure stellar service. (Today they use the same technology to manage 700 agents across two cities.) Or our other client, Prop Tiger, who used our software to optimize their sales right from the start.
Some of our clients have only 1-10 people answering or making calls. And even those staff have other job roles. So do they compromise on efficiency or customer experience? No, they don't. Because, whatever your size (or sector), customer interactions are important. Learn what edge technology gives you. Know the features your small business must have in their call center software, so that:
You never miss a customer or a lead.
You utilize employee time optimally.
You keep a track of all your calls.
And get insights needed to drive better customer experience.
With zero investment in infrastructure or training.
FEATURE 1: CLOUD PLATFORM
Ensure Zero Capex, Easy Scalability and Flexibility
Zero Capex: With cloud contact center software, you don't need to invest in any infrastructure or maintenance. Just use your internet browser to login and setup your account in minutes.
Easy Scalability: You can easily add more agents. Our clients have scaled from 4 agents to 400 on the same platform. And it's just as easy to remove agents.
Flexibility: Access your contact center from anywhere. Sales reps can attend calls on the move. Agents can work from home or remote offices. And, you can supervise everyone from anywhere.
FEATURE 2: IVR & AUTOMATIC CALL ROUTING
Connect Callers Faster
Customers are impatient, don't keep them waiting. Your small business call center software should have easy-to-setup IVR and intelligent call routing. Set up an automated greeting in minutes. The IVR will give callers menu options. The intelligent call routing will  check skill and agent availability  to queue caller optimally. It will divide workload evenly amongst agents and ensures minimum wait times.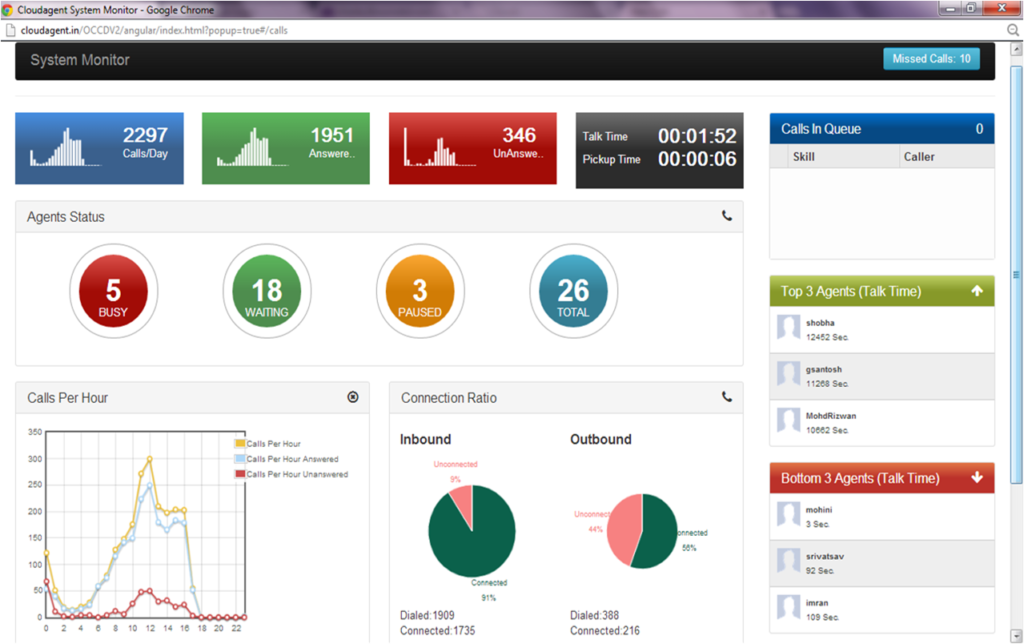 FEATURE 3: Reporting
Track Customer Experience and Agent Efficiency
You should be able to login to your contact center software at any time for reports and call recordings.
Customer experience: Keep tabs on your customer experience with metrics like First call resolution, Average Time in Queue and Average Abandonment rates. Use it to ensure callbacks. And plan better.
Agent efficiency: Are your agents overworked or underworked? Know the number of calls received/attended, Average speed of answer and average call times.  Use reports to track performance, improve feedback and plan better. Use call recordings to train agents better.
FEATURE 4: DIALERS
Automate Outbound Calling.
Are your reps wasting time scrolling through database and painstakingly keying in numbers? This is both frustrating and wasteful. Ensure that your contact center has Auto dialer. Automate call lists for 30% greater efficiency. And let your reps focus on conversions.
FEATURE 5: SEAMLESS CRM INTEGRATION
Personalize calls and automate workflows.
Personalize calls: Customers hate to repeat themselves. According to CCW, March, 2018, it's the biggest customer complaint. A seamless CRM integration ensures this never happens. As the call ID flashes, your contact center software pulls out ticketing info from your CRM and pops it onto your agent dashboard. All before the first "Hello". 100% personalization, 0% effort.
Automate Sales Workflows. A seamless integration  also improve sales workflows like never before. Web leads are directed to your sales reps immediately. You can automate lead dialling or click to call from your CRM window.
FEATURE 6: MULTICHANNEL SUPPORT
Live chat, SMS and more.
Your contact center software should support multiple channels: SMS, Live Chat Support, Emails and Social Media. So that your customer can move seamlessly between these channels.
FEATURE 7: AI OPTIMISATION
Scope to improve.
It's an age of accelerations. Soon your customer will want voice bots, advanced self- service and micro personalization. And, only AI will be able to deliver. Plan for tomorrow, today. Your contact center software provider should be developing these Artificial Intelligence tools, today so you can smoothly add them onto your contact center, when required.
Ozonetel has been providing Call Center Software to Small businesses since 2007. Contact us today, to know how our telephony platform can create winning customer experience for your business.