IIFL Securities, YES Securities & Globe Capital Market Reveal 8 New Customer Service Trends in Stockbroking
IIFL Securities, YES Securities & Globe Capital Market Reveal 8 New Customer Service Trends in Stockbroking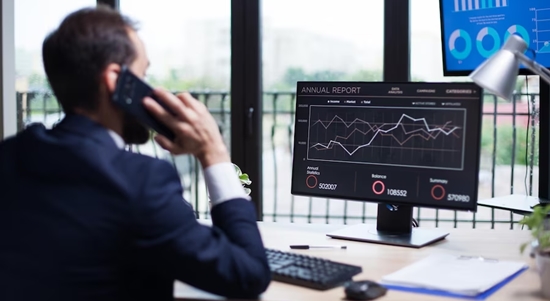 The stockbroking sector is nothing without its customers — the people who are entrusting you with their hard-earned money. Skilled wealth managers are not enough, the industry requires equally skilled customer service representatives to manage emotions during tough situations and ensure long-term customer loyalty.
How do the country's largest stockbroking firms approach their customer service strategy today? How do they manage emotions and tune into today's customer expectations? How do they create sustainable, yet sensitive, customer service operations? 
To answer these questions, we invited the following industry experts to an online discussion:
Ankit Agarwal, Director, Globe Capital Market Limited

Dharmender Narang, Senior Vice President, IIFL Securities

Arpan Sen, Chief Technology Officer, Ventura Securities 

Jay Shah, Vice President & Head – Customer Service, YES Securities

Sudhanshu Mishra, Vice President of Business Development at Ozonetel
During the discussion, these experts explained how the customer service landscape within stockbroking was evolving, and what stockbroking and wealth management firms must do to stay relevant. They covered eight key ways in which these firms must design a customer service strategy that is efficient, effective, and scalable.
Let's explore each of these methods in detail:
1. Support Gen Z Across Channels 
As we discussed in a previous webinar, today's investor is a 'twenty-something with a rowing investable income.' The Customer Lifetime Value (CLTV) of Gen Z investors is massive and cannot be ignored. However, panelists also agreed that this investor is quite different from the previous generations of investors. 
Gen Z investor wants instant assistance and requires customer service representatives who are instantly available, and highly proficient, on digital channels like WhatsApp.
Arpan Sen explained how these digital natives want instant answers. They want help instantly — anywhere and everywhere. For investment firms and stockbrokers this means that their  customer service representative must be available across voice and digital channels. Not only must firms train their customer service reps to be proficient at using these channels, but they must also solve the technological challenges. "Technology needs to elastically scale up," says Sen, "to keep up with growing demand." 
Sudhanshu Mishra agrees. Technology is a key aspect for catering to Gen Z. This is why, he says, stockbroking firms cannot slack and need to "always be at the cutting edge of technology."
2. Adapt to DIY Investment Trends 
Another key customer service trend in stockbroking is the rise of 'do-it-yourself' or DIY. Many investors, the panelists agreed, want to manage their investments independently and as a result, a user-friendly online experience has become critical.
Narang pointed out that there has been an increase in automation and digital investing tools.  "Everyone wants to invest by themselves," he noted. There is a growing sentiment among investors that they want to take charge of their investments themselves and navigate the complexities of financial markets with ease and confidence. And, to cater to this new customer service trend, stockbrokers must invest and pay attention to creating a streamlined and consistent online experience.
3. Train Agents Beyond Surface-level Knowledge
One of the most important steps that stockbroking firms can take to empower customer service agents is providing proper training. Training should be two-fold. It should include soft skills training (which includes lessons on language, communication, conflict resolution, etc.) and more technical product and process training (to ensure the agents know how to address specific problems, navigate various programs, etc.).  
Emphasizing the importance of customer service representatives being properly trained, Narang noted that with so many resources available online, if someone is reaching out to a human for assistance, they're likely dealing with a more serious issue. As such, agents need to have much more than surface-level knowledge. 
Stockbroking companies can assist agents by creating a knowledge base for agents to reference — and making sure that it's readily accessible. That way, if they can't resolve an issue immediately or know of an answer off the top of their heads, they know where to go to find the information they need as quickly as possible. 
4. Leverage Data-driven Feedback 
 Agents can't become better at their jobs if they don't know what they're doing well and what, specifically, they need to improve. That's why consistent and clear feedback is so important.  
Regular feedback, Agarwal explained, helps to reinforce the behaviors that representatives should be exhibiting more often and provides training to correct potentially problematic behaviors that could interfere with the client's experience. 
Features like call automation and analytics often serve as the basis for more in-depth feedback. When managers and higher-ups can listen back to a representative's calls, they can pick out specific examples of what was done well and what should be done differently in the future. 
Speech analytics, which measures things like tone and pitch, can also help evaluate representatives' approaches and make sure they are communicating effectively and politely (i.e., not raising their voices).
5. Maintain a 360-degree Customer View
Omnichannel technology with robust automation features can significantly streamline customer service processes. One of the greatest benefits of these tools, Sen explained, is that they help to provide agents with a 360-degree profile of the company's customers.
A 360-degree view helps agents understand right away who's contacting them, what steps they've taken so far, where they're coming from, etc. This information, in turn, empowers the agent and allows them to provide the appropriate assistance right away. 
6. Prioritize Compliance Awareness & Trust-building
In the stockbroking world, compliance is typically (and should be) the norm. The industry must operate under strict rules and guidelines, and customer service representatives must be made aware of these rules to ensure they don't accidentally compromise the data or security of the firm or the clients.
Though most customer service teams don't experience many challenges when it comes to compliance, there are still steps they can take to improve their adherence and ensure investors have positive experiences.
For example, Narang pointed out the importance of prioritizing trust-building and establishing positive relationships with customers. If they know they can rely on a particular stockbroking firm (and its agents) to assist them, they're more likely to be loyal long-term.
Sen also addressed the value of careful record-keeping to ensure transparency and further support trust-building efforts. He noted that automation can also help with these tasks and make it easier to collect information and retrieve it as needed.
7. Handle Irate Customers with Patience & Empathy
Every customer service agent will occasionally come across annoyed customers. While dealing with frustration can be challenging, it's a normal part of the job, and representatives must remember that patience is the key.
Mishra highlighted the importance of empathy and encouraged listeners to "let [the customer vent it out and share their agony." If people feel heard and supported, they're more willing to listen to the representative's advice.
On a more practical note, Agarwal pointed out the importance of routing customers to the right team. With proper training and access to essential information, representatives can ensure they direct customers to the correct person — the person who is most likely to answer their questions — which can help to cut down on frustration.
8. Reduce Handle Times with Proactive Outreach & Segmentation
In customer service, proactivity is almost always preferable to reactivity. If an issue has come up that will slow down call handling times or cause clients to have to wait longer than usual, get in front of the issue and let them know what's happening. 
For example, you can send a WhatsApp message or SMS message to active customers and inform them about a system issue that has resulted in longer-than-average wait times. That way, they're less likely to call and further overload the queues.  
It also helps to carefully segment your customers. For example, the company should have a way to prioritize their highest revenue givers. If anyone from this customer segment contacts your company they should get attention promptly and should never be kept waiting in a call queue. 
What Does the Future Look Like in the Stockbroking Industry?
Yes, customer expectations have changed, but so has technology. While investors are more impatient than ever before, the technology that stockbroking firms can access is also incredibly advanced. 
At Ozonetel, our unified CX platform has helped leading stockbroking and wealth management firms manage their customer interactions with unbelievable efficiency and ease.
Maintaining First Contact Resolutions at 80% and higher, thanks to our deep CRM integrations

Automating nearly 40% of incoming calls with self-service IVR

Reducing agent attrition by 40% with virtual contact centers

And ensuring 85% and higher service levels despite volatile and fluctuating call volumes, with our intelligent routing and robust CCaaS