Customer Satisfaction in Banking
Customer Satisfaction in Banking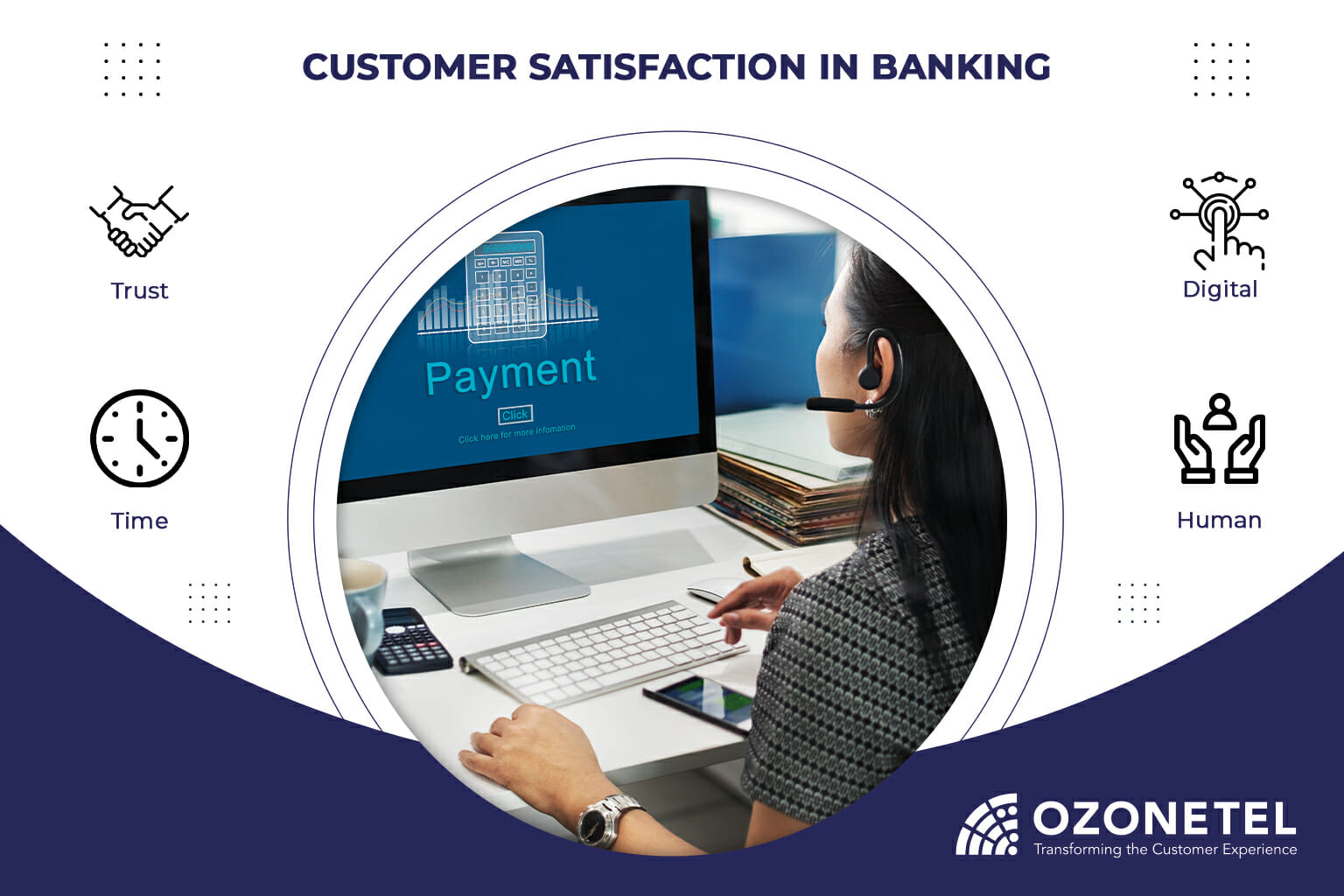 The latest banking customer satisfaction reports are in. And it looks like most banks are doing rather okay,with a few standouts.
As it turns out, a few key drivers are pushing the leaders ahead. The rest are falling to the middle while some that fail to adapt, like credit unions, are experiencing satisfaction dips.
How does your bank's customer satisfaction score measure up? Are you meeting customer expectations on every channel and during every interaction?
If you aren't hitting the mark, you can improve your satisfaction rates by taking care of a few key factors influencing customer service in banking.
Right now, there are five factors driving banking customer satisfaction levels. These are trust, the ability to save time, your digital channel experience, problem resolution, and your call center experience. Let's take a look.
In this article, we will explore:
5 Factors Influencing Customer Service in the Banking Sector
1. Trust
How much does your bank value consumer trust? Trust is regarded as the fundamental tie between banks and their customers. Trust can never be taken for granted or expected to remain forever once established.
The trust factors influencing customer service in banking shift with the times. Right now, most people aren't concerned with whether or not their bank will collapse tomorrow. But many people are concerned with issues like phishing.
J.D. Power noted the top five ways banks can damage trust:
 1. Unexpected fee charged to the  account
 2. Bad banking practices reported in the news
 3. Blaming an error on the customer's actions
 4. Availability of funds deposited is delayed
 5. Long wait times to reach a rep
And the top five ways banks can build trust:
 1. Alert you to suspicious activity
 2. Help reduce the fees paid
 3. Recognize or reward them for the business they bring
 4. Offer a grace period before a late fee or overdraft charge
 5. Suggest ways to save money or earn more interest
As you can see, most of these are customer service-related. And they almost all relate to communication.
Staying in touch with your customers is key to building and maintaining trust in your banking services. This is quite easy to do if your digital infrastructure supports automation with omnichannel message routing.
Issues like alerts for suspicious activity, potential late fees, and additional fees can be easily implemented with automated voice or text message notifications. Rewards, tips, and helpful advice can be sent out the same way.
Mobile security verifications are standard trust builders. But this can be expanded to include account updates, service notifications, balance alerts, fund clearance notifications, and advice.
Your customers have their phones close at hand. Take advantage of that. There are several ways to deliver messages that will raise trust and create positive engagement.
2. Time and Ease of Interactions
Time and ease go hand in hand. No one wants their banking to take up the entire day or slow things down.
Time was mentioned repeatedly as a factor influencing banking customer service. It comes up for issues like completing financial interactions and getting to a bank when they want.
It also factors into the speed and ease of customer service, website activities, making daily account interactions, getting updates, making account changes, and understanding information.
Here's the thing, banking is part of most people's everyday lives. And your service can either fit seamlessly into the customer's day or create multiple points of inconvenience.
One way to enhance ease and create time savings in one stroke is by implementing intelligent automation. Many daily transactional activities, like information requests, can be automated through the mobile app or chatbots. And smart voice bots can introduce ease into more complicated needs.
An IVR (automated phone system) can act as more than a basic phone menu or routing service. Conversational AI is capable of holding natural conversations. They can understand complex speech, gather information, and lead the interaction toward faster resolutions for simple transactions.
3. The Digital Channel Experience
Providing digital service is no longer optional. Almost all banks understand this now and have moved to build out their channels.
But it has to be done right. The quality of your digital service – website, mobile, and in-app – is a key factor influencing the bank's customer satisfaction.
This is why offering basic digital or omnichannel options for the sake of saying you have digital isn't enough. A mobile app without in-app customer service just doesn't cut it. And there's no point in throwing up a website chatbot if it can't successfully interact with customers.
Here are some things to evaluate:
The goal of going digital is to increase the customer's convenience, be accessible at every possible touchpoint, embed the bank's service deeper into their lives, and relieve your in-person service burden.
Your digital channels should perform to the same high standards as your traditional service and function as part of one integrated central system. This will create the smooth, intuitive experience your customers are looking for while generating new forms of business value.
4. Problem Resolution
This is an obvious factor influencing customer service in banking. The last thing any customer wants is to wait in a phone queue or go back and forth between chat and a phone call, only to have their issue go unresolved.
Banking customer satisfaction levels strongly correlate to how well their problems are resolved. Part of this depends on agent training and how effective your customer service protocols are.
But part of it depends on how well your back-end customer service platform is integrated. Since even the best service program needs software that aligns with its mission.
To consistently resolve customer problems, banks need to rely on a blend of omnichannel customer visibility, multiple touchpoints, effective resource delivery, and self-service capabilities.
Self-service tools can take care of many immediate smaller concerns, particularly requests for information and updates.
Intelligent chatbots can instantly guide customers through common issues without requiring them to wait for live assistance.
A unified view with rich contextual information will give your representatives everything they need to know about the customer. Having information at hand increases the likelihood of a positive call outcome. But sometimes issues can't be resolved in one session.
A consultative transfercan be used to fill in supervisors, should calls need to be escalated.
Omnichannel routing should be used to deliver information through text, email, mobile apps, or even WhatsApp.
And follow-up calls can be automated to check in on customers or provide further assistance.
This can be distilled down to information access and reach – for both your customers and service representatives. Both are needed to maintain high levels of banking customer satisfaction.
5. Human support
Your call center and the people who staff it matter. This comes up in virtually every banking customer satisfaction survey or study. And for good reason.
A phone call is often the first way that banking customers try to get help. It's quick and far more convenient than getting into a physical bank.
Or at least it should be. But things have been rocky lately. Wait times at banking contact centers exploded in 2020 when a dramatic spike in call volume met a disruption in normal working procedures. During this time, customers routinely waited hours to reach a representative or even days to get a callback.
Things seem to be coming back down to normal. Customers are more likely to report wait times of a few minutes, rather than hours.
But is this good enough? Not so much. Customers have never been willing to wait that long to reach a bank representative. Satisfaction levels are slashed by a third when customers have to wait longer than four minutes.
The faster you can get clients on the phone with a representative or service agent, the better. And this isn't the only call center factor that influences banking customer service.
Every interaction needs to be measured, assessed, and refined. Aside from physical branches, the call center is usually the customer's only experience with a bank's representatives.
It's a resource center, crisis hotline, relationship builder, marketing asset, and brand representative. It needs to be running well.1.
The Digital Channel Experience
Here are some things to evaluate:
Do you have an end-to-end view of the customer's interactions?
How well are you collecting feedback at every touchpoint?
Can you respond to an unhappy customer, no matter where they left their complaint?
 How easy is it for a customer to book a callback instead of waiting in a phone queue?
Can you follow up on an unresolved call via text message or email? Or on a chat session with a personal phone call?
Human support
How long does it take for agents to pick up a call once customers are sent through?
How long do customers have to spend on hold, if a call needs to be transferred or a representative needs to find information?
 How many customer calls get disconnected while in the queue?
Improve Your Customer Satisfaction with Ozonetel
If you're ready to get control over your bank's customer satisfaction score, Ozonetel's contact center solution has everything you need.
We deliver intelligent, interactive, end-to-end visibility over all the bank's customer (and representative) touchpoints. You can maintain call center control, manage call volumes with ease, and provide service on a range of channels.
It's a robust adaptable solution that comes with outstanding customer service and a rapid implementation team to get your contact center running fast.
Contact us for a complimentary personal demonstration.