There's an old adage that goes you can't please all of the people all of the time. This is the case for most things. And it certainly applies to customer complaints. No matter the products or services you are selling, and how great they are, complaints do arise. 
In a nutshell, complaints tend to result when a company is somehow not delivering on its brand promise or meeting customer expectations. There's a misalignment between what customers perceive the brand to be and the type of experience they actually receive. 
Handling customer complaints poorly has serious implications
When customer complaints increase, a company's survival is at risk. Too many customer complaints can lead to customers switching to a company's competitors. But that's not all. Negative word of mouth by disgruntled customers can influence the company's brand reputation and thus its ability to acquire new customers.
These costs add up. In the US, it has been estimated that $289, on average, is the value of every lost business relationship due to poor service. The finance sector has lost almost $50B due to bad customer service.  
In fact, these days, customer expectations are so high that even one bad experience can cause up to 96% of customers to switch to a competitor.   
This is why organizations have made it a high priority to reduce customer complaints. 
But it's not enough to minimize customer complaints.
Some companies view customer complaints as a bad thing, take them personally, and try to rid themselves of these complaints by bandaging the issue without completely understanding it so they know how to fully handle and resolve it. This only serves to frustrate the customer more and can further hurt the business. 
It's vital that business leaders understand the root cause of customer complaints so they can manage their businesses. Customer complaints can result from miscommunication, poor customer service, gaps in internal processes, or a myriad of other issues. 
How a company handles a customer complaint also affects the customer experience. 
Being responsive, acknowledging there is an issue, listening and empathizing with the customer, finding a solution that meets or exceeds customer expectations, keeping the customer updated on the progress of their issue resolution, and following up with the customer to ensure their issue is completely resolved are all key actions that resolve issues effectively and build customer loyalty.
When companies view customer complaints in a positive light, they realize customer complaints have some powerful benefits. 
Customer complaints can benefit an organization

Customer complaints can be beneficial to an organization as they can
serve as a gauge on what customers think/feel about your brand

provide insights on where your products and services can be improved

pinpoint inefficiencies in how you communicate with customers

identify gaps in internal processes that affect delivering on your brand promises

determine where teams are misaligned across the organization and where opportunities for further training and employee development exist
It's important to note that Esteban Kolsky, a former Gartner analyst, found when conducting a customer experience survey, that "Only 1 out of 26 unhappy customers complain. The rest churn. A lesson here is that companies should not view the absence of feedback as a sign of satisfaction. The true enemy is indifference." 3
Acting on one customer complaint can actually save more customers from churning than you know. This is why embracing positive and negative feedback is paramount.
When a company realizes that customer complaints are a good thing and provide a learning opportunity to improve the customer experience and drive company growth, it can turn friction into rewards. 
There are numerous ways that customer complaints actually add value to the firm, drive customer lifetime value, and help the company grow. 
5 ways in which customer complaints add value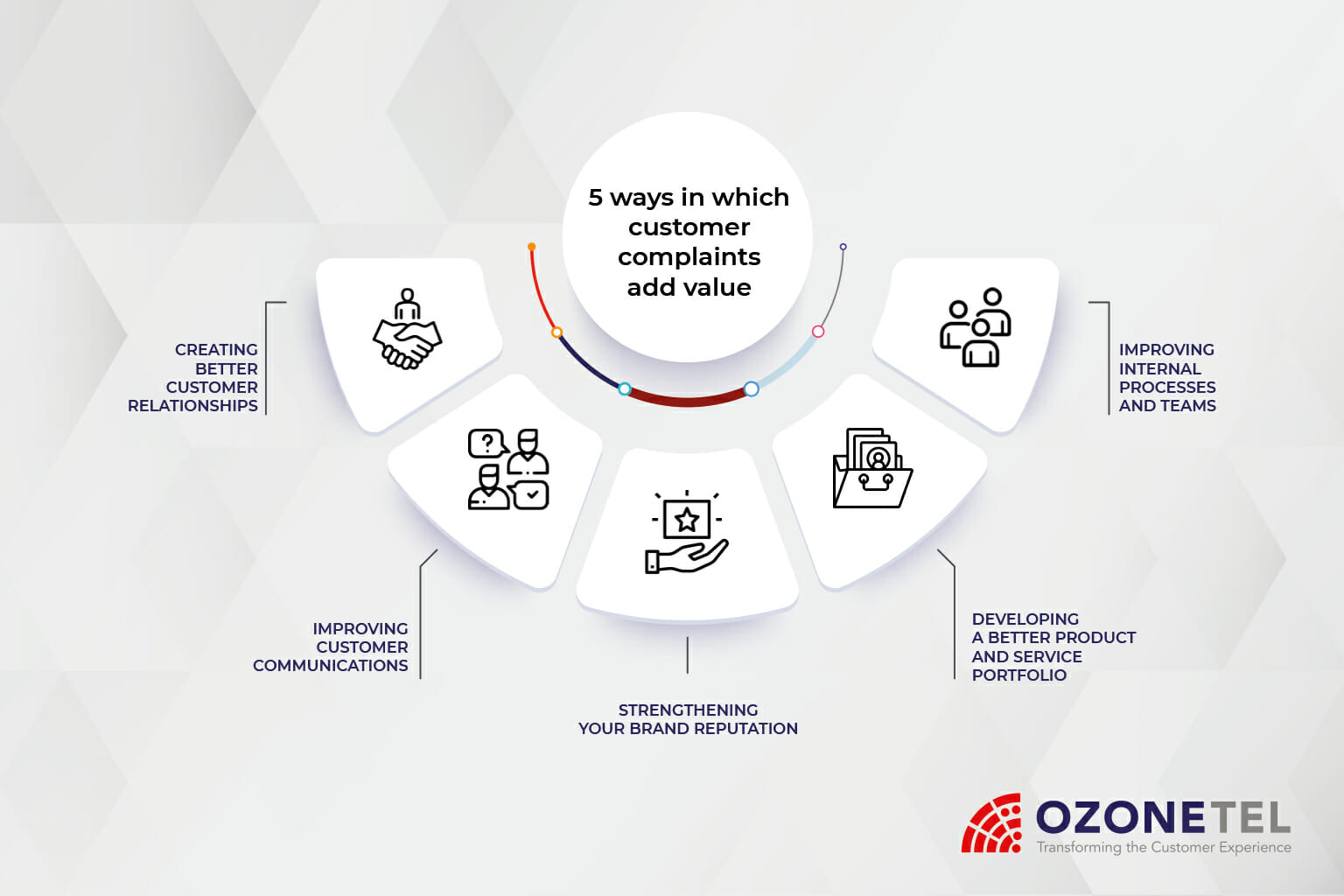 1.Creating Better Customer Relationships
Understanding what customers think and feel about you and creating a better experience for them should be your #1 goal. 
The more you know about your customers, their pains, their interests, what motivates them, the more proactive and predictive you can be to deliver an experience they want. Customer complaints give you that peek inside to what they want and how you can improve. This is also valuable info on how you structure your customer feedback programs or improve existing ones. 
A great customer experience is achieved when three things exist: the customer finds value in interacting with you, it is effortless for customers to do business with you, and customers have positive feelings when interacting with you. Customer complaints provide insights on how to improve in all three of these areas. And the better experience they have, the more loyal they will be to you. 
2. Improving Customer Communications
Sometimes when we communicate with customers, we may speak in a language or with jargon customers don't understand. This can create misunderstanding and frustration. When misunderstanding occurs, customer distrust is on the rise. Customer trust improves when you can speak to customers in their own language.
Customer complaints are an excellent vehicle to understand the customer's voice so you can speak to them in their own language. When you communicate with customers in their own voice, they sense this, they feel you care about them, and they will be more open and feel more comfortable communicating with you. This also results in customer loyalty. 
An area that brands should leverage in improving customer communications is speech analytics.   
Your speech analytics system displays customer mood through using Natural Language Processing (NLP) layered with a sentiment analysis program trained to understand the sentiment. So as you review calls, you're learning the language customers are using and understanding their moods – through volume, tone, and other attributes – which helps you to use their language and know their sentiment as you further interact with them. This helps you to be more proactive and nurturing in your customer relationships.
3. Strengthening Your Brand Reputation
While customer complaints can identify how you can make things better for your customers, they can also help you strengthen your brand reputation. This is especially important for those who could do business with you in the future. 
When you take the insights you've identified from the customer complaints you've received and improve things for your customers, they are happier and could actually become customer advocates for you. They can share how great you are with others. 
When customers share their good experiences, this is especially beneficial for your business. You're seen as trustworthy. And that is important for buyers. In fact, almost three-quarters of business leaders consider trust in vendors to be of utmost importance. Trust is almost as important as customer experience. 
Also, when people share good experiences, others notice. 93% of consumers say that online reviews influenced their purchase decisions. In addition, 91% of 18-34-year-olds trust online reviews as much as personal recommendations. And since almost all consumers use online media when searching for products and services, a business can't overlook their own online media sites and third-party sites. They should regularly monitor them for sentiment analysis and as a check on how they are doing. Companies shouldn't try to remove bad reviews but increase the good ones through acting on complaints.
4. Developing a Better Product and Service Portfolio
Customer complaints provide invaluable feedback and insights on how to improve your products and services. 
Some companies struggle to determine how to create more value in their product and services when customer feedback can give them a roadmap on how to upgrade existing products and even provide insights into new products and services that should be added. 
And customers appreciate it when you ask them for their feedback and you act on it. It shows them you care. When they care, they are more loyal to you and will do more things for you such as spend more, give your more feedback, and be a brand ambassador for you.
There are many ways to ask for feedback – surveys, customer interviews, and identifying candidates for beta testing programs, customer forums, and customer advocacy boards. The more feedback you have the better. Feedback tells you how you improve and when you improve so will your customer's experience.
5. Improving Internal Processes and Teams
When a customer complaint arises, there is a very strong probability there is a gap in the customer journey somewhere. This could be a case of something missing in the customer journey, a key process in service delivery is broken, teams aren't aligned across the organization to provide a consistently strong customer experience, insufficient training or issues on one or more of the internal teams to be able to carry out key tasks, or something else.
In Conclusion
In all these cases, a customer complaint is a goldmine. 
It's more than just customer feedback. It's a prime opportunity to analyze the existing way you deliver the customer experience. It's an opportunity to audit whether you know your customer segments and their journeys; your teams are rowing in the same direction to consistently deliver a high-quality experience; there are issues with existing staff and better training and better/additional staff are needed; technology or other parts of your infrastructure need to be upgraded;  core values, mission, strategies, processes, policies, and procedures need to be revisited and upgraded.
There are many areas to look at and customer complaints provide the opportunity for businesses to go through customer feedback, identify insights, and determine where actions need to be taken in order to improve. Customer complaints must be treated seriously if an organization is to survive and thrive. 
Customer complaints also provide nuggets of information on where to improve customer service.
For instance, understanding from customer complaints received where there might be a step, touchpoint, or channel along the customer journey that may have more friction can alert customer service teams to work with other teams to ease that part of the journey. Or it might provide insights to customer service leaders to provide additional training to their teams on how to handle more complex issues or be able to predict and be more proactive with customers to put them at ease when they enter that part of their journey. 
Ozonetel Can Help 
Reviewing metrics regularly, and tracking trends and patterns before, during, and after a customer complaint is received is a good gauge of whether things are moving in the right direction and where to make changes.
Ozonetel deploys certain metrics in its real-time speech analytics on how call center staff can improve the customers' call center experience when customers call in. Certain metrics that supervisors and managers can monitor include:
conversation speed (checks whether they are talking too fast or slow),

conversation volume (for example, a raised voice could indicate conflict),

customer sentiment (detect and take action when sentiment changes unusually), 

customer demographics (understanding customer demographics can help agents adjust their communications tactics and identify key customer behavior and purchasing trends) can help alleviate some of the frustration the customer had at the beginning of a call and turn a challenging situation into a positive one. 
Apart from this, call centers can measure and track call dispositions within their call center or CRM reports to ensure that their call center is not operating within a silo, and is contributing to improving the overall systems and customer experience 
When you embrace the fact that customer complaints are good and regularly act on them to improve your business, it not only will reduce them but it will also help your staff take ownership to deliver consistent experiences that customers want. And this will strengthen your brand and lead to growth
Ask for a Demo Today
To learn how Ozonetel's Omnichannel Contact Center Solution can work with your CRM or enable Speech Analytics to track customer complaints and improve the customer experience, ask our sales team for a demo today.