A study across millions of customers service & sales calls in various vertical industries
eCommerce
Education
Real Estate
Banking & Broking
Restaurants & Food Delivery
Healthcare & Pharma
Insurance, Fintech & Financial Services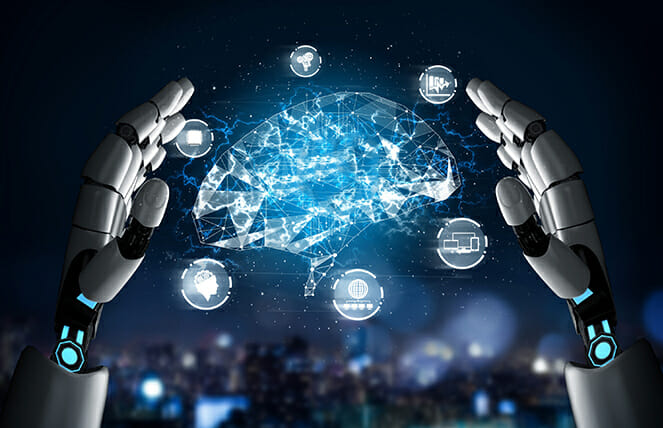 Every December we turn introspective. As leading contact center solution providers, we study key performance data across diverse call centers including average talk time, queue times, speed of answer,wrap times, outbound call pickup rates, and more.
This year we took a sample set of 24 million calls made on our platform by 61914 active agents. The contact centers belong to erprises, start-ups, small and mid-sized businesses across education, real estate, travel, finance, eCommerce, food & restaurants, pharma, and banking. It includes a study of customer service as well as telemarketing, inbound sales, and outbound sales calls.
Inbound calls are primarily for customer support and order processing some sectors, these inbound calls include inbound sales calls. This study aggregated key customer experience and agent performance metrics across these calls including Time in Queue, Abandonment Rates, Speed of Answer, Hold Times, Talk Times, and After Call Work.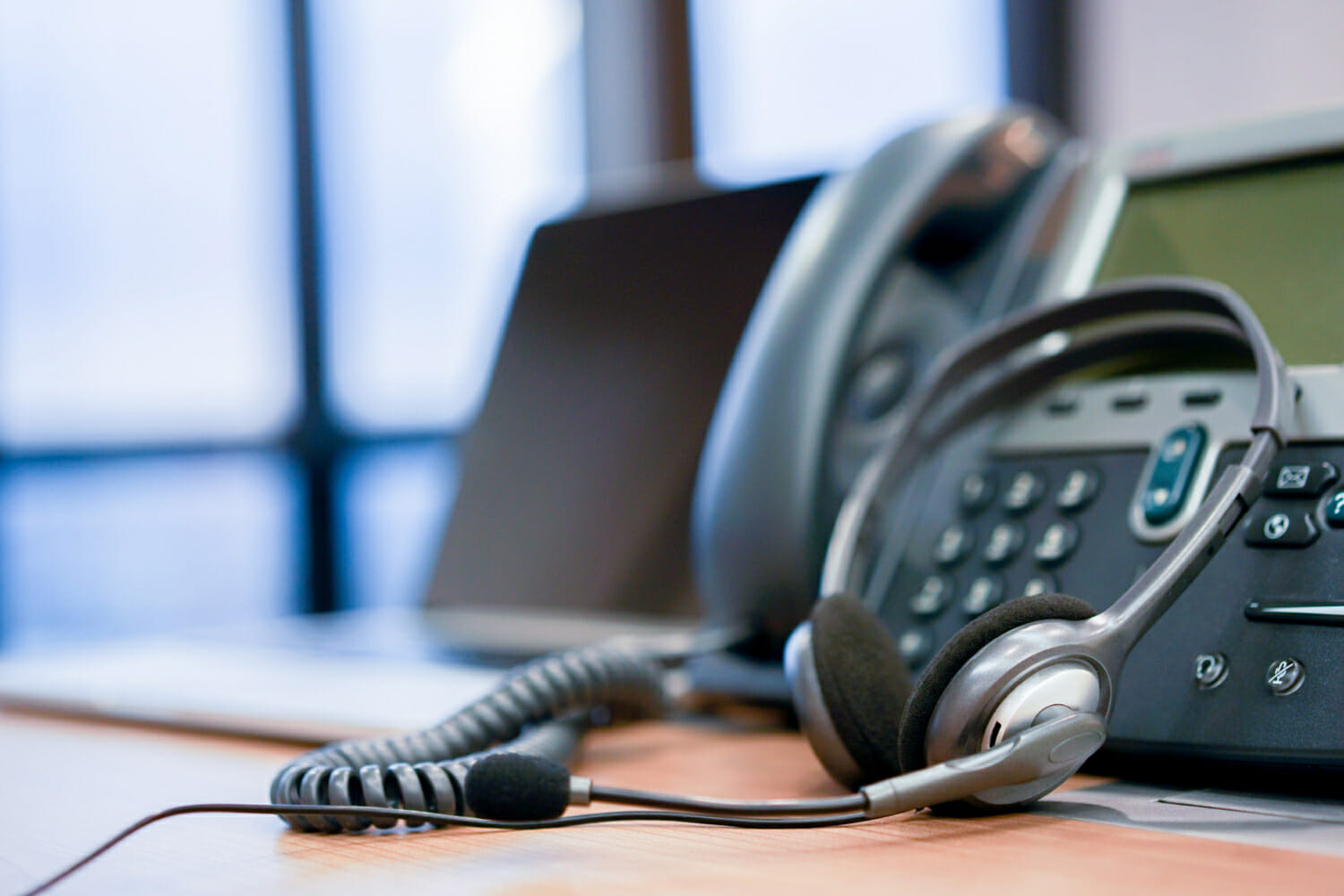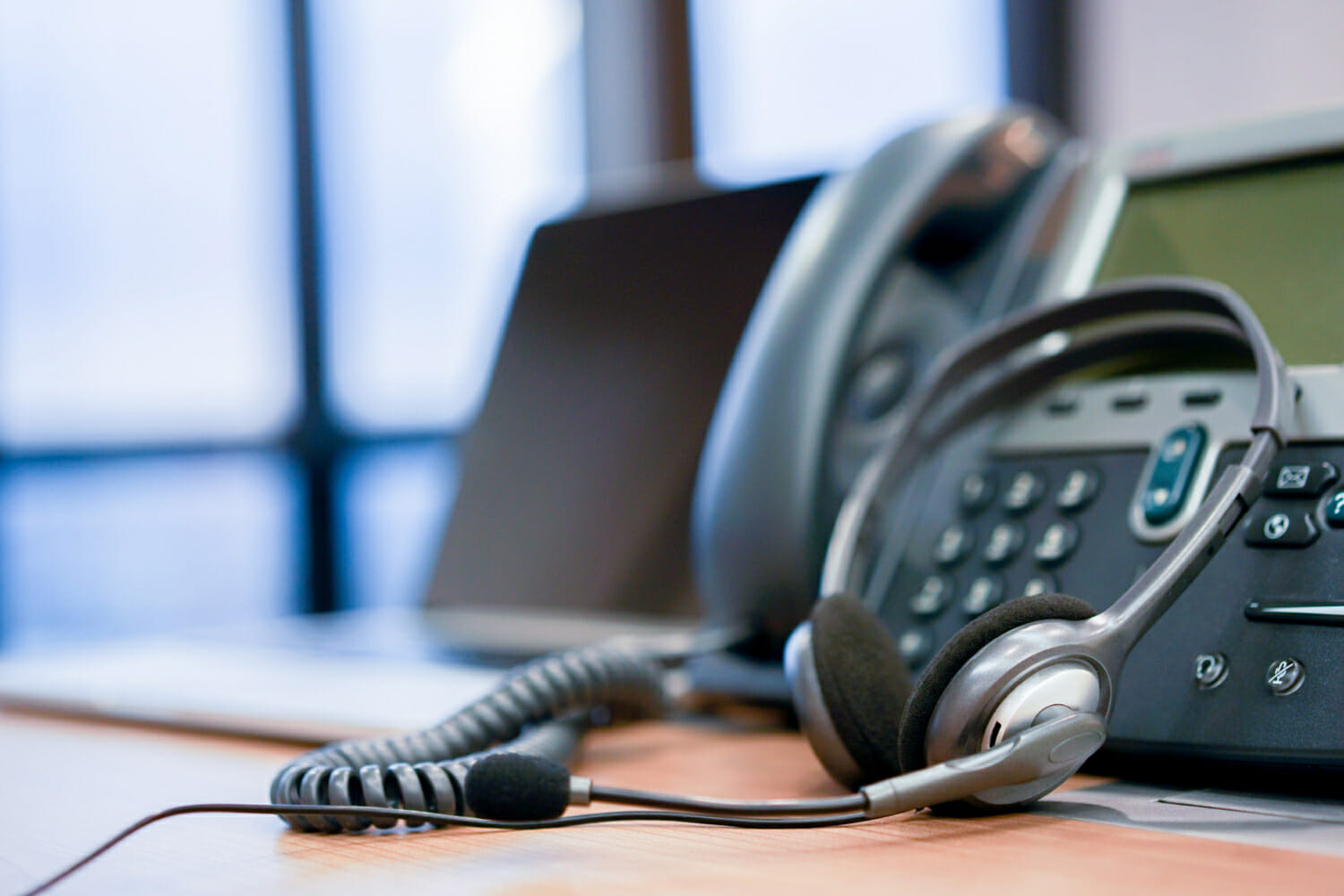 Outbound calls include sales calls as well as outbound customer service and confirmations calls. Here the number of outbound calls dialed and answered are a key indicator of performance. Therefore, we studied both the calls dialed per agent as well as average Pickup or Answer Rates.
Inbound: Customer Experience Metrics
Did callers endlessly wait in queues, abandon calls, or get connected fast?
What is Average Time In Queue?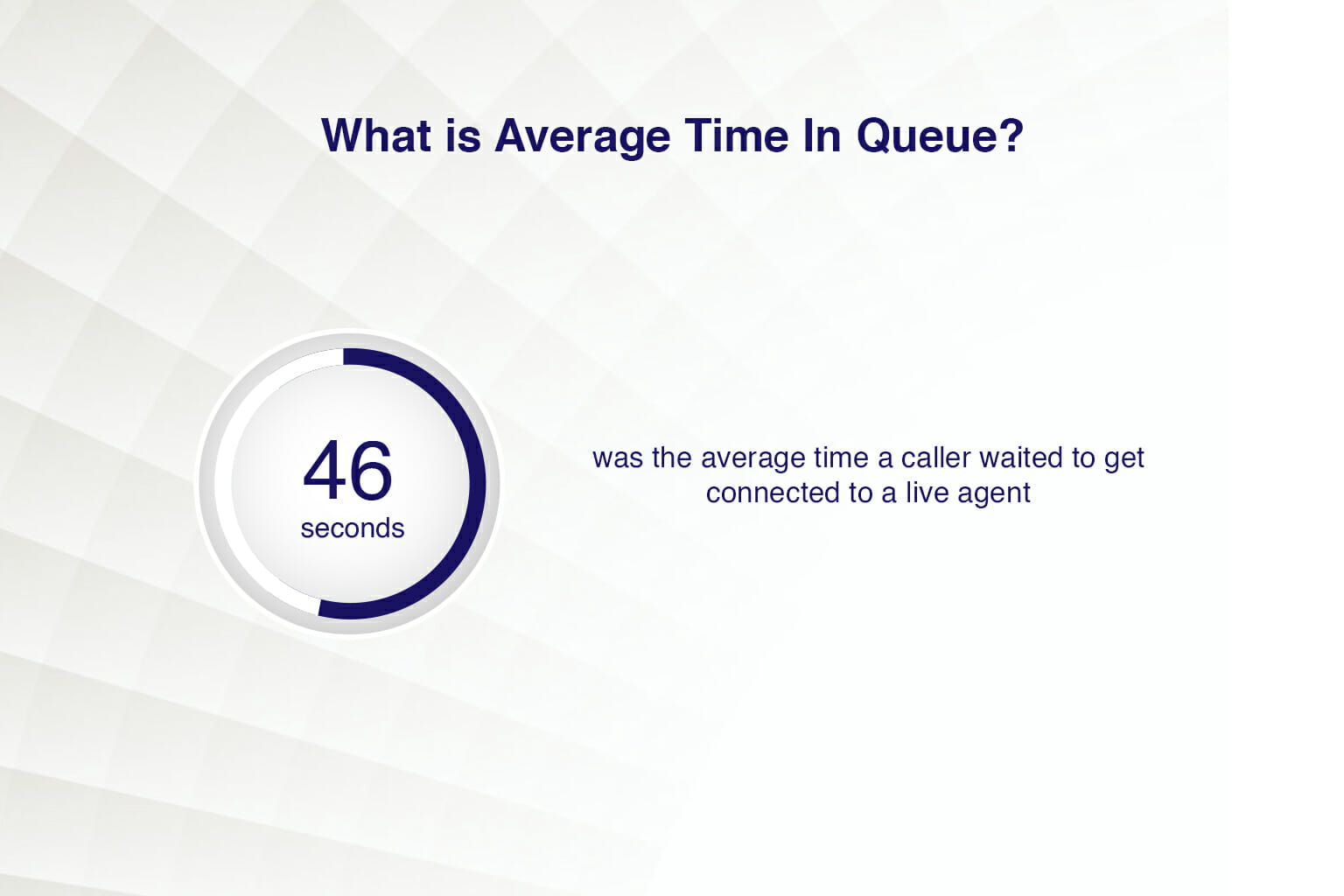 Average Time in Queue reveals how long callers wait to get connected to someone when they phone a business.
Why measure average time in queue?
Being made to wait in queues can drastically reduce customer satisfaction, increase abandonment rates, and consequently increase customer churn.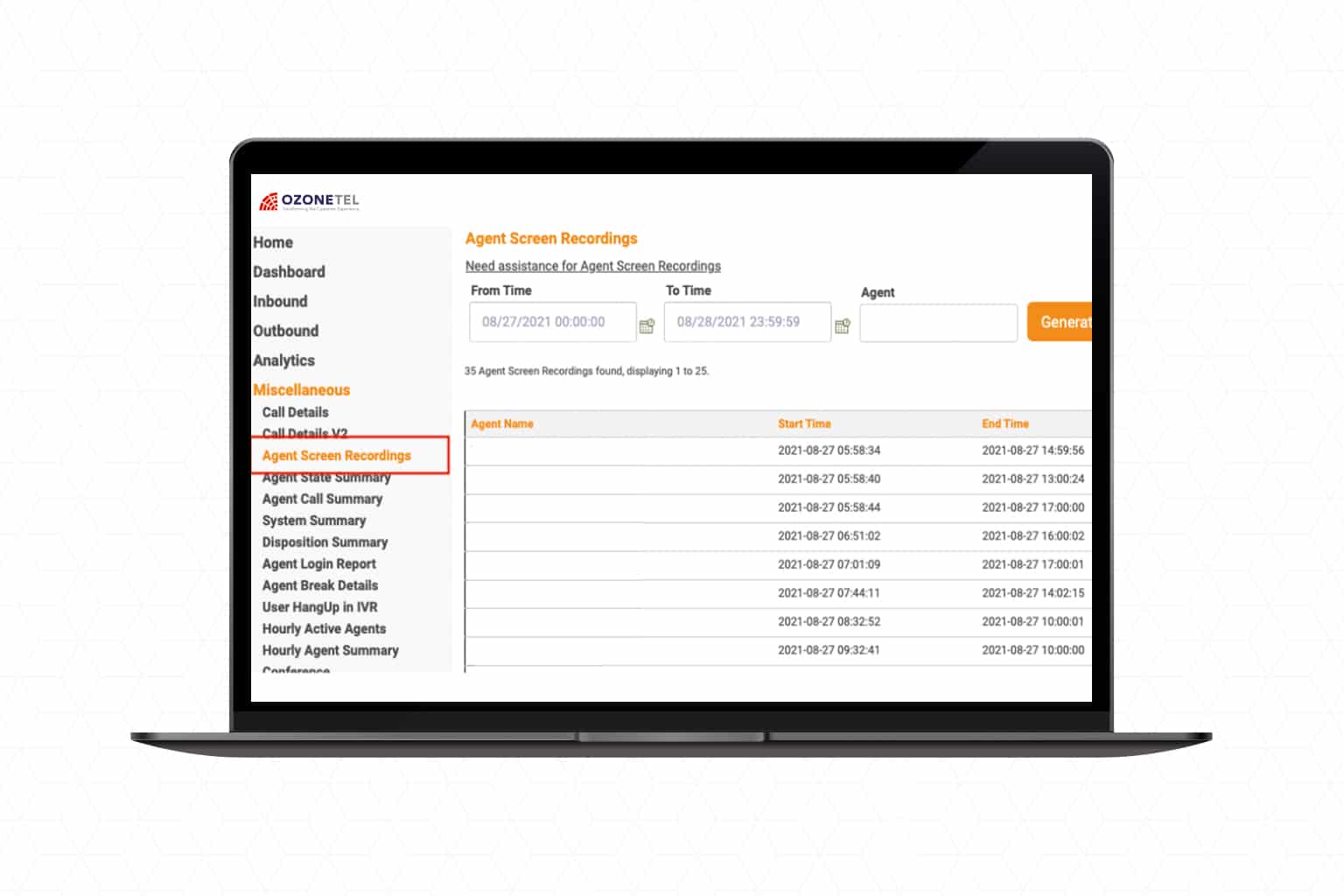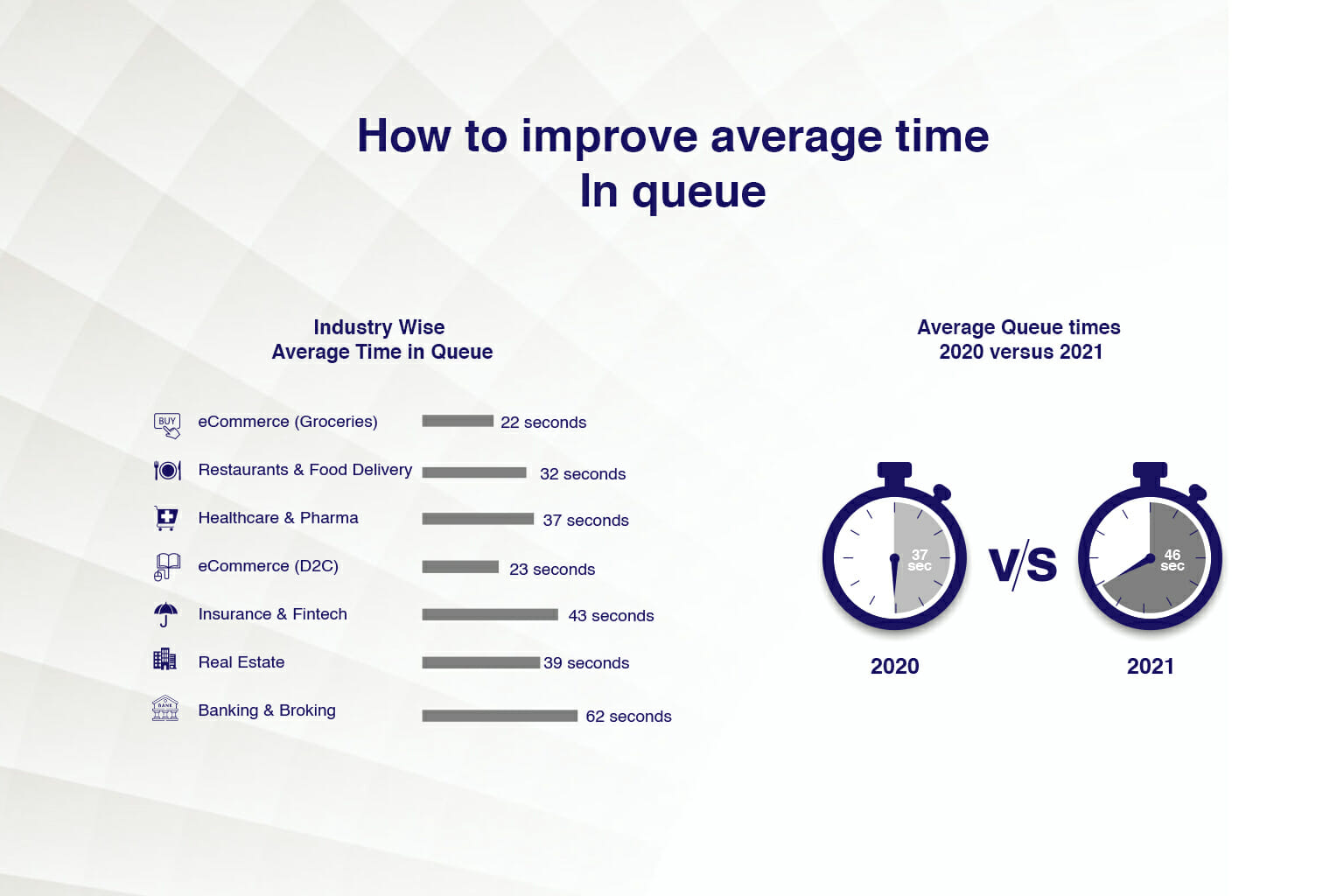 How to improve average time
In queue?
To improve your queue times, you need to investigate when and why your queue times are going high. Hourly and weekly call queue reports can help identify if call volumes are higher on a particular day or time. Once you have done this, consider using the following measures:
What is the Average Agent Speed Of Answer?
The average speed of answer is the average time agents take to answer inbound calls. This includes time while the agent's phone rings but does not include the time the caller spends in the IVR or waiting queue.
Why measure Average Agent Speed of Answer?
The average speed of answer indicates how fast your agents answer calls. This KPI affects caller waiting times and consequently affects customer satisfaction.
How to improve The Average
Speed of Answer?
The type of telephony you use could affect the Average Speed of Answer.
To improve agent speed of answer, the following steps should be taken: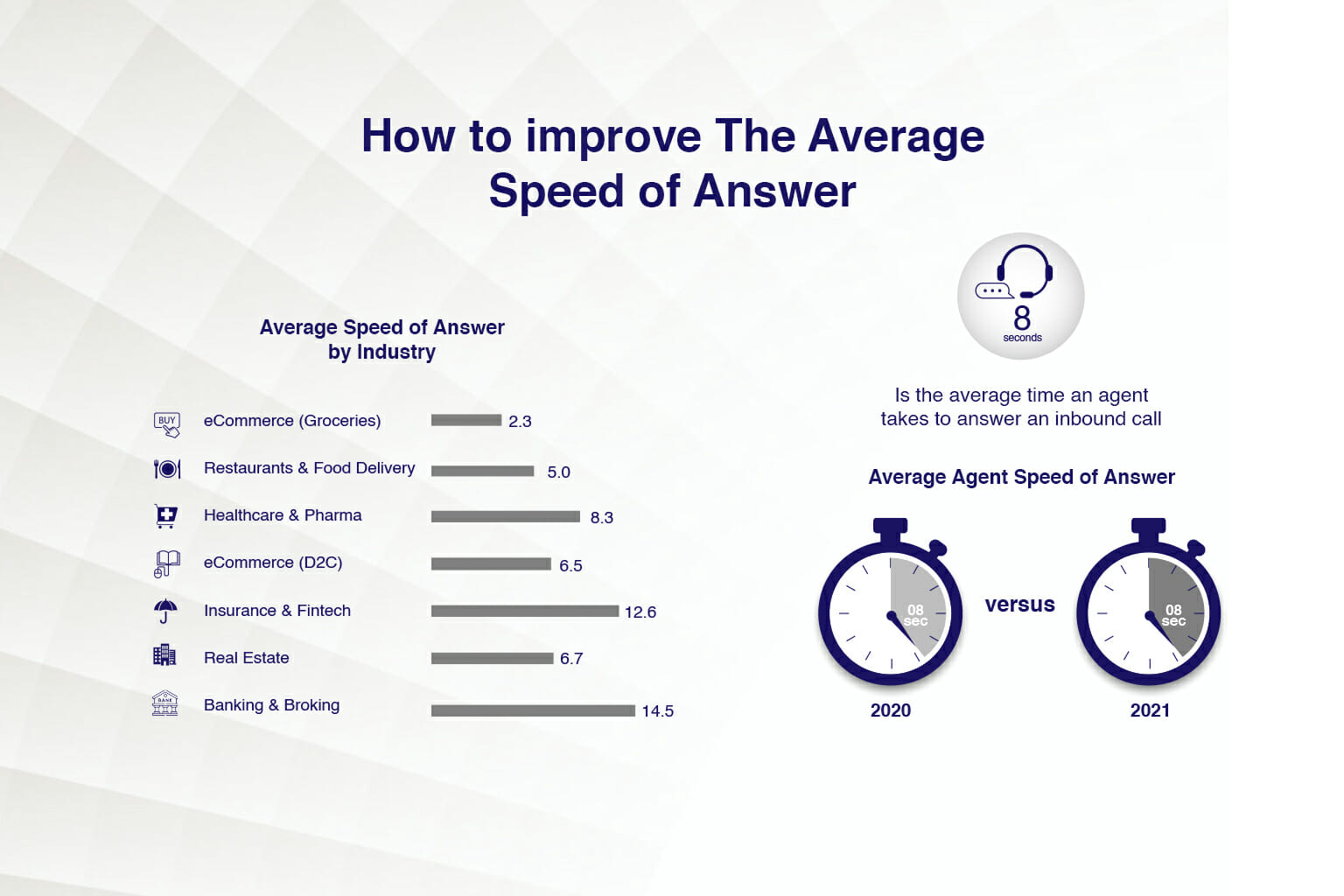 What is Abandonment Rate?
The Average Abandonment Rate tells you how many calls went unanswered by agents as callers disconnected while waiting in queue.
Why Measure Abandonment Rates?
Abandonment rates indicate the number of calls that go unanswered in your call center. This represents a missed opportunity to speak to a customer or prospect who has called your business for a sales inquiry, complaint, or to give valuable feedback.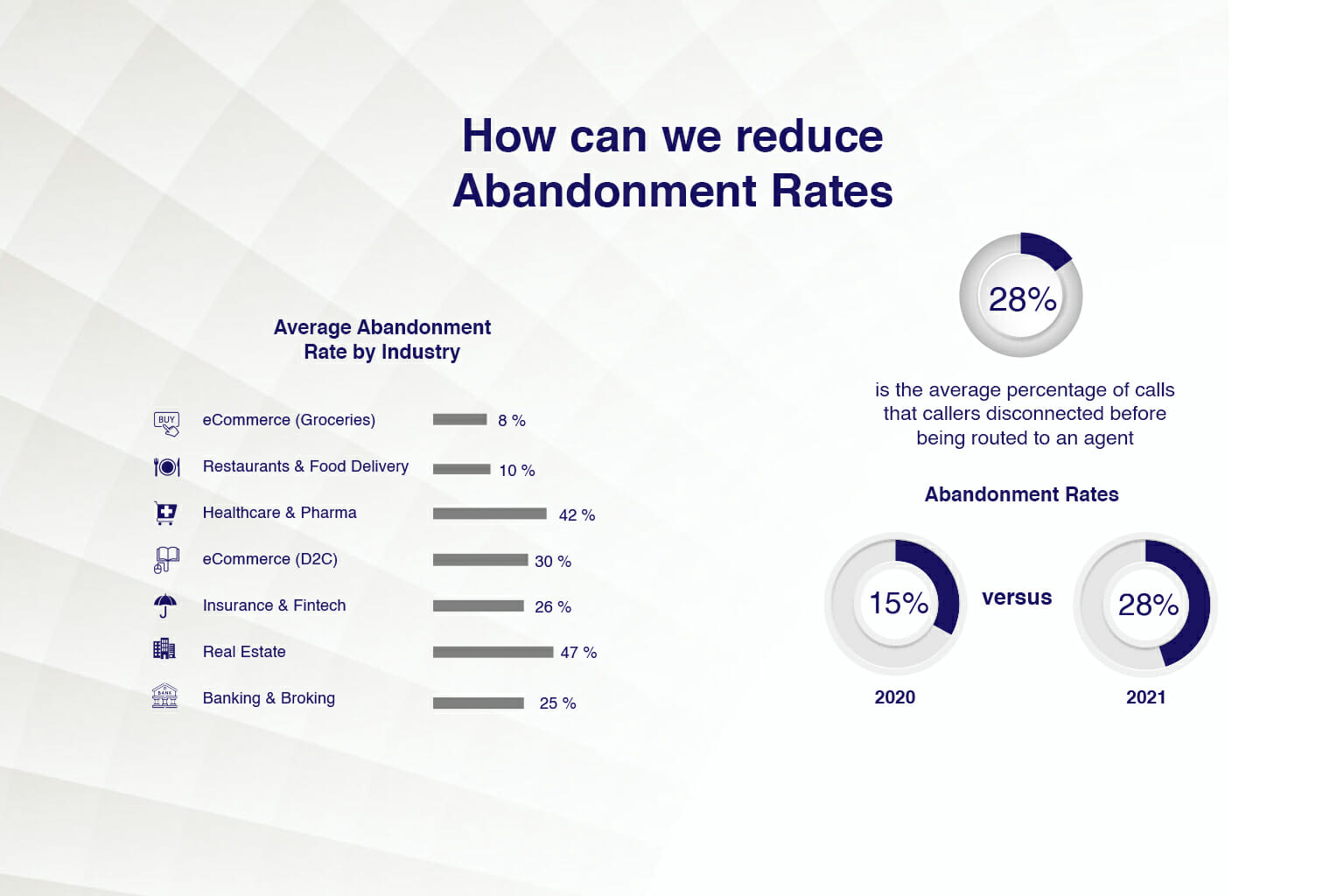 How can we reduce Abandonment Rates?
Generally, our clients have stringent service level agreements, for which we need to maintain high answer rates and consequently low abandonment rates.
Hold time tells you how much time a caller is made to wait on hold when an agent puts them on hold to retrieve information, speaks to a supervisor, or transfers the caller.
Why measure Average Hold Times?
Average hold times affect both customer experience and can increase or decrease the Average Handle Time, therefore, affecting cost per call and overall call center productivity.
How can we reduce average hold time?
High average hold times indicate lack of training or poor transfer technology.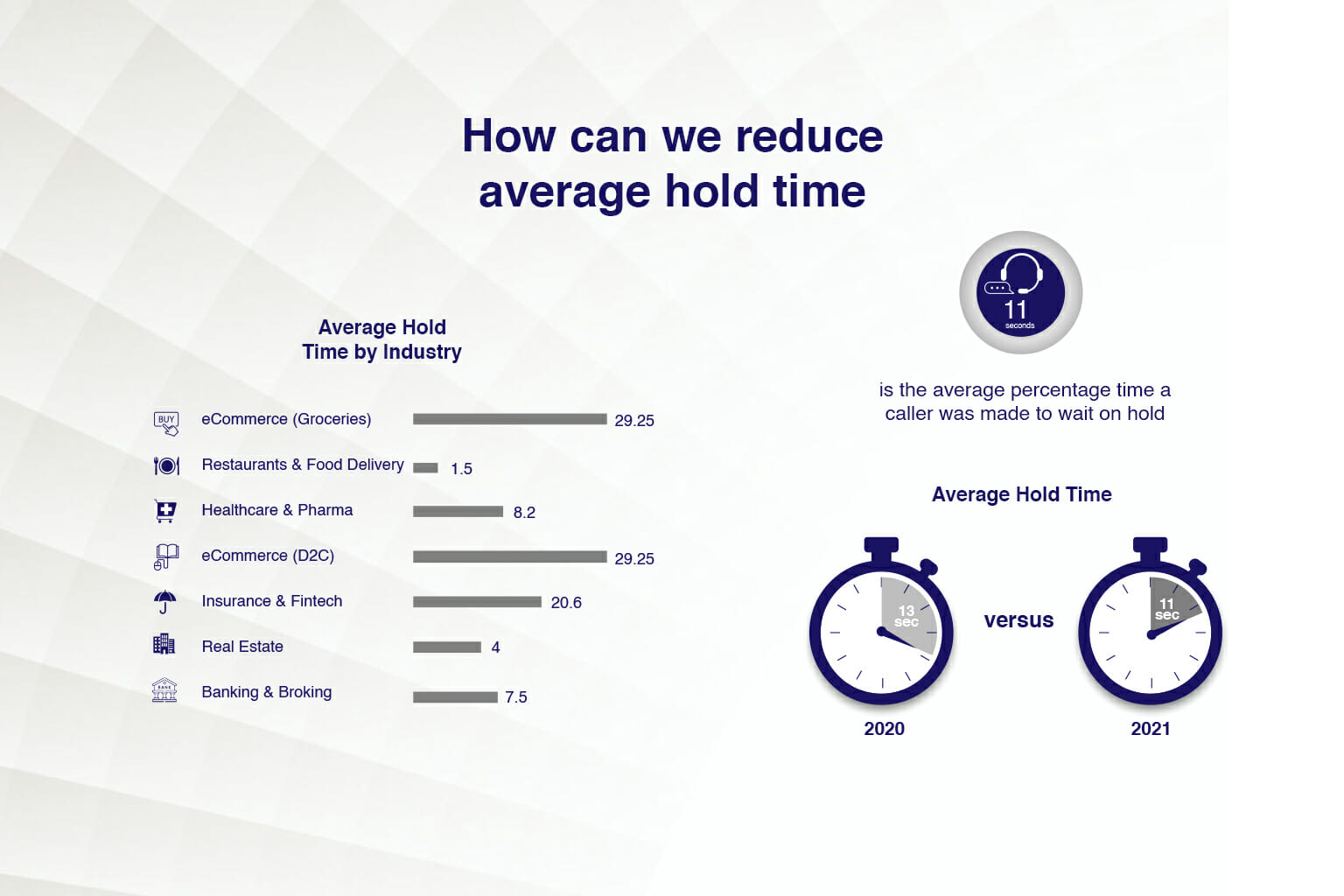 What is Service Level?
Service level indicates how many calls are answered within twenty seconds. Aggregated across Industries, most of our clients maintained an average service level of 93%. This means most clients answered 93% of calls in twenty seconds or less.
These levels vary based on business KPIs. For instance, this is how service levels varied across four sectors:
● Financial Services: 95% calls answered in under 20 seconds.
● BPO: 99.9% calls answered in under 20 seconds.
● eCommerce: 98% calls answered in under 20 seconds
● Pharma: 80% calls answered in under 20 seconds.
How do we maintain high service levels?
To maintain high service levels we need to maintain high answer rates and consequently low abandonment rates. You can achieve this by following all the measures we outlined earlier including:
● Effective Call Routing and call distribution
● Accurate Staff Forecasting
● Adequate Staffing
● Effective staff training
Outbound Call Center Metrics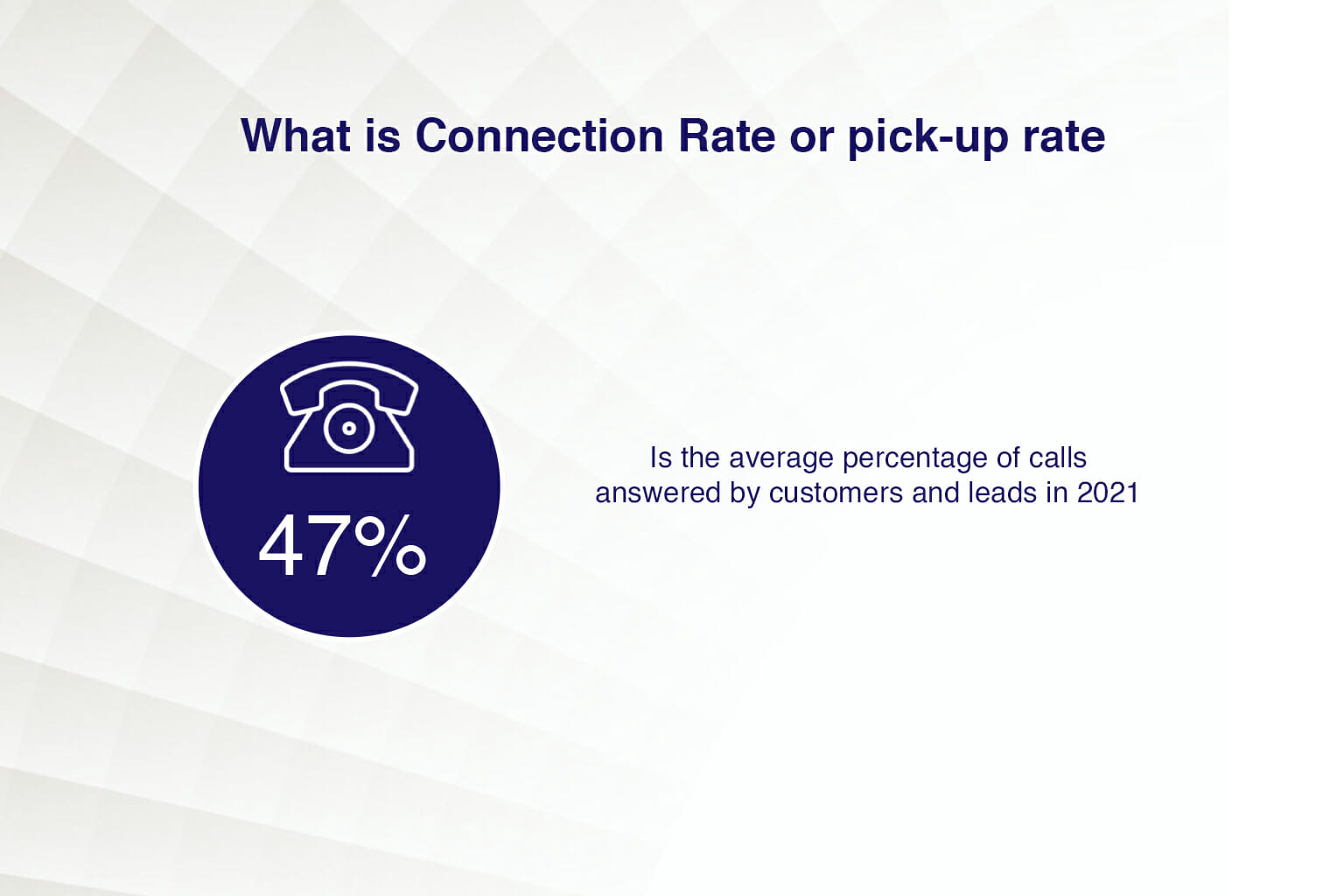 What is Connection Rate or pick-up rate?
Connection Rate is the average number of leads who answer calls versus the total number of calls dialed. It is also known as answer rate or pick-up rate. To determine the rate, we divide the calls answered [including voicemails] by the total calls placed.
Why measure Connection Rate?
This metric lets you know the effectiveness of your outbound campaigns.
How to improve The Average
Connection Rate?
To improve how many contacts pick up your calls, you need to ensure you choose the right dialer, the right timing, and the right caller id. Reschedule calls for separate times of the day, and days of the week, to see which day and time give you the best answer rates. Consider using virtual number masking to display local phone numbers within your caller id to improve answer rates.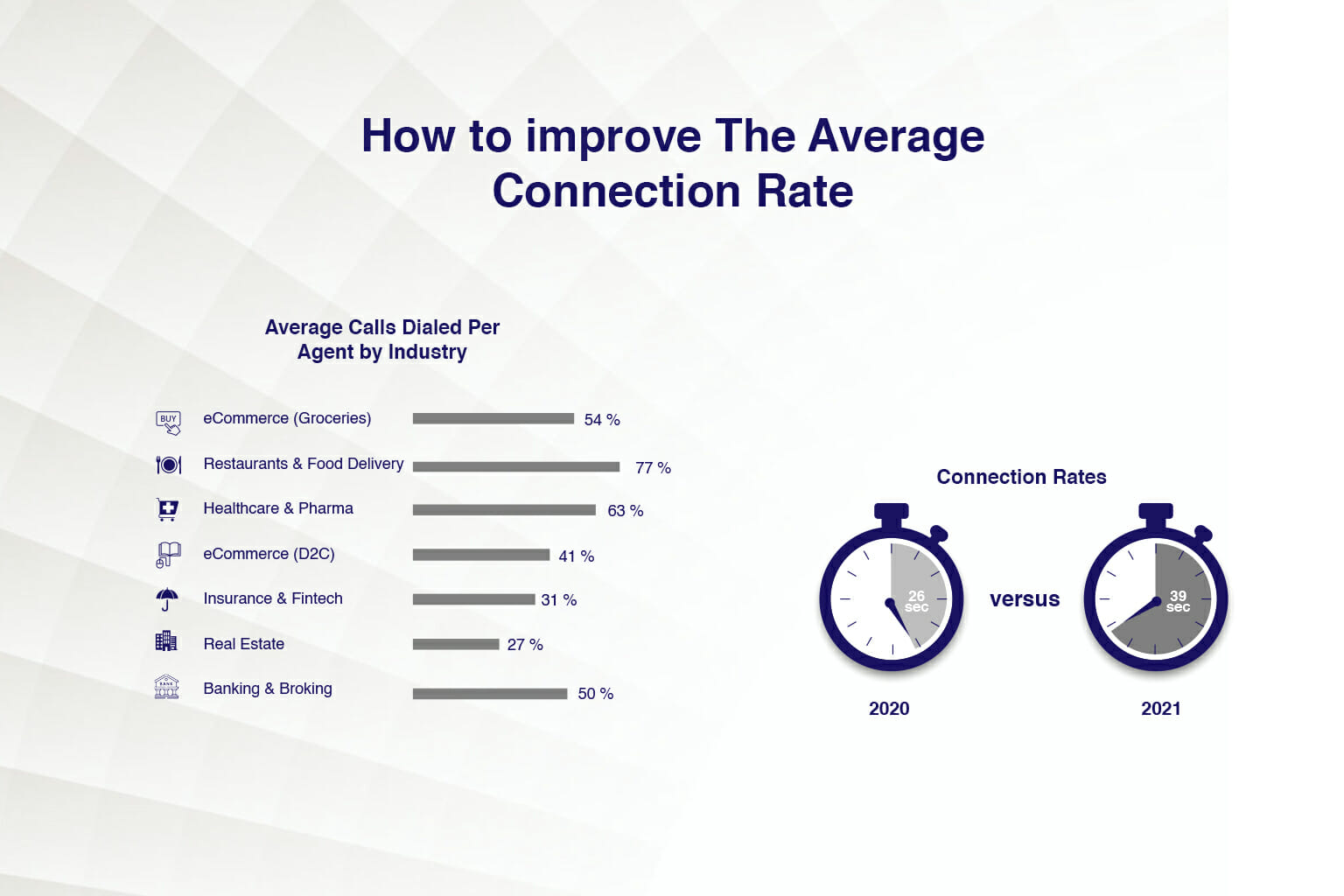 How efficiently are call center agents working?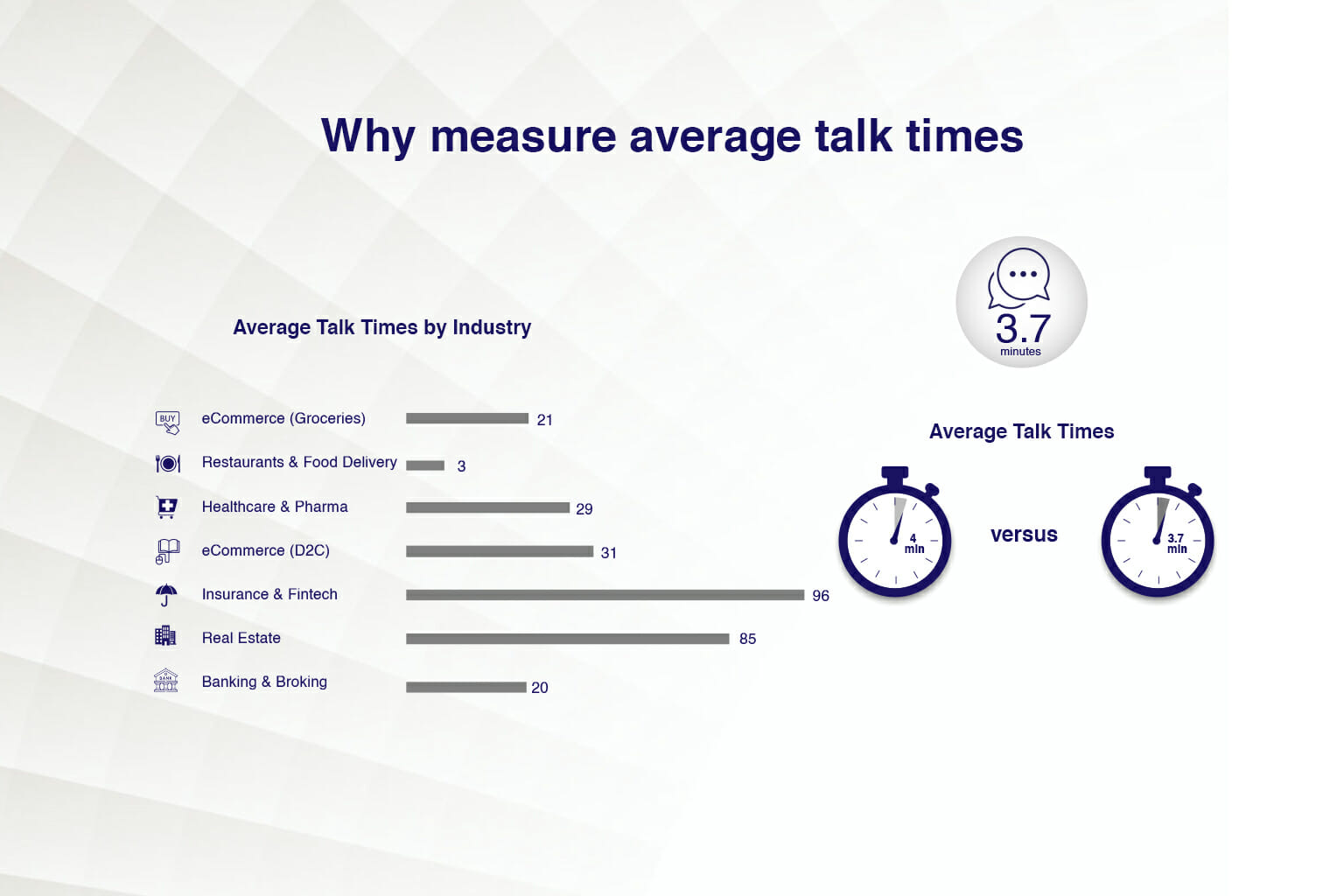 What is Average Talk Time?
Average Talk Times tell you how long an agent spends talking to a caller on average.
Why measure average talk times?
Average talk times measure a contact center's efficiency.
These rates help you to determine your call center staffing requirements and your cost per call.
After Call Work (AWC) or post-call processing is the work a call center agent puts in after speaking to a customer. This includes updating customer information, adding call disposition, adding notes, logging the call, or following up with an email or message. Until the ACW is complete, the agent's status remains busy or unavailable.
Why Measure ACW/Wrap Time?
ACW affects agents' productivity and contact center efficiency. A high amount of ACW can lead to higher call queues and affect customer experience metrics.
How can you improve ACW?
You can reduce ACW in the following ways: