Bring Your Own Carrier. Control Your Call Center Costs with BYOC Trunk
Bring Your Own Carrier. Control Your Call Center Costs with BYOC Trunk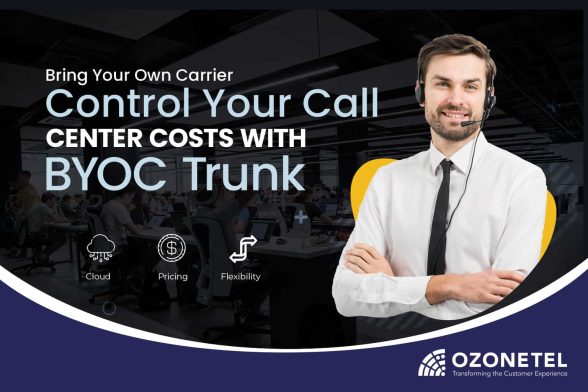 Bring Your Own Carrier (BYOC) is a relatively uncommon feature that a company can opt for when it uses a cloud telephony solution for its unified communications (UCAAS) or contact center (CCAAS).  This feature makes it easier for businesses to switch from a legacy PBX or contact center to a cloud solution. And it is also a great way for call centers to control their call costs.
In this article, we will explore:
What is BYOC (Bring Your Own Carrier)?
BYOC or Bring your Own carrier is an optional feature within a cloud telephony solution that allows a business to use a telecom carrier or SIP trunk of their choice in the backend. 
However, this feature is not available easily. Most CCAAS (Cloud telephony as a service) come pre-packaged with their own telecom carrier and do not allow businesses the freedom to choose their own calling plans. The company cannot select a telecom provider of its choice and needs to terminate any existing contracts with its telecom provider before switching to the cloud solution.
Ozonetel is one of the few cloud contact center solutions to offer BYOC to its customers in the United States. You can use a BYOC option with a PSTN line or a SIP trunk.
How does it work?
To understand BYOC, you need to understand how a cloud telephony solution works. On the front end, your cloud call center solution consists of a software layer that either routes your calls to the right agent (inbound call center solution) or dials outbound calls from your agents (outbound call center solution). Agents can answer at home or in an office, and Managers can record, analyze, and monitor these calls from anywhere. Important cloud telephony features include IVR, dialers, ACD, and CTI integrations. 
At the back end, these cloud call center solutions use a PSTN (Public switched telephone networks) or SIP (Session Initiation Protocol) trunk to transport calls from one person to another.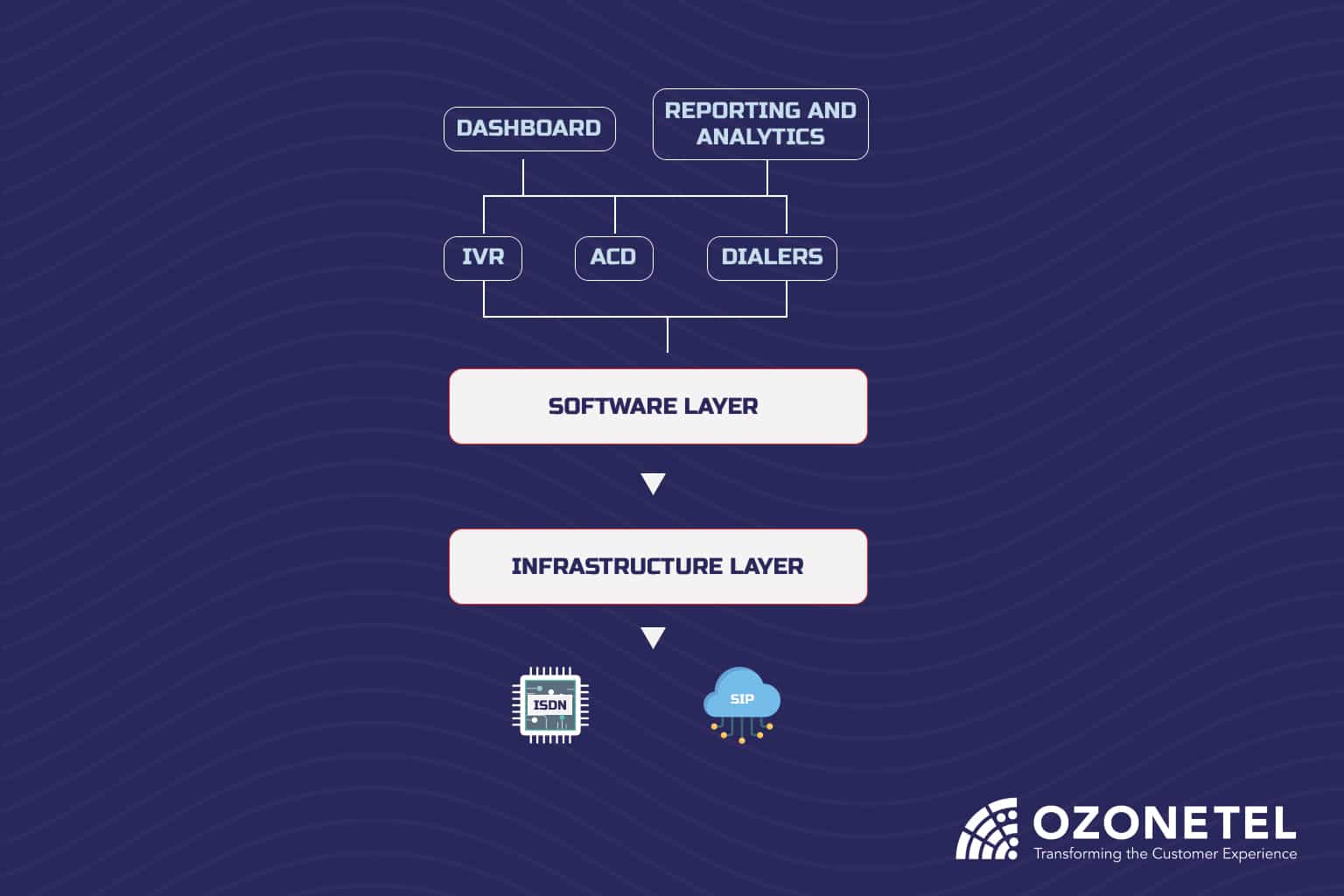 With BYOC, a company can choose which SIP trunk or PSTN network they use for their calling plans while using a cloud contact center solution.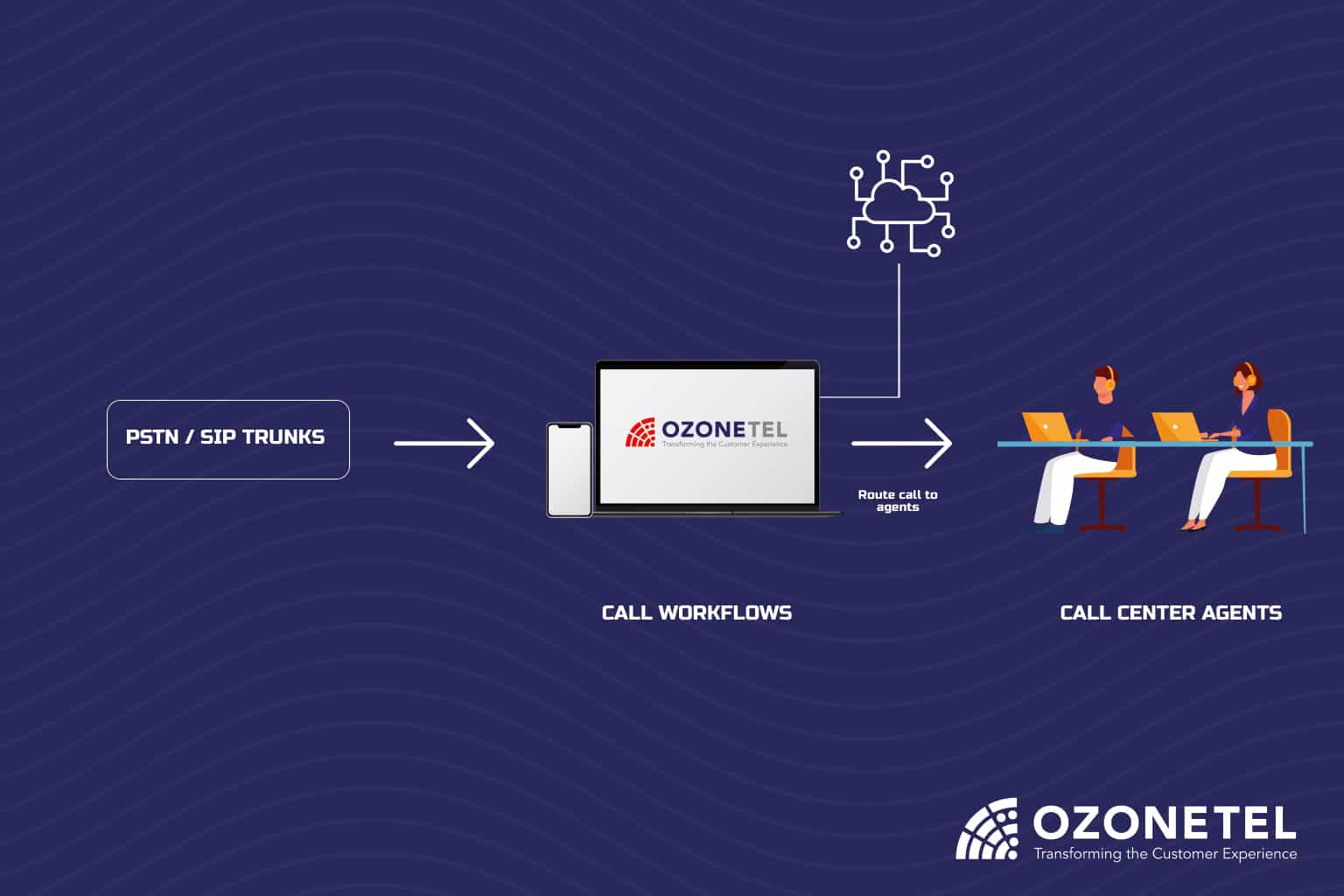 SIP Trunks & BYOC
In countries such as Brazil and India, all calls need to be routed via a PSTN network. So even if you opt for a cloud telephony solution, you need to route these calls via your PSTN line.
However, in countries such as the United States where there is no legal restriction on the use of VOIP, Public switched telephone networks are slowly fading. Businesses generally opt for a SIP trunk.
Why opt for BYOC?
Most CCAAS or Cloud telephony Solution providers deliver software solutions with all-in-one packages. In many cases, they contain the software, virtual numbers, and SIP trunking.
While that can be a good choice for many end customers, these centers are dependent on the software provider for coverage, cost, compliance, and quality.
The software vendor checks off all of those boxes in a perfect world. In reality, no one can excel in all of those areas. They may build great software but fail to meet certain telecom expectations.
With BYOC, there is never an issue. Customers can use Unified-Communications-as-a-service (UCaaS), Contact-Center-as-a-Service (CCaaS), and Cloud PBX solutions to choose their own SIP trunking provider.
When you bring your own carrier, you retain your phone numbers and billing plans from the initial carrier. You do not have to terminate any existing contracts, and your call center can make the move to the cloud in a few days.
The four big advantages of BYOC include:
Cost-effective cloud migration
Complete transparency & better pricing
Bring your own number
Additional Flexibility
Cost-Effective Migration to Cloud
When a call center transitions to the cloud, BYOC can help them overcome some hurdles. Cost is often the reason why companies stick with the same call provider. For example, many companies end up with multi-year contracts with a carrier. The business might have to pay thousands of dollars to get out of the contract. 
With BYOC, companies don't have to cancel. They can still retain the benefits and use the discounts of the existing carrier. You continue to have full access to any call routing or other services.
Complete Transparency & Better Pricing
With SIP VOIP, you only pay for the services that you use. Many call centers want to save money but not lose on the quality of their communications service.  SIP trunking provides a cost-effective way to meet your telephony needs.
If your local carrier provides better call rates, then BYOC is the right option for you. With BYOC, you will have a more transparent statement with complete details on your call costs.  
Bring Your Own Number
If your existing number/s cannot be ported, then BYOC is the right option for you.
Bringing your own carrier enables you to use any existing number. These telephony solutions have been created in a space designed for the future. Call centers can select one or several providers, depending on the specific needs of your business.
Besides, without the hassle of number porting, the switch to the cloud can be completed in a matter of hours, with little wait time or impact on outgoing calls.
Additional Flexibility
BYOC offers flexibility to complete a phased transition into the cloud. Bringing your own carrier allows call centers to move their legacy platforms more efficiently.
This option provides an extra level of control over those vital transitions. If something happens with the change, it is possible to roll back any modifications.
Ready To Get Started With BYOC? Try Ozonetel
Ozonetel provides cloud-based communication solutions to call centers throughout the world. We help large-scale companies and SMBs access flexible and affordable contact center platforms.
Our company offers easy-to-use CRM, auto-dialer, and support desk integrations. Along with that, Ozonetel is one of the few call center software options to allow businesses to use a telecom trunk of their choice. 
Are you interested in migrating to the cloud? Ozonetel can integrate with your existing system, and complete an enterprise deployment in weeks, not months. Contact us here to learn more. 
Interested in partnerships? Ozonetel is looking for strategic partners across the United States, Canada, Singapore, UAE, and India. Learn more here.