Many people assume that chatbots are the only way AI is used in customer service.
A few years ago, that really was the primary role of AI in customer support. But very few people predicted just how integrated AI and customer service would be at this time. Now, artificial intelligence is used to augment almost every customer service activity. AI can intuit, analyze, predict, monitor, guide, and do amazingly human-like things. It can assist us or work in partnership with us.
Many exciting new AI customer support use cases have recently emerged. Here are eight examples of the ways how AI is being used in customer service.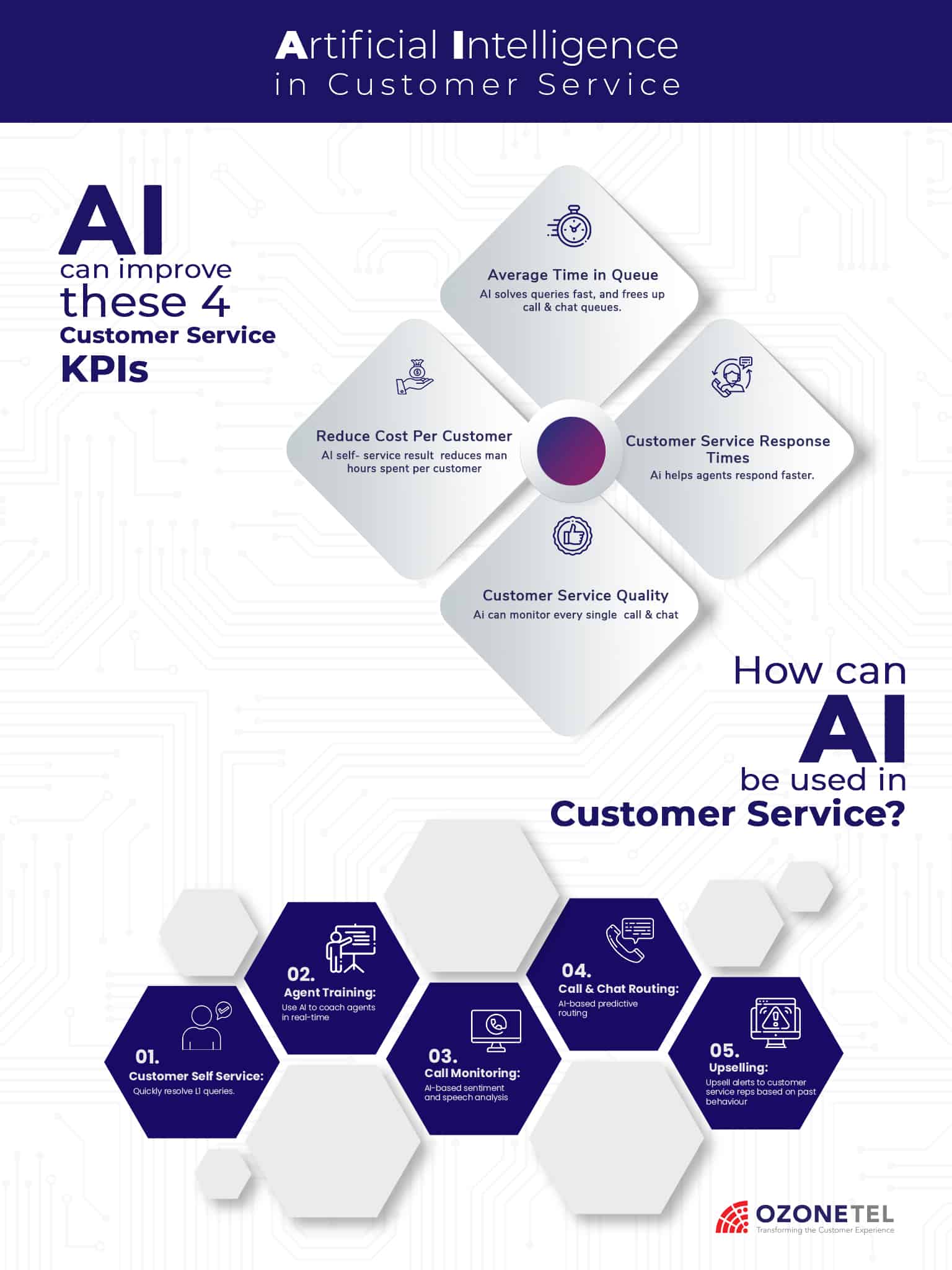 1.Offering Customer Self-Service
Your customer doesn't always want a long drawn-out conversation with a human. Sometimes they want quick answers to their queries. And nothing handles this better that 24x 7 voice bots, conversational IVR, and chatbots. Customer service AI can act as a virtual assistance, guiding customers through online knowledge banks or through self-directed activities.
This can be anything from filling out forms or finding product information.
Tasks that are best handled by AI-based chat or voice bots include:
Updating customers on their ticket status

Updating customer on their delivery status

Bookings and cancellations

FAQs
All other queries can be escalated to human agents who ensure that your customer service remains empathetic and human when customers need the extra attention. 
Also Read: How to create a winning self-service strategy
2.Delivering Faster Customer Service Response Times
AI is the perfect way to improve your customer service response times. Self-service AI systems, along with customer service AI chatbots and voice bots, can fully handle simple queries. This leads to faster responses for simple, L1 queries. And it results in shorter wait times for customers who need real human agent support.
This is one customer service AI example that most of your customers will appreciate because almost none of us have the patience (or willingness) to spend that much time waiting for customer support. In fact, when HubSpot surveyed 1,000 people in the US, UK, Australia, and Singapore, they discovered that 10 minutes of waiting was the maximum time 2/3 of the people could tolerate.1 And 90% of people rated getting an immediate response as very important in their customer service experiences.
Our Call Center Performance Report 2020-21 supports2 this. Despite a 53% decrease in Average Queue Times (from 2019 to 2020), call abandonment rates continued to increase from 12% to 15%. That means 15% customers were abandoning calls when they had to wait for more than 37 seconds to get a response from a call center.  
Providing customers with timely support is vital. Needless to say, good customer service never results in customers hanging up on you. And cutting wait times by implementing AI customer support is an easy way to boost customer satisfaction.
3.Lowering your Cost per Customer 
AI works at scale.  A customer service AI "agent" is still a powerful software tool with more computing power than entire fields of servers used to have. A single AI customer care deployment can be used across multiple voice and chat channels. AI can effortlessly triple customer service interaction capabilities. 
This leads to a considerably lower cost per customer contact rate.
A fast-growing logistics giant used our self-service IVR to triple its call handling capacity. Automated routing, multi-level IVR, and integrated SMS plugins skyrocketed their contact center performance.
Their operational efficiency improved by 40%. And the AI customer support lowered their cost per contact by 3.5 times. They were able to manage all 83,000 incoming contacts, without missing a single customer.
4.Improving Customer Service Quality
With insightful analytical feedback, AI can help improve customer service over time. We don't always get the best service quality feedback from customers or agents. Both can be biased or forgetful. And simply recording calls for managers to listen back to is highly inefficient.
AI has a host of capabilities tuned into sentiment, conversation quality, live keyword tracking, speech rate, speech volume, tempo, silence gaps, etc. These capabilities add up to speech analytics. Artificially intelligent customer service can detect what we're thinking about, what our emotional state is, and what kind of conversation we're having.
With live monitoring and rapid processing, AI can be used in customer support to track the quality of service in real-time. AI can be set up to flag managers when customer service quality dips or things begin to go awry.
AI can be used in customer support to evaluate calls in progress or analyze them after the fact. And this can be done at scale, giving a full picture of the entire customer service center's quality as a whole.
Also Read: 4 insights that AI based Speech Analytics can give call center managers
5.AI-based Agent Training 
AI's speech analytics and AI based agent assistants can also be used to improve agent training.
AI is a precise listener, with awareness of your agent's state of being, customer mindsets, and your larger business objectives. And it has all the time in the world to give one-on-one personal training.
AI-based assistants that give real-time feedback personalized for every individual agent are now a reality. And this feedback doesn't have to be based on static scripts alone. AI with access to customer information understands their profiles. It can then apply these insights to agent training, to optimize them for your exact customer base.
AI's sentiment analysis is also used by managers in call centers to measure customer sentiment across chats and calls. They can sort their agent performance based on this sentiment analysis to better identify training needs. They can also use sentiment analysis based alerts to quickly barge-in to calls and help agents resolve escalations in real-time. 
Also Read: How Call Centers are using Speech Analytics to de-escalate tense situations.
6.AI-based Predictive Routing
Predictive routing artificial intelligence optimizes the customer-agent match. It finds the agent best suited to make a successful resolution with that customer. It uses real-time customer sentiment analysis and agent evaluation metrics to bring the pair together.
Customer support AI always keeps our emotional natures in mind. Optimizing for this can include directing customers to their preferred agent each time. This maintains continuity and keeps nurturing their relationship.
Predictive behavioral routing strengthens the overall customer experience. Omnichannel routing kicks this up a notch by making sure your customers reach their ideal agent on any digital channel service.
7.Predictive Analysis
The best customer service AI anticipates your customers' needs before they become aware of it. Then steps in with gentle service reminders or offers.
It does this with predictive analysis.
Predictive analysis puts the mass quantities of business data to good use. It can evaluate usage patterns and product lifespan to anticipate repair needs.
Or evaluate new offers and find the customers most likely to be interested in them.
8.Voice Transcription
Voice transcription sounds simple, but accurate AI-powered speech-to-text is a revolution.
Some customer support AI applications reserve voice transcription for internal analysis purposes.
Others offer it for automatic call logging and transcription.
AI-Human Collaboration
Artificial intelligence doesn't have the skills that people do. And people don't have AI's computing at scale abilities. When customer service AI is used in collaboration with real agents and managers, this service model optimizes the best of each and compensates for any weaknesses.
What this means is that while AI-based bots can be used to enable 24×7, instant responses to L1 queries, call center agents can remain free to focus on more challenging cases and areas that need a personal, empathetic touch. When done right, this creates a seamless experience for agents and customers alike.
More than just Chatbots
Was the variety of current customer service AI examples surprising? AI has definitely advanced quickly. Machine learning capabilities accelerate exponentially with landmark AI systems doubling in capacity every 3.4 months4 for the past several years.
IT was the first business department to get widespread AI adoption. But the artificial intelligence takeover soon began when its value was clearly shown. A poll of 835 executives in 13 global industry sectors found that 84% saw AI as a competitive staple3.
And AI has certainly earned a permanent place in customer service. There are many vanity solutions and tools out there. But AI customer care is one solution that can easily demonstrate the return on investment.
It's exciting to consider where AI will take us next.
References:
1. Live Chat Exposes a Fatal Flaw in Your Go-to-Market (hubspot.com)
2.Call Center Performance Metrics for 2020-21 Free download | Ozonetel
3.Artificial Intelligence to Have Dramatic Impact on Business by 2020 (tcs.com)