10 Best Outbound Call Center Software in 2023
10 Best Outbound Call Center Software in 2023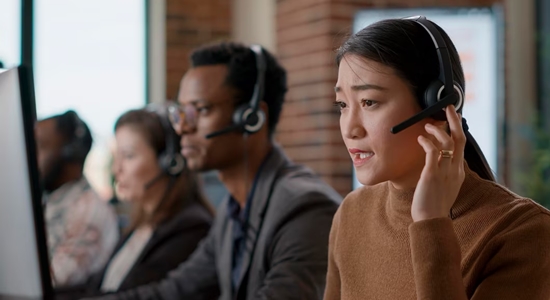 In the fast-paced world of customer service and sales, businesses are constantly seeking ways to enhance their outbound calling operations. In 2023, the importance of efficient outbound call center software cannot be overstated. These software solutions serve as the backbone of effective communication, allowing businesses to connect with customers, nurture leads, and drive sales.
In this article, we'll explore what vital factors to consider when evaluating outbound call center software, delve into the diverse advantages these powerful tools offer, and unveil our thoughtfully curated lineup of the top 10 outbound call center software options for 2023.
In this article, we will explore:
What to Look for in Outbound Call Center Software?
Before we dive into our list of the best outbound call center solutions, let's outline what features and capabilities you should weigh when evaluating these platforms:
Scalability: A good outbound call center software should be able to grow with your business. Look for a solution that can adapt to your changing needs without a hitch.
Multi-channel Support: In today's omnichannel world, it's essential to choose software that supports various communication channels, including voice, SMS, email, and social media.
CRM Integration: Seamless integration with your CRM system is a must. It ensures that your agents have access to customer data, history, and preferences during calls.
Predictive Dialer: This feature can significantly boost agent productivity by automatically dialing multiple numbers and connecting agents to live calls.
Analytics and Reporting: The capacity to track and analyze call data is vital for refining your outreach strategies. Look for software that provides in-depth reporting and analytics.
Compliance: Ensure that the software adheres to legal ordinances like the Telephone Consumer Protection Act (TCPA) to avoid costly fines.
As we venture into the realm of outbound calling software, let these critical factors guide you toward the optimal choice, ensuring a transformative and tailored solution for your business needs.
Benefits of Outbound Call Center Software
Now that you're equipped with the criteria to make an informed choice, let's delve into the numerous benefits that integrating outbound dialing software can bring to your business operations and customer relationships:
Increased Efficiency
Outbound call center software automates many manual tasks, such as dialing and call distribution. This streamlines operations, allowing agents to focus on engaging with customers and leads. As a result, businesses can handle a higher volume of calls with the same or fewer resources, significantly increasing overall efficiency and productivity.
Improved Customer Engagement
Personalization is key to effective outbound calling. These software solutions enable agents to access customer information, improving the quality of interactions and increasing the chances of successful conversions.
Enhanced Data Management
Outbound call center software centralizes customer data, making it easier to manage and utilize for targeted marketing and sales efforts. This centralized approach empowers businesses to gain deeper insights into customer behavior and preferences, facilitating more personalized interactions that can lead to higher conversion rates and customer satisfaction.
Cost Savings
By automating repetitive tasks and maximizing agent productivity, outbound call center software can lead to significant cost savings in the long run. This efficiency not only reduces operational expenses but also allows businesses to allocate resources more strategically, ultimately contributing to a healthier bottom line.
Compliance and Quality Assurance
Many industries have strict compliance requirements for outbound calling. These software solutions often include features for compliance monitoring and ensure that calls are conducted within legal boundaries. This not only mitigates legal risks but also enhances the quality and credibility of customer interactions, building trust and reputation in the long run.
Best Outbound Call Center Software Solutions in 2023
Now, let's dive into the main attraction – the top 10 outbound call center software options for 2023:
1. Ozonetel
Rating: 4.6 on G2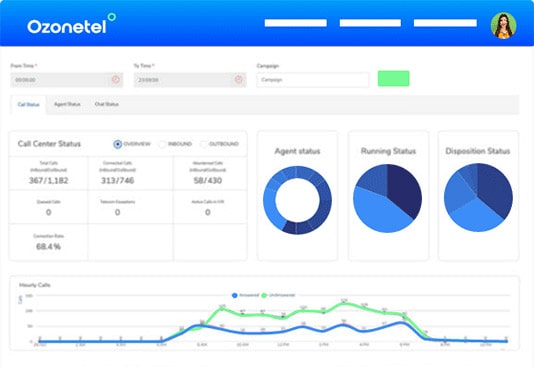 Ozonetel is an industry leader known for its robust outbound call center software. With features like predictive dialing, intelligent call routing, and advanced analytics, it's a top choice for businesses looking to optimize their outbound calling operations.
Reasons to Choose
Flexible Dialing Modes: Adapt your dialing strategies to meet campaign requirements and optimize your goals with Ozonetel.
Organized Call Scheduling: Increase performance by scheduling outgoing calls systematically, programmatically via open APIs, CRM integration, and conditional API calls.
Flexible Dialing Modes: Adapt your dialing strategies to meet campaign requirements and optimize your goals with Ozonetel.
Organized Call Scheduling: Increase performance by scheduling outgoing calls systematically, programmatically via open APIs, CRM integration, and conditional API calls.
Compliance Assurance: Filter out Do Not Disturb (DND) numbers to ensure compliance with regulations.
Live Prospect Connections: Ozonetel's system skips answering machines, connecting agents exclusively to live prospects.
Data-Driven Pacing: Utilize historical call-handling statistics, wait times, and SLAs to adjust pacing ratios effectively.
Real-time Monitoring and Insights: Access over 100 live reports, AI-powered speech analytics, sentiment analysis, keyword tracking, and more.
Seamless Integration: Ozonetel integrates effortlessly with various business applications, offering single sign-on (SSO), click-to-call from CRM, automated call logging, and data sharing across the customer journey.
User Review: "Ozonetel CloudAgent has been a game-changer for our customer service operations. What I like best about it is its versatility. Whether you're a small business or a large enterprise, CloudAgent scales effortlessly to meet your needs. The ease of setup and integration with our existing systems was a pleasant surprise, and it drastically reduced downtime during implementation."
Reasons to Choose
Improve preview dialing with TCPA Manual Touch Mode, eliminating automatic dialing without agent interaction.
Digitally validate call handoffs to ensure that calls display the correct Caller ID information.
Enhance agent performance with features like agent scripting, disposition timers, redials, answering machine detection,
Implement web callback functionality to engage customers more effectively.
Leverage CRM/CTI screen pop, quality monitoring, real-time and historical reporting, performance management, and customizable dashboards.
User Review:
"What I liked about Five9 the most was that it allowed for the team to be listed and organized in a way that allowed it to be easy to understand even with little to no training."
3. NICE inContact
Rating: 4.3 on G2

NICE inContact provides a comprehensive outbound calling platform with AI-powered predictive dialing and advanced analytics. It's an ideal choice for businesses focused on maximizing customer engagement.
Reasons to Use
Reduce hang-ups with patented predictive dialers & empower Inside Sales teams to meet quotas efficiently.
Connect with a higher number of prospects in less time, making it easier for Inside Sales teams to achieve their goals.
Reduce inbound calls and costs with personalized, proactive outbound notifications, enhancing Customer Service effectiveness.
Equip sales reps with comprehensive customer history data, enabling them to recommend products or services tailored to each customer's preferences.
Enjoy pre-defined CRM and UCaaS integrations with leading solutions in the market for enhanced functionality and convenience.
User Review:
"It is a very easy application to navigate. The response on any issues is always immediately addressed and they're always evolving and making the product better."
4. Genesys Cloud
Rating: 4.3 on G2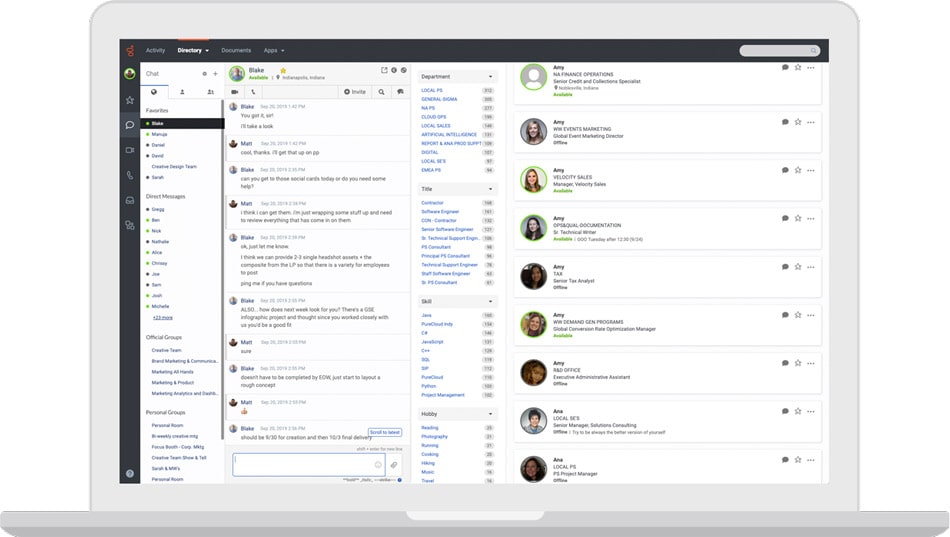 Genesys Cloud offers a complete customer experience platform, including outbound call center capabilities. Its strong integration options and multi-channel support make it a powerful choice for businesses desiring a holistic solution.
Reasons to Choose
Leverage automated and agent-assisted outbound communication channels for effective customer outreach.
Easily create and manage contact strategies using user-friendly list and campaign management tools.
Simplify compliance adherence with a dynamic self-service rules builder to meet regulatory requirements.
Capture and maintain customer preferences through an opt-in program for personalized interactions.
Improve campaign and agent performance with integrated analytics, gaining actionable insights for optimization.
User Review:
"With Genesys Cloud CX we save a lot of time by integrating and managing the different tools we use to communicate within our organization, reducing effort and increasing productivity."
5. Dialpad 
Rating: 4.3 on Capterra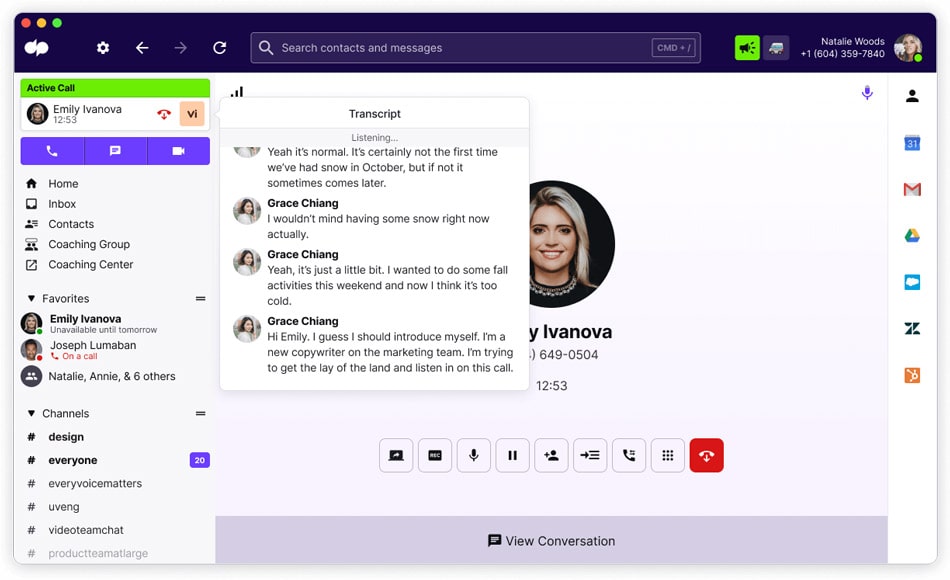 Dialpad delivers outbound call center software that combines AI-driven automation with intuitive user interfaces. It's an excellent choice for businesses looking to improve efficiency while maintaining a personalized touch.
Reasons to Choose
Leverage real-time call transcription and sentiment analysis to understand customer satisfaction without relying on surveys.
Monitor adherence to sales methodologies like BANT, SPICED, and SPIN using Dialpad's Ai Playbooks.
Automatically suggest relevant questions and phrases for sales reps during calls, ensuring key points are addressed.
Simplify voicemail drop with Dialpad's automation, allowing reps to leave prerecorded messages for unanswered calls.
User Review:
"DialPad made having a central hub for calls and client management easy. Call recording was easily accessable and call monitoring was a bonus."
6. Zendesk Talk
Rating: 4.3  on G2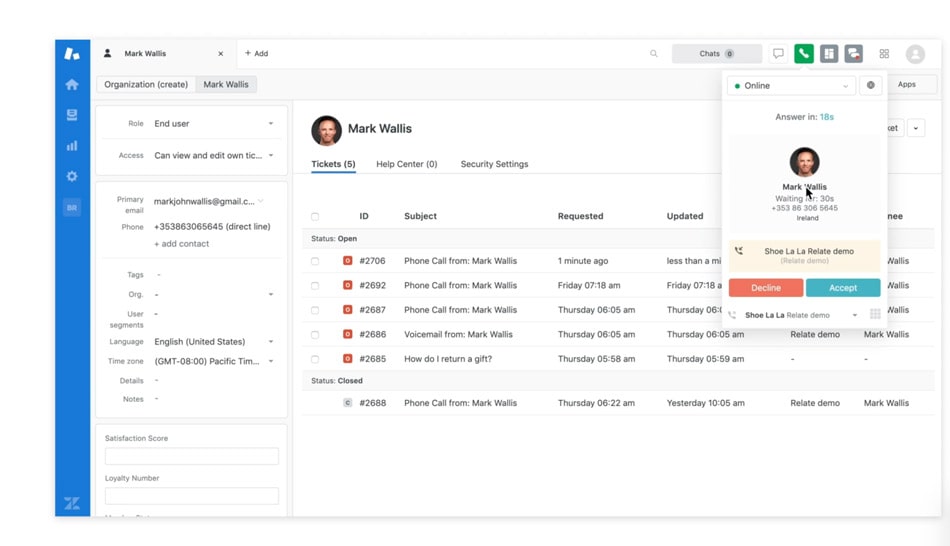 Zendesk Talk offers an integrated outbound calling solution for customer service and support teams. It seamlessly integrates with Zendesk's customer service platform, enhancing the overall customer experience.
Reasons to Choose
Monitor and guide your agents in real-time through whisper or barge-in functionalities during live calls.
Utilize conversational AI and speech analytics to offer immediate assistance and feedback with Agent Assist.
Buy, port, or forward phone numbers via Zendesk, with options for different number types and global coverage.
Evaluate the effectiveness of your outbound campaigns through diverse metrics and reporting tools.
User Review:
"Zendesk offers a user-friendly interface that allows agents to navigate and manage customer tickets efficiently."
7. RingCentral Engage Voice
Rating: 3.9 on G2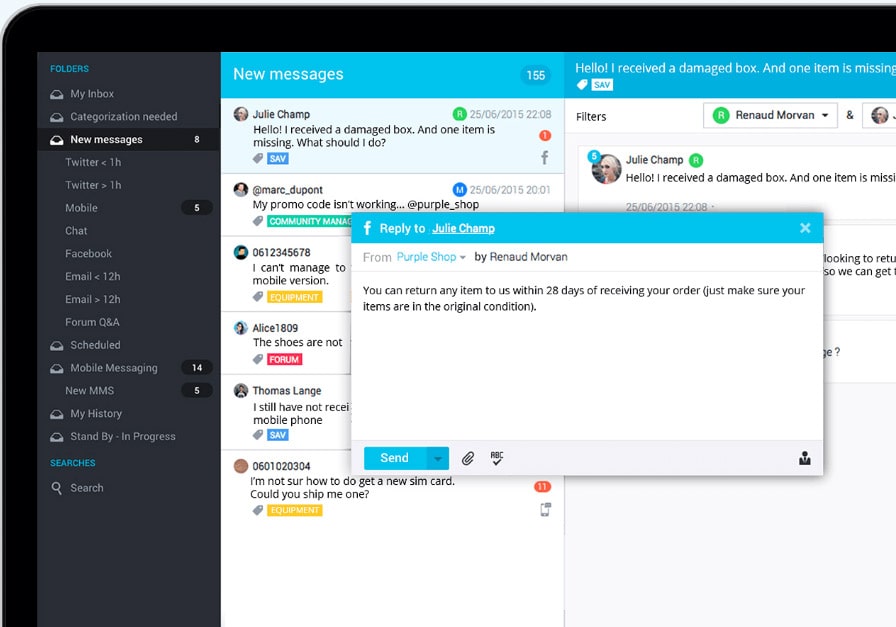 RingCentral Engage Voice provides a cloud-based outbound call center solution that focuses on customer engagement and personalization. Its reporting and analytics capabilities are notable for data-driven decision-making.
Reasons to Choose:
Harness AI digital routing and machine learning for data-driven insights, enhancing agent-customer communication.
Utilize data segmentation in lead management for seamless campaign adjustments and appropriate lead handling.
Improve the identification of buying patterns and upsell opportunities with actionable insights and robust reporting.
Leverage open APIs to make intelligent connections and enhance customer engagement.
Implement virtual hold and call deflection to provide customers with alternative communication options.
8. Avaya Aura Call Center Elite
Ratiing: 4.1 on G2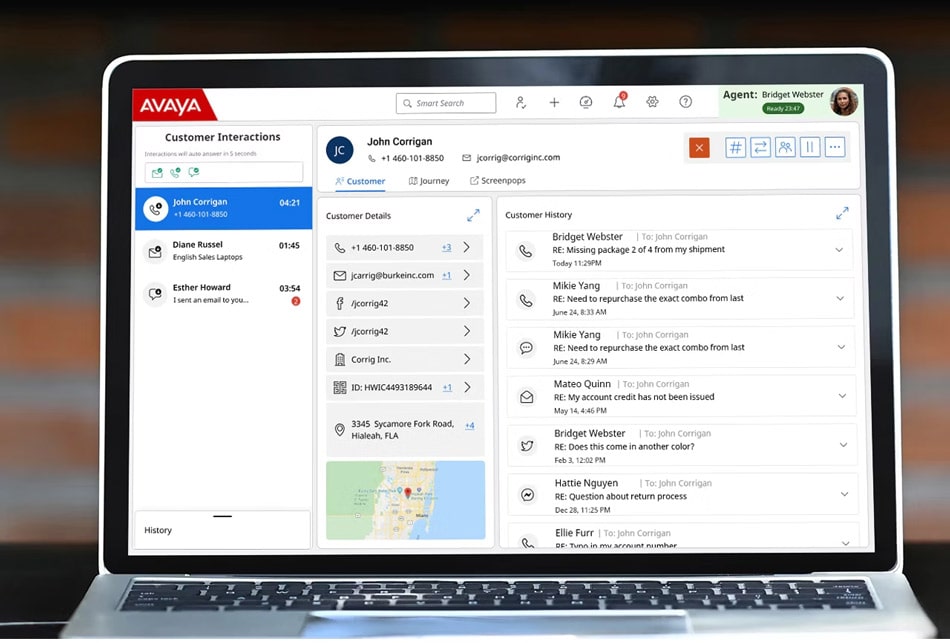 Avaya Aura Call Center Elite is a scalable solution suitable for large enterprises. It offers advanced routing options, robust reporting, and comprehensive workforce optimization tools.
Reasons to Choose
Directs voice calls to your cloud-based agents, providing them with contextual information for enriched customer interactions.
Eliminate background noise in cloud-based voice calls, ensuring more accurate recordings and clearer exchanges
Manage voice communications directly in a browser or as a separate media endpoint while handling multiple digital customer interactions simultaneously.
Enable cloud agents and teams to work from anywhere, maintaining consistent capabilities across locations.
Utilize enterprise-level call recording, tagging, and archiving to enhance compliance and liability protection.
Directs voice calls to your agents, providing them with contextual information for enriched customer interactions.
User review:
"It's a beneficial application, that helps me to communicate with my customers, it always has a good connection and a bunch of tools that can be integrated into other software you are using."
9. Talkdesk
Rating: 4.4 stars on G2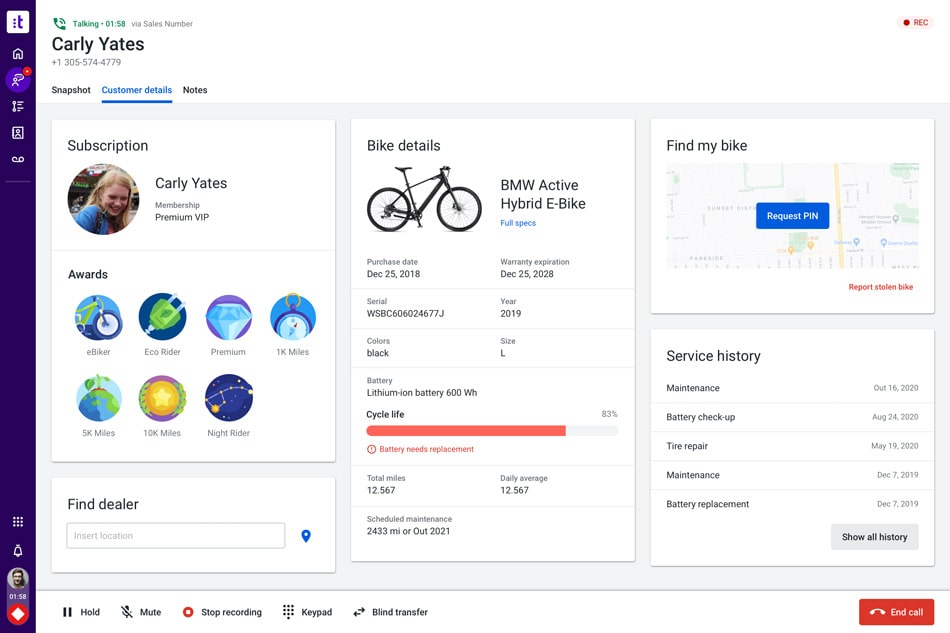 Talkdesk's cloud-based outbound call center software is designed for flexibility and scalability. It's an ideal choice for businesses that need to adapt quickly to changing customer demands.
Reasons to Choose
Efficiently manage outbound call volume by filtering out unproductive calls like voicemail, busy signals, and unanswered calls.
Easily create and manage campaigns within minutes using Talkdesk's intuitive interface, requiring no specialized skills.
Instantly insert web leads into active campaigns, allowing for immediate dialing and engagement.
Streamline data input by uploading CSV files or pushing records from various sources like Salesforce, CRMs
Anticipate customer needs and engage proactively through automated event-triggered SMS notifications
User Review:  
"Talkdesk has easy-to-use access to users which helps reduce agents' time to resolution and tailor customers' experience."
10. Aircall 
Rating: 4.3 stars on Capterra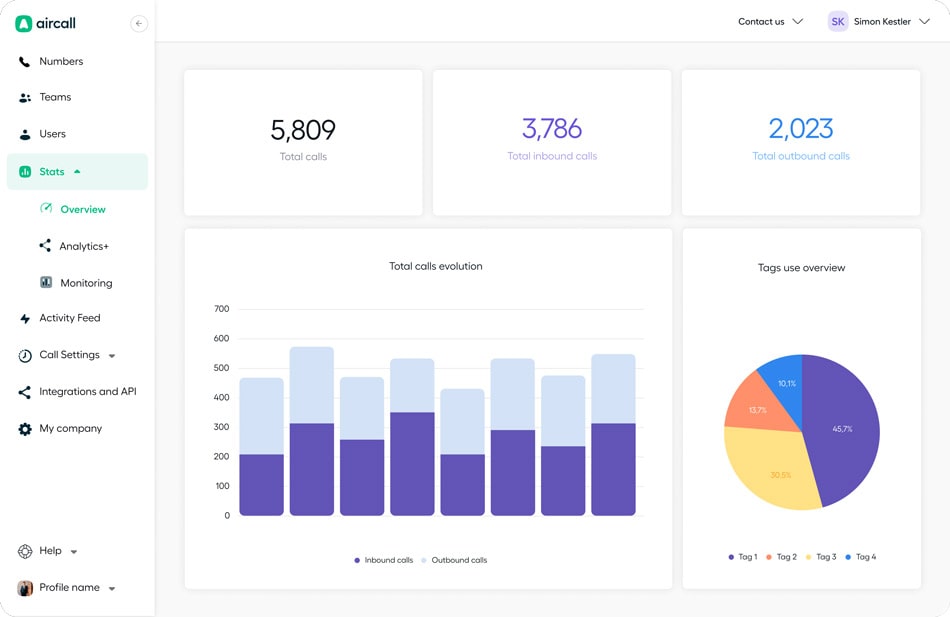 Aircall offers a user-friendly outbound calling solution with seamless integrations. Its ease of use and collaboration features make it an attractive option for teams looking to enhance customer interactions.
Reasons to Choose
Seamlessly integrates with popular CRM tools to access contact details, call notes, and automate call syncing.
Empower your sales reps with features like PowerDialer and Click-to-Dial, helping them reach call quota faster.
Gain insights into individual and team performance, track trends, and use data for better decision-making on quotas and revenue targets.
Export data into your BI tools via open API or integrations to manage all reporting in one place.
Accelerate agent onboarding with call coaching, real-time activity feeds, and call recordings for improved customer interactions.
User Review:
The simple interface allows new teams to manoeuvre around handling calls in an effiecient way, considering how phone calls are in nature.
Strategic Investment: Choosing Your Ideal Outbound Call Center Software
In a world where customer interactions can make or break a business, investing in the best outbound call center software for 2023 is a strategic move. The right software can significantly boost efficiency, improve customer engagement, and drive sales, ultimately leading to a more successful and competitive business.
Remember that the ideal outbound call center software should align with your specific needs, whether you're a startup or an established enterprise. Consider the features, scalability, and integration capabilities when making your decision. With the right software in place, you can confidently connect with customers, nurture leads, and take your outbound calling operations to new heights in 2023 and beyond.
Ready to see what Ozonetel can do for your company? Sign up today for a free 21-day trial.