10 Best Cloud Telephony Services in 2023
10 Best Cloud Telephony Services in 2023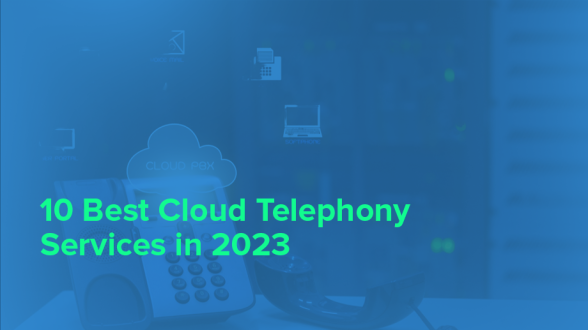 Cloud telephony service has gained immense popularity over the last few years allowing businesses to place & receive calls directly from any computer or mobile device with an internet connection. It has also free businesses from the burden of buying and storing stand-alone hardware, like PBX boxes and handsets. Simply put, cloud telephony is a phone system that runs through an internet connection.
Cloud telephony is a type of Unified Communications as a Service, or UCaaS. This means that it combines different communication and collaboration tools to provide messaging capability in voice, text, and video through a third-party host.
This article describes in detail the importance of cloud telephony software, how to procure the best cloud telephony solution for your business, and which are the top ten best telephony software that every professional should know of. It also outlines their features, business benefits, and expert opinions.
In this article, we will explore:
Why Your Business Needs a Cloud Telephony Software?
Cloud telephony software is designed to provide businesses with a virtual phone system that can be accessed from anywhere and at any time using an internet connection. This type of software provides a range of features such as call forwarding, voicemail management, call routing, and more. In addition, many cloud telephony solutions offer advanced features such as analytics, call recording, and integration with other applications.
Cloud Telephony vs Traditional PBX vs VoIP
Here is the difference between cloud telephony, traditional PBX, and VoIP.
1. Cloud Telephony: Cloud telephony is a type of phone system that uses the internet to make and receive calls, instead of using traditional phone lines. It is often referred to as "hosted PBX" or "cloud PBX". Cloud telephony systems offer several advantages, including lower costs, flexible features, scalability, and easy setup and maintenance.
2. Traditional PBX: A private branch exchange (PBX) is a traditional telephone system that is installed on-premises and typically managed by a dedicated team of personnel. PBX systems are difficult to maintain and can get quite expensive if they are not properly managed.
3. VoIP: Voice over Internet Protocol (VoIP) is a technology that allows users to make phone calls over the internet. VoIP is cost-effective and easy to set up and provides users with a wide range of features, such as call forwarding, call waiting, and voicemail. It also offers a higher level of security than traditional PBX systems.
How to Choose the Best Telephony Software?
When choosing the best telephony software for your business, consider the factors given below.
1. Research & Learn
Research the features and capabilities of the different telephony software options available in 2023. Make sure you have a good understanding of what the software can do and how it can help your business.
2. Avoid Complexity
Look for software that is easy to use and understand. Make sure it has a user-friendly interface and that it is compatible with the systems and hardware you already have in place.
3. 24*7*365 Customer Support 
Consider the customer service and technical support offered by each software provider. Make sure you choose a provider that offers quality and reliable customer support.
4. No Hidden Cost
Check for any additional fees associated with the software. However, the pricing model should best suit your requirement, end-user number, and project duration. Make sure you're aware of any hidden costs.
5. Ensure Cyber Security
Make sure the software is secure. Ensure the software is regularly updated to protect against any security vulnerabilities like cyber-attacks, which can lead to millions of losses through ransomware, etc.
6. Informed Decisions Are the Best
Read customer reviews and feedback to get a better understanding of the customer experience. This will help you make an informed decision on the best telephony software for your business.
Top 10 Best Cloud Telephony Software – 2023
To help you make an informed decision, we have compiled a list of the top 10 cloud telephony software in 2023.
1. Ozonetel

G2 rating: 4.6/5
With Ozonetel's cloud telephony solutions, you can quickly and easily access all call controls, including hold, mute, and transfer, from the Ozonetel dashboard with just one click.
Features:
Access to advanced APIs for personalization.
Seamless integration with social media platforms like Facebook, WhatsApp, etc. 
Allows modification of IVR.
Drag and drops facility with zero coding requirements, among others.
Reasons to buy:
Ozonetel's telephony solution is amongst the best telephony software of 2023 because of its ability to understand customer sentiments and respond in a natural way over the call or on chat. 
It also assists the call handler with automatic screen pop-ups with relevant caller details to enhance call personalization and time-saving.
User review: "Robust contact centre solution"
2. RingCentral

G2 rating: 3.9/5
RingCentral is one of the most popular cloud telephony solutions offering unlimited calling, caller ID, call forwarding, live chat tracking, etc.
Features:
progressive dialing.
preview dialing.
predictive dialing.
seamless integration with several CRM platforms like Salesforce, Zendesk, etc..
Reasons to buy:
The in-built drag-and-drop builder assists in the creation of unique automatic call scripts for various scenarios. This is especially useful during busy times and is often called Interactive Voice Response (IVR). 
RingCentral provides tailored solutions for companies in a variety of sectors, including technology, retail, healthcare, finance, education, and more.
User review: "I love the customization of the product. I get to choose hold music, how the phone is answered. I can put callers on hold and pick up from another device. I can send and receive text messages. All around it's a great tool for the small business owner."
3. Vonage

G2 rating: 4.3/5
Vonage software offers a full range of features and services. Call forwarding, adaptable calling plans, voicemail, an automated attendant, and call screening are some of these services.
Features:
Mobile app integration.
Extensive analytics.
CRM system connection.
Reasons to buy:
Users can easily manage their time more effectively using Vonage and keep track of customer and sales calls. 
Offers consumers a safe and dependable connection by ensuring that all calls are routed through the safest and most secure networks.
User review: "Vonage has everything you need in a business telecom provider."
4. Twilio

G2 rating: 4.4/5
Twilio is a cloud telephony solution that offers a range of features such as call forwarding, voicemail management, and conference calling.
Features:
Supports integrations with Salesforce, Zendesk, and other popular applications.
Automated attendants and IVR.
Call forwarding.
Call recording.
Reasons to buy:
Twilio's APIs and SDKs make it simple to incorporate communication capabilities into web and mobile applications. 
The cloud-based platform from Twilio offers scalability, flexibility, and extensive security features and is appropriate for various organizations and applications.
User review: " Putting customer's first"
5. Phone Burner

G2 rating: 4.7/5
Phone Burner is a cloud-based, auto dialing application that uses VoIP to make calls, making it accessible from anywhere and a great choice for remote teams. Your sales force may make up to 80 calls per hour with its auto-dialing feature.
Features:
Sort leads using a variety of advanced lead management tools, including location, tags, last call time, and others.
Seamless integration with existing CRM software.
Reasons to buy: 
Allows limitless pre-recorded voicemails to be available.
Real-time follow-up text messages and emails can be sent instantly within the app.
Manage your contact list and leads without using an external CRM thanks to Phone Burner's integrated sales CRM.
User review: "Phone burner makes my daily work task effortless, efficient and easy."
6. Nextiva

G2 rating: 4.4/5
Nextiva is a cloud telephony solution that offers a range of features such as call forwarding, voicemail management, video calling, video conferencing SMS, faxing, call routing, etc.
Features:
Compatible with popular applications like Salesforce HubSpot, Zoho, and Zendesk.
Comprehensive outbound call management.
The special click-to-call feature enables the team to dial phone numbers of generated fresh leads instantaneously with a single button click.
Reasons to buy:
Eliminates manual dial and switch between different pieces of software.
Offers time efficiency.
Enhance the call quality.
Examine the entire contact information that is already stored in your CRM.
Supports call personalization and conscious cross/up sales.
User review: "Excellent team setup support and great communication by the Nextiva team."
7. Exotel

G2 ratings: 4.3/5
Exotel offers simplified customer engagement through omnichannel call-handling functions.
Features:
Enables remote sales and customer care.
Call analytics.
Automatic call routing to the right agents.
SMS broadcasting services, among others.
Tracking tools to monitor remote staff.
Reasons to buy:
Exotel customers benefit from a 24*7 customer service toll-free number.
Integrated voice call with helpdesk, CRM, applications, etc.
Streamlines client engagement.
User review: "Excellent cloud-based telephony and message service provider platform."
8. CloudConnect

Mouthshut.com ratings: 4.7/5
For many enterprises and industries, CloudConnect delivers a scalable, cost-effective, and secure cloud telephony service.c
Features:
Provides mobile and digital PBX for global communication.
Voice broadcast, NLP, hosted IVR, call analytics, etc.
Supports cross sales.
Personalized call handling with historic data analysis.
Reasons to buy:
Offers instant text messages and attachment sharing with clients.
It has low hardware maintenance charges, etc.
Offers access to conference dial-ins and advanced encryption with ads.
User review: "Amazing cloud telephony service for business."
9. Jive

G2 rating: 4.4/5
Jive (acquired by Go to Connect) is a cloud-based telephony solution created to give small and medium-sized enterprises access to a dependable, cost-effective, and simple-to-use phone system.
Features:
Auto-attendant.
Call routing, call recording, call monitoring, call queuing.
Call analytics.
Connects easily with current systems, including CRM systems.
Reasons to buy:
Users can make and receive calls.
Send and receive texts.
Check voicemail anywhere thanks to its mobile app. 
Call forwarding, conferencing, and audio conferencing.
User reviews: " Simple to use."
10. Mitel

G2 ratings:3.8/5
Mitel telephony software is an excellent choice for businesses that need reliable, high-performance communication solutions.
Features:
Call routing.
Mobility solutions.
Conferencing.
Voicemail.
Unified messaging.
Reasons to buy:
Inexpensive, secure, and simple to use.
Cutting-edge functionality and flexibility.
Compatible with popular applications like Salesforce and Zendesk.
User review: " Solid UCaaS solution with useful and user-friendly features."
11. Ameyo

G2 rating: 4.3/5
Ameyo has emerged as a preferred cloud telephony software. Businesses can set up a remote call center using Ameyo cloud telephony providers' adaptable solutions.
Features:
Supports outbound, inbound, and hybrid call center management.
Personalization in call handling.
WhatsApp Business API.
Call handling, forwarding, VoIP.
Reasons to buy:
Enables customer data privacy through data masking.
Offers click-to-call features.
Seamless integration with CRM and helpdesk software.
User review: " Great tool for contact center and contact management."
Conclusion
Cloud-based telephony solutions are quickly becoming the preferred choice of contact centers due to their scalability, flexibility, and cost savings. Moreover, innovations and the use of artificial intelligence are likely to add greater value in the near future with more competitive pricing and features.