Buyer's Guide on Auto Dialer Software: Best Auto Dialer System
Buyer's Guide on Auto Dialer Software: Best Auto Dialer System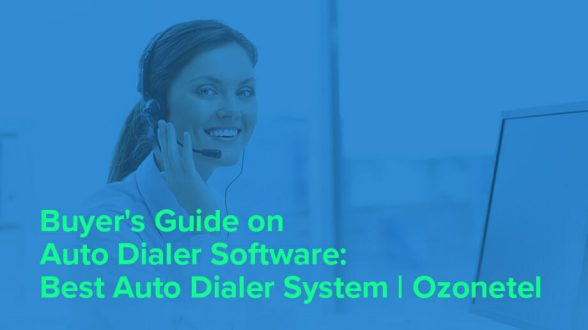 10 Best Auto Dialer Software to Maximize Efficiency and ROI in 2023
Picking up the phone and dialing one number after another is boring to say the least. It can feel monotonous, mundane, and at times, overwhelming. The result? Colorless performance and disappointing numbers by your sales staff. 
But what if you could turn the tables for your sales team and give them an efficient tool to improve results? The good news is you can.
An auto dialer software eliminates the repetitive task of dialing and waiting for calls to be answered. It dials a long list of leads without any manual intervention. Once a prospect answers the call, they are automatically connected to one of your sales reps. 
So, if you're in the market for auto dialer software, our review of the 10 best auto dialer software solutions will help.
In this article, we will explore:
How to Choose the Best Cloud Auto Dialer Software?
To eliminate the hassle of installing hardware, you should opt for the best cloud-based auto dialer software. Look at these factors when selecting an auto dialer:
1. Simple Interface: The best auto dialer software has a self-explanatory user interface. So, you don't need to train your staff to operate the digital platform. Options like call dialing, voicemail, recording, and text messages should be easily accessible. 
2. Seamless CRM Integration: CRM solutions are vital to managing client relationships. An integrated auto dialer uses this data to connect with the desired individual. Also, your sales staff receive accurate details of the person on call. 
3. Live Performance Dashboards: The best cloud auto dialers have informative dashboards accessible to evaluate main KPIs, live performance, information logs, and other details. This way, you can gauge the top performers and train agents who lack in certain telemarketing areas.
4. Adherence with Legal Requirements: 
Overall, suitable cloud auto dialer software should align with your company's work setup. In addition to these main aspects, you should look for some of the following features:
1. Speech Analysis
2. Dynamic Queues
3. Lead Dialing Integration
4. Automated Call Logging
5. 24×7 Customer Support
Auto dialers require one of the following setups:
Computer, active telephone line, and voice modem.
Cloud technology.
Your preferred auto dialer should be compliant with the following regulations:
Telephone Consumer Protection Act (TCPA).
Do Not Call (DNC).
Health Insurance Portability and Accountability Act (HIPAA).
ISO certification.
5 Key Benefits of Using Auto Dialers for Your Business
The main advantage of auto dialers is saving time on outreach. You can call thousands of leads and speak only to the ones picking up the call. 
But an auto dialer tool offers more than just saved time. Here are a few key benefits of using an auto dialer:
1. Improve productivity: Auto dialers contact prospects through automated dialing. The software redirects the call to an available team member or pre-recorded message—increasing your team's productivity. 
2, Maximize customer satisfaction: Without manual dialing, your sales reps can concentrate more on delivering their best pitch. This will naturally help them convert leads into long-term customers and build stronger relationships.
3. Compliance with federal regulations: You can make cold calls or telephonic campaigns, as most auto dialer tools comply with the established regulations.
4. Elimination of human errors: The best auto dialer software segregates prospects and dials these numbers automatically. They filter outdated details, removing the scope for manual errors. 
5. Access to valuable insights: The recording features allow your team to gauge the conversations and modify cold-calling campaigns. You can also evaluate other aspects like response rates and audience segments.
Besides, all auto dialer software is compatible with your CRM tool. So, you can collect up-to-date analytics and granular data with seamless integration.
10 Best Auto Dialer Software to Augment Your Productivity
This list will save the hassle of researching the top auto dialer software in the market:
1. Ozonetel
2. Nextiva
3. Five9
4. Talkdesk
5. PhoneBurner
6. RingCentral
7. Genesys Cloud CX
8. CallHub
9. Kixie PowerCall
10. CloudTalk
1. Ozonetel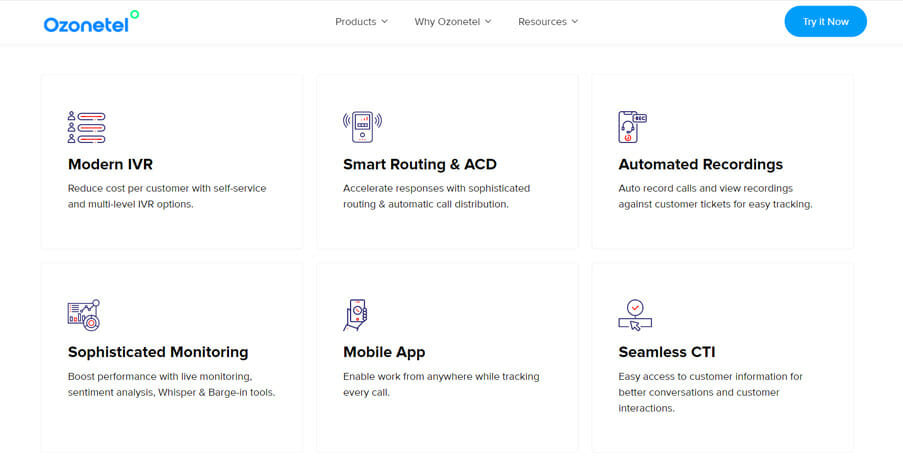 G2 rating: 4.6/5
Ozonetel auto dialer software is a comprehensive cloud-based contact center solution that has several cutting-edge capabilities. Notably, this platform offers a comprehensive outbound calling suite. This includes multiple dialer options, call monitoring, call recordings and a plethora of productivity features. Moreover, its open API platform offers several readymade integrations as well as the option for customized integrations with your homegrown CRM or other knowledge management tools.
Here are some noteworthy features of this prominent auto dialer and cloud agent:
Predictive or Power Dialers, Predictive Dialer, IVR Dialer, and Preview Dialer modes.
Seamless integration with other business applications.
Efficient retry rules.
Omnichannel Routing.
Real-Time Call Monitoring Dashboards.
IVR Blasts and Voice Bots to further automate your outbound calls.
This solution is beneficial to enterprises or startups who are ready to scale.
User review: " "Ozonetel has been our partner since inception when we started our customer care call center with 8 agents. Now we have scaled it to almost 700 agents across two locations." K Nagaraju, COO, Big Basket
These features make Nextiva a popular choice for businesses:
Click-to-Call Option.
Auto Attendant.
Custom Ring Back.
Predictive Dialing.
Video Conferencing.
You can also prefer this auto dialer for its ease of management and user-friendly dashboard.
User review: "Excellent team setup support and great communication by the Nextiva team."
Here are some of the notable features of Five9:
Caller ID Details
AI Automation
Predictive Dialing
Ease in Customization
Since the pricing details are unavailable on their website, you need to contact the sales team.
User review: "It is easy to build, manage, expand, and receive support from the Five9 team."
These prominent features are testaments to its popularity:
Customer Experience. Analytics.
Hybrid Workforce Collaboration.
Omnichannel Support.
Digital and Voice Agents.
If you emphasize elevating customer experience, this platform is worth exploring.
User review: "Talkdesk is a user-friendly calling software that is up to date with trendy features and easy to integrate."
5. PhoneBurner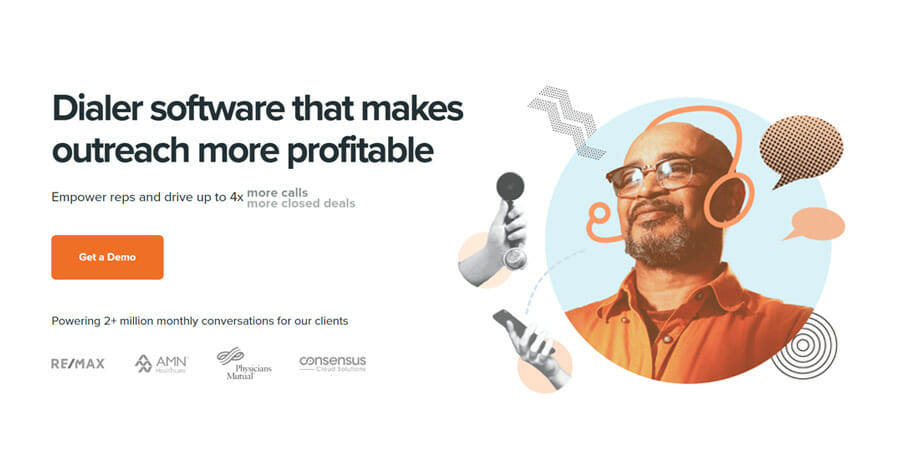 G2 rating: 4.7/5
PhoneBurner  uses the voice-over-internet protocol (VoIP), which is suitable for remote teams. It can integrate with several CRMs and offers an open application programming interface (API).
Here are the main aspects of this auto dialer that makes it worth exploring:
Advanced Lead Management.
Integrated Sales CRM.
Auto Call Logging.
Customer Analytics.
Post-Call Process Automation.
Overall, if you require a comprehensive telemarketing solution, PhoneBurner can be one of the best auto dialer software.
User review: "PhoneBurner makes my routine tasks efficient, easy, and effortless."
6. RingCentral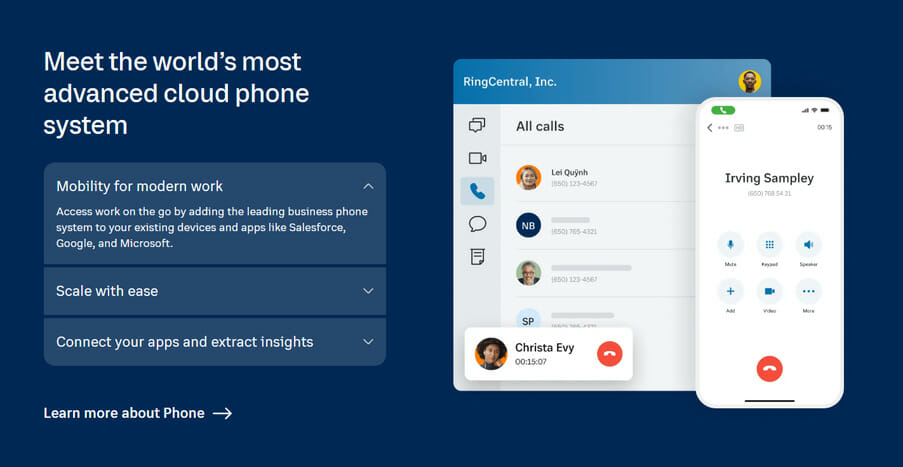 G2 rating: 3.9/5
RingCentral is an all-in-one tool for managing your customer support, streamlining sales, and operating a call center. It adheres to the TCPA guidelines, making it safe for large-scale outbound call campaigns.
These features of RingCentral are worth considering:
Drag and Drop Builder
Real-Time Data Insights
Google Workspace Integration
Plug-ins for CRM
RingCentral can be a good option for businesses that prefer an easy-to-use auto dialer.
User review: "Good platform to manage webinars and VoIP communication."
Due to the presence of unified communication, you can access all the tools quickly and explore these features:
AI-enabled Customer Engagement.
Screen sharing.
Quality Management.
Historical Reporting.
In addition, the software is customizable and supports multi-scaling.
User review: "This is a phenomenal contact center solution that transforms customer solutions."
Here are some notable features that testify to its high ratings:
Opt-in Text Messages.
Metered Dialing.
Voice Broadcasting.
Power Dialing.
Overall, this platform offers high value for money.
User review: "CallHub is an innovative campaign tool for marketing."
9. Kixie PowerCall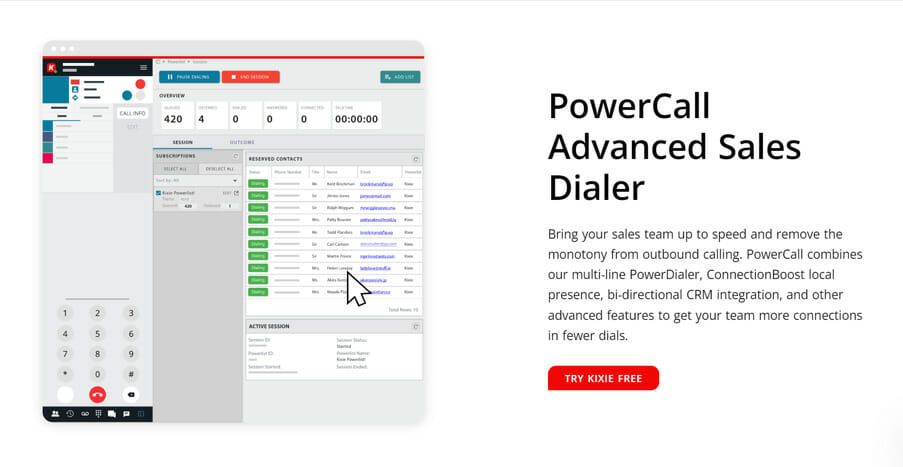 G2 rating: 4.6/5
Kixie PowerCall is one of the top auto dialer software aiming to improve agent efficiency. It has live call coaching that elevates the output of your team.
It has simple text automation capabilities and the following main features:
Integrated AI for Closing Leads.
Lifetime Call Recordings.
Website Lead Syncing.
Customer Insights.
The limited third-party add-ons can make it less convenient for large-scale organizations.
User review: "Kixie is one of the most interesting tools to automate texting and calling."
You can explore the tool with its free trial and discover the following major aspects:
Custom Call Flow Creation.
Automatic Call Distribution.
CRM Integration.
Smart Dialer.
Overall, you can consider this software for its intelligent dialing options.
User review: "This auto dialer offers good coverage and supports calls in various countries."
Conclusion
An automatic call dialer can save time and reduce your team's manual efforts. It maximizes productivity, allowing your team to focus on improving their pitch.
These dialers help your business to eliminate manual calling and get benefits like higher conversions, streamlined outreach, and reduced human errors.
Ozonetel stands out as a powerful and intuitive solution—thanks to its advanced features and seamless functionality. Give Ozonetel a try and transform your sales efforts.
Frequently Asked Questions
A cloud-based auto dialer is a type of outbound dialing software used in contact centers to automatically dial out leads pulled from contact lists, connecting them to an agent or pre-recorded messages. The entire dialing process is hosted on cloud.
An enterprise could typically use a wide array of auto dialing functions to increase agent efficiency and productivity. Here are three types of dialers
Progressive dialer: Progressive dialers call one phone number after another sequentially, ensuring agents' availability before the call is answered. 
Predictive dialer: It follows automated dialing workflow based on agent availability. In predictive dialing, an algorithm estimates agent availability and minimizes downtime between calls in order to maximize agent utilization.
Progressive dialer: In progressive dialer, the agent "previews" important information about the customer before dialing.
Auto dialer software is useful for contact centers focused on outbound lead generation, lead acquisition, and sales.