A complete guide to what CCaaS is and whether you should invest in it.
A complete guide to what CCaaS is and whether you should invest in it.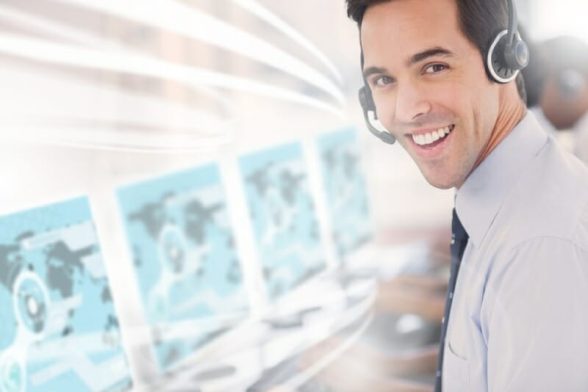 In this article, we will explore:
What is CCaaS?
CCaaS or Contact Center as a Service is a cloud-hosted contact center software.
A cloud contact center is a software as a service (SaaS) that is deployed and stored in the cloud. It is always up-to-date with new updates automatically applied by the service provider. Since it is created and maintained in the cloud, it is therefore offered as a "service", This is why is also known as CCaaS or Contact Center as a Service.
Generally available through some form of a subscription model(s), over the last decade and a half, CCaaS has redefined the complexion of call centers. By simplifying, streamlining, and unifying all aspects of call center operations. This agile technology provides call centers a plethora of cloud-powered nifty functionalities that enable businesses to focus on exceeding customer satisfaction and experience. And not be bothered (or bogged down) by service maintenance and running issues.
Benefits of CCaaS
No IT or hardware costs whatsoever. Hardware costs are almost zero. Companies don't need a data center to run operations. Since the service is maintained and hosted by a service provider, companies can safely eliminate IT support costs. Support is provided 24/7, and free onboarding and training are also offered.
Flexibility and scalability. Easy pare down or upgrade of users and functionality as needed through the business lifecycle.  
Improved/increased agent efficiency. In-built call management systems, programmable IVRs, and other call queue management tools automate manual tasks, offer customer self-help, and reduce agent effort. All optimize operational efficiency and productivity.
Higher customer satisfaction & experience. Since it includes call center software, it is designed to deliver exceptional customer service. Features of intelligent skill-based routing allow agents to contextually engage with customers across communication touchpoints (platforms, channels, and devices).
Access to cutting edge future technologies. Adapting to and adopting cutting edge technology is easy and seamless.  For instance integrations with new digital channels such as WhatsApp, or AI-based technologies such as speech analytics and voice bots.
CRM Integration. Easier integration with third-party software. For e.g. the ability for CRM integration for better operational output and CXM.
What is UCaaS?
UCaaS is Unified Communications as a Service. A cloud-hosted service to meet employee collaboration needs and streamline business workflows. Service is offered in 3 ways:
Customized software platform.
Integrates with on-premises applications. It is secure and reliable as customer data is kept separate from other customers and does not get impacted if another customer's software instance goes down. However, it's expensive.
Multi-tenancy approach. 
Comparatively less customizable and flexible, it is more cost-effective.
Hybrid model. 
Companies can opt to keep part of their communications on-premise and other applications cloud-based. For instance, this scenario could be used in cases of gradually migrating from PBX (or other on-premise) systems to the cloud.
Being cloud-based, UCaaS offers organizations the following benefits:
Variety of collaboration tools. Such as online meetings, videoconferencing, telephony, unified messaging (email, voice mail, IM, and fax), etc. Employees can work from anywhere and from the device of their choice and remain productive.
Cost advantage. Economically serves and supports multiple locations globally.
Scalability and flexibility. Users and capabilities can easily be added or removed (seasonally, for e.g.) without extensive infrastructural investment.
Consistent user experience. Access is consistent regardless of location. As is centralized management. Both employee and customer experience is consistent and standard.
Infrastructure simplicity. Easy deployment with built-in business continuity/disaster recovery mechanisms. Customers don't need to buy and maintain multiple PBX systems and UC platforms in a different location.
What is the difference between UCaaS and CCaaS?
In the past, UCaaS and CCaaS existed in parallel lives. UCaaS typically met distinct enterprise collaboration needs. CCaaS, contact center needs. Today, their paths are intersecting more than ever and some UCaaS providers are also incorporating contact center capabilities such as:
Auto-attendant, IVR, call routing, and CRM integrations.
Adding APIs to their cloud platform is also on the rise. Customers can use these APIs to embed cloud communication features into their workflows.
The table below summarizes the differences between UCaaS and CCaaS.
| | | |
| --- | --- | --- |
|   | UCaaS | CCaaS |
|   | Employee Collaboration & streamlining workflows. | Optimally meeting complete contact center needs |
| IT Department | Still required | Not Required |
| Customization | Limited | Available |
| Security & Confidentiality | Work in progress | Excellent |
| Call monitoring & live supervision | Limited | Available |
CCaaS vs On-premise
A decade and a half ago, contact centers were mainly run with on-premise software systems. The software was downloaded and maintained on in-house servers (centralized corporate LAN). Companies that utilize on-premise software systems continue to invest in regular upgrade costs and IT staff that manages all updates and security patches (that don't occur automatically). The introduction of new apps may also require additional capital and investment in admin support.
The table below summarizes the differences between CCaaS and on-premise systems.
 
CCaaS
On-Premise
Upfront development costs
Nil
High
In house IT Support
Not Required
Required
Employee Mobility
(work from anywhere)
Available
Not Available
Integration with third-party software
Extensive
Limited
Upgrade Costs
None
Frequent
Automatic Updates
Available
Not Available
So, how is UCaaS different from CCaaS? Good question! There are some salient differences between the two:
Limited customization. In UCaaS, all functions and applications reside within the platform, while CCaaS enables a more "build-your-own-communications model". It achieves a more easily customizable approach by supporting APIs that companies can utilize to embed and build communications within existing business applications and workflows.
Tricky Deployment. In the case of UCaaS, while implementation appears to be a relatively straightforward task, it can be tricky to get it right. For e.g. determining the optimal level of connectivity can be challenging in truly leveraging the true power of UCaaS capabilities. Too little creates frustrating performance issues, and too much is a waste of money.   
High bandwidth requirement. Applications like video and Web conferencing require high bandwidth. Voice and video need low latency for the best quality. In a UCaaS environment, along with wireless LANs, organizations may also need to invest in more bandwidth and better coverage to support cloud-based unified communications. Other considerations would include issues of integration, security, and enterprise support.
Limited interoperability of UCaaS makes switching, integration, and deployment challenges.
IT support needed. Challenges of proper implementation, for one, make it clear that companies would need to invest in maintaining an in-house IT team for training, deployment, and other troubleshooting tasks. Thereby adding to the cost of running a business.   
Different use cases. UCaaS is typically used in cases where aging PBX / legacy systems need to be replaced. Or when there is a need to consolidate existing telephony, conferencing, and collaboration services. It is primarily used to streamline workflows for enhanced employee collaboration. CCaaS with its contact center software capabilities on the other hand empowers agents to optimally interact with customers.  
Work in progress. UCaaS capabilities are still evolving to meet industry demands. Currently, enterprises are concerned about issues of security and confidentiality. Positive developments are underway to dispel negative perceptions around UCaaS security and support.
The popularity of CCaaS offers several advantages over the on-premise model:
Reduced recurring costs. IT staff is significantly reduced, as is the cost of maintenance and upgrades.
Greater mobility. Instead of accessing software through specific call center computers, agents can log in remotely. They can now work from the comfort of their homes across time zones and geography. Companies don't need to invest in a brick and mortar office space.
Scalability. Businesses have the freedom to easily scale up or down to meet seasonal demands. They don't need to commit to an annual/ multi-year fee structure.
Conclusion
It's apparent that cloud solutions today are the way forward in optimally meeting business complexities. Also, companies are spoilt for choice! In a competitive landscape, it's up to organizations to do their due diligence and opt for a solution(s) that would best meet their needs. Each category of cloud service offerings meets a niche need, has distinct pros and cons, and cost/ infrastructural implications.
Ozonetel offers the fastest and most flexible options for businesses migrating from on-premise to cloud call center solutions. Learn more about our offerings on www.ozonetel.com, or contact us here.