From C-suite to team leads: What everyone should know about Call Center Speech Analytics
Recent advances in artificial intelligence have helped real-time speech analytics software mature by leaps and bounds. But what is all the hype about? 
The benefits of call center speech analytics extend beyond the call centers. 
CEOs, CMOs, CTOs, and CXOs should understand how Call Center Speech Analytics can potentially make every department within the organization more customer-centric by automating insights such as the root cause for customer churn, dissatisfaction, or positive sentiment.
What is Speech Analytics?
Speech Analytics is the analysis of data contained within recordings or live audio for specific information and patterns. The process includes
Voice Analytics, such as analysis of tone, speed, etc. 

Transcription from voice to text, followed by analysis with AI-based NLP (Natural Language Processing tools).

Analysis of other criteria such as how often the customer speaks (compared to the agent).
These findings are translated into actionable insights such as conversational intent, sentiment analysis, agent performance, or call quality and presented in easy-to-consume formats such as Dashboards or Reports.
Ozonetel's Speech Analytics Tools: Flexible, Robust, & Easy to Implement
At Ozonetel, our patented Speech Analytics algorithm enables you to achieve the accuracy of a deep learning model without the training time or the GPUs needed to run the system.
It uses simple, cost-effective methods such as applying speech processing techniques on top of voice to give you an affordable, easy-to-deploy solution with ultrafast implementation cycles.
Learn about our solution→
Key Business Benefits of Contact Center Speech Analytics
Your contact center generates a veritable treasure trove of customer intelligence. The fact that this data is internally generated makes it even more precious. McKinsey's insights reveal that organizations leveraging customer insights outperform their peers by over 25% in gross margin and 85% in sales growth.
Leverage Customer Interaction Analytics for strategic decision-making
The voice-based conversations taking place each day between your customers and frontline workers are filled with valuable data offering direct insights into how your customer base responds to your services. That data has always been there. But the capabilities to fully exploit it have not.
With speech analytics, you finally have a way to unlock this value and leverage it for strategic decision-making and tactical improvements.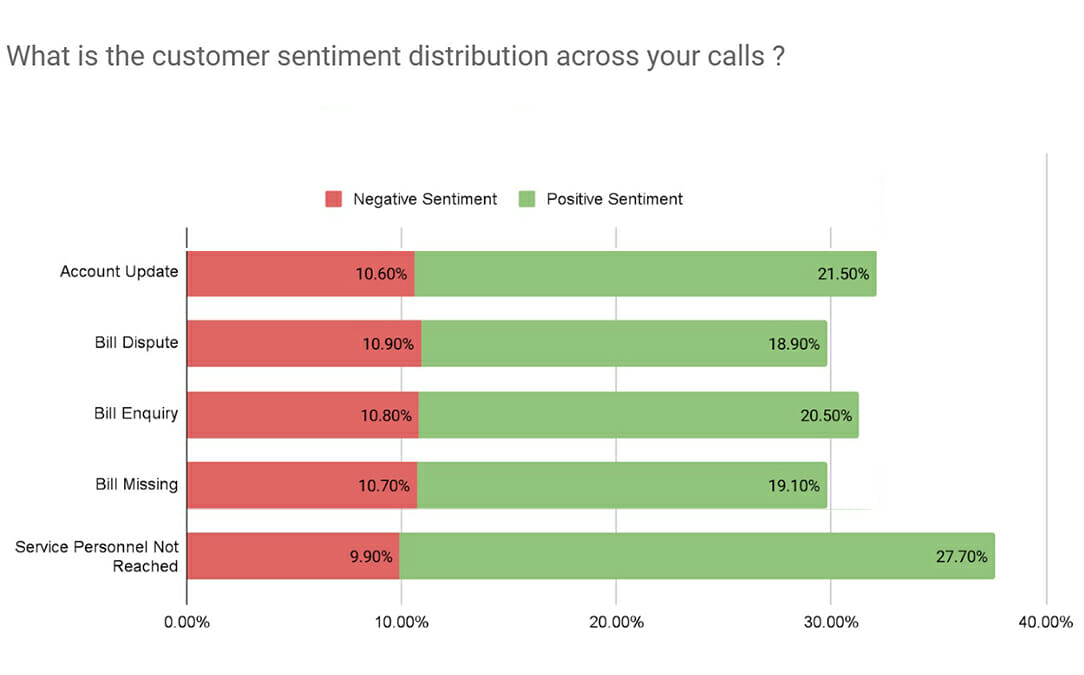 Boost Call Center Performance
The most obvious impact of Speech Analytics is within the contact center space. Speech analytics dashboards, reports, and alerts help managers simplify and improve their operations in three significant ways:
Delivering Call Quality Monitoring that is far more accurate and complete. 

Making Agent Training more objective, faster, and effective. 

Directly impacting first-call resolutions and satisfaction scores. 
We will speak about each of these points in more detail further down in this article. 
Improve Customer Experience
When you give supervisors the intelligence they need to improve agent training, and agent scripts, and reduce escalations, it has an immediate impact on the quality of your customer-facing conversations. This will improve the customer experience considerably, which in turn will reflect in your customer satisfaction scores.
However, the real value of Speech Analytics lies in the ability it gives to CX leaders to change the root cause of customer dissatisfaction across the customer journey. 
Get the customer intelligence you need to improve every department's performance.
Are there visibility gaps in what your customer truly wants across your organization? How do you discover whether the root cause of poor customer sentiment is due to product, service, or logistics?
Call Center Speech Analytics automates this root cause analysis and makes it easy to disseminate this information across departments.
Marketing leaders can delve into the sentiments expressed by different customer demographics to fine-tune both campaigns and offers. 
Sales team leads can test and fine-tune scripts based on the prospect's sentiment during sales calls. 
Product teams can deep dive into voice recordings by keyword, intent, and sentiment.
Operations can be alerted to any negative sentiment spikes around logistics and delivery issues. 
And so on..
The real benefit of speech analytics is that it can evaluate every single conversation that takes place in your contact center and accelerate the time to insights.
Speech Analytics Call Center: Real-Time vs Post-Call Analysis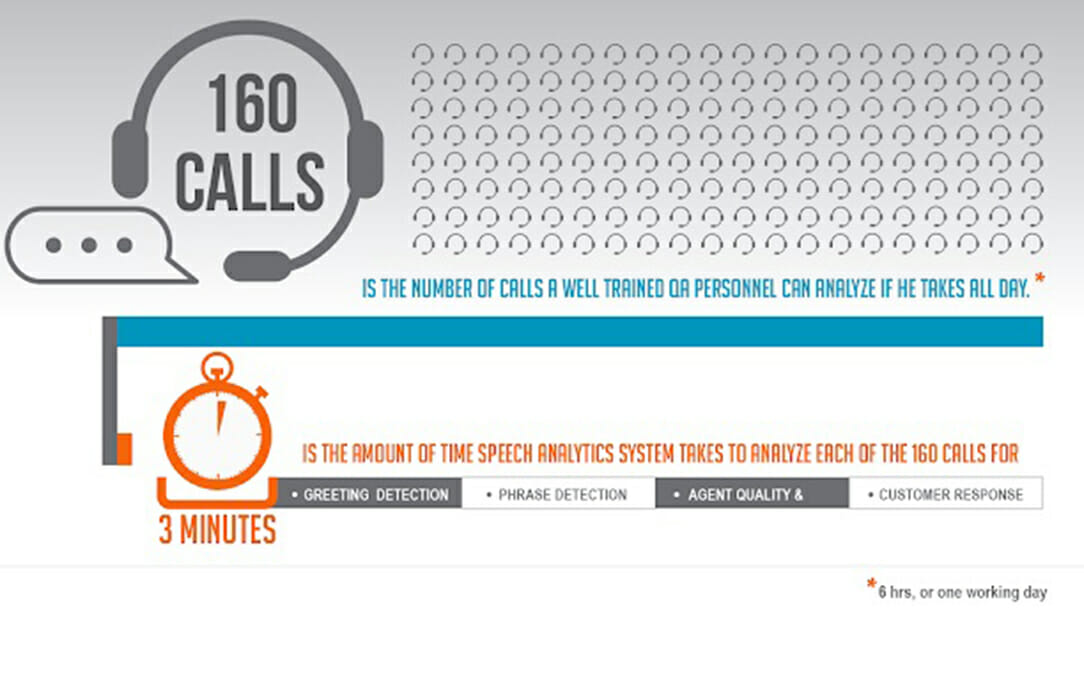 So when should you use Speech Analytics? Using Speech Analytics on your recordings can be useful, but there are also immediate benefits when you use it in real-time.
What this means is that your contact center now has the potential to notify managers faster:
Alert supervisors about

irate customers

and prevent escalations in real-time.

Identify and act on upselling or cross-sell opportunities in real-time

Offer agents automated, on-the-spot coaching
The main benefit is that call center managers don't have to go through call recordings or wait for a QA team to give them reports. In call centers, where time is of the essence, this is critical. It gives managers and supervisors the data they need to act now, instead of later.
Post-call analytics, on the other hand, can help customer experience leaders design better systems and processes.
Speech Analytics Dashboards & Reports.  Key terms & insights.
Before we move into how CX leaders, call center managers, and quality assurance teams use speech analytics, here is a quick overview of the insights and key terms that you will find on your speech analytics dashboard.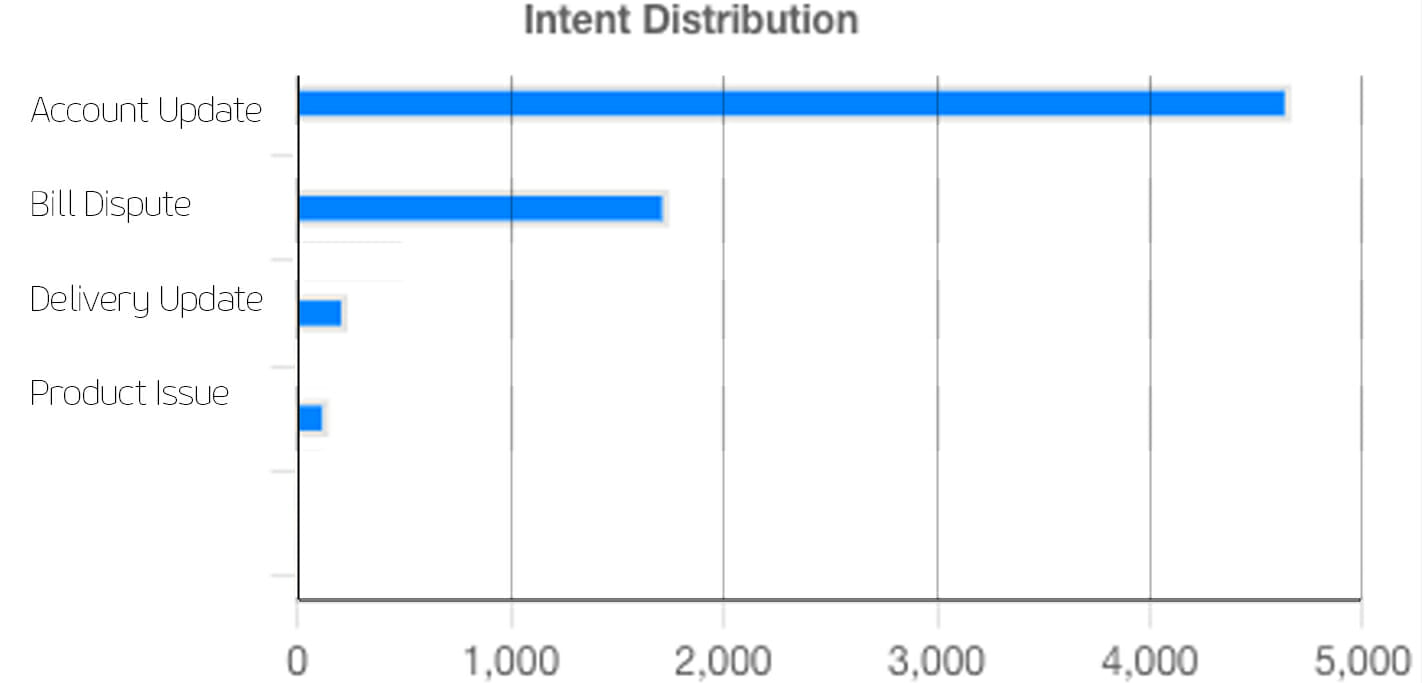 Conversation Intent
What is the key theme of the customer conversations within your contact center? Natural Language Processing algorithms quickly understand the topics covered during a conversation and present them on your dashboard as conversational intents.
It sub-divides every conversation into micro-conversations covering myriad sub-topics such as billing issues, poor interaction with a previous agent, etc.
Further down this article, we will elucidate how this helps with root cause analysis and give you actionable insights.
Conversation Speed
Clarity and enunciation play a huge role in voice communication for customer service. Any vocal communicator needs to pace themselves correctly and remain within an ideal talking speed or range. This range is often measured in words per minute (wpm).
Many studies have been done to determine the ideal speech pace. Here are commonly accepted speech rate guidelines:
Slow: Less than 110 wpm

Conversational: Between 120 wpm & 150 wpm.

Fast: More than 160 wpm
Speech rate varies not just across languages and dialects, but can also be affected by gender, culture, and purpose and one needs to tweak speech speed to communicate better with customers.
You can get insights into the speech rate for each agent with Agent Speed analytics and see if they are hitting the right balance. 
Conversation Volume
Agents must be audible to address a customer's query. That's a given. But more importantly, the volume at which they speak can indicate how the call is going.
For instance, a raised voice may indicate conflict. In such cases, you can set up real-time alerts for supervisors to barge in and take over calls. At the same time, customers can get extremely irate if an agent raises their voice, you can "whisper" to them to stop or set up automated alerts or indicators.
Dissecting these calls and the volume and/or tone spikes helps also weed out words, phrases, and specific issues that are causing the negativity.
Customer Sentiment
AI-based analytics can automatically gauge customer sentiment during a call. For example, you can find out if the customer sentiment started negatively but ended positively, then use this to assess agent performance.
The customer sentiment dashboard can also help you get a pulse of the overall customer sentiment in your call center. It will show you when to take action on unusual changes.
Participation Ratio
Are your agents actively listening to the customer? Typically, during a sales call, the proportion that agents speak compared to how much they listen may be a little higher. But you want to ensure that the customer is participating in the call. In fact, how often they speak may indicate their interest in the sale.
We define the ratio of speaking to listening as the Participation Ratio. And we can monitor this for both customers and agents on our automated speech analytics dashboard. Along with Information Retrieval Time, it is a good indicator of how well conversations are going within your contact center.
Information Retrieval Time
This metric measures the long pauses in a conversation. Typically these are moments when the agent (or customer) is trying to retrieve some information. Identifying unusually long retrieval times indicates a need for training or improving knowledge management processes. Reducing these times will lead to faster resolutions and positively impact the conversational experience and customer satisfaction levels.
Call Scores & Agent Scores
Eventually, you may want to define a consolidated agent score and call quality scores to check overall performance along a number of parameters. Speech analytics tools can do this easily and quickly across all your call recordings or live calls.
Here's a peek into what our new sentiment analytics-enabled user dashboard looks like.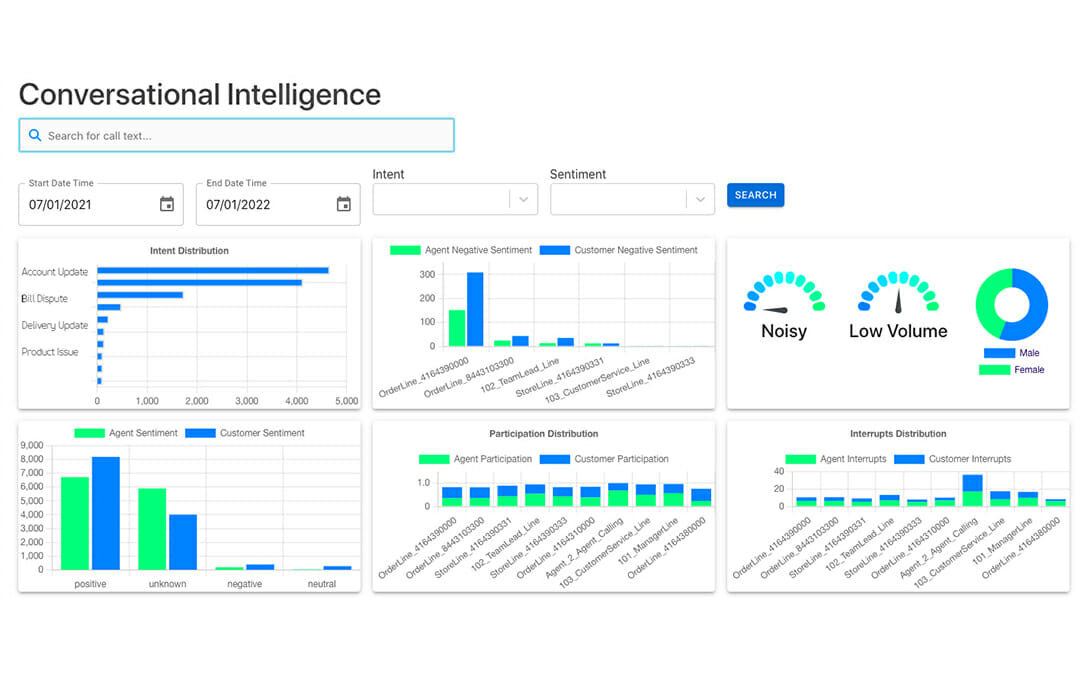 You can, of course, create different dashboards to suit your needs. Or create dashboards for your agents to gauge and improve their performance in real-time. You can also set up alerts that get sent to your phone or email.
Why do CXOs love Speech Analytics
Speech analytics solutions are extremely useful for customer experience leaders. Instead of depending upon agent feedback, customer feedback, and traditional metrics such as first call resolution, they can get automated insights into customer needs, customer issues, and the root causes behind customer dissatisfaction.
Beyond CSAT. Analyze sentiment on every single call
Call Center Speech Analytics can give CX leaders far deeper insights into their customer and their customer service experiences. These insights can complement CSAT surveys and other Voice of Customer programs that your business runs.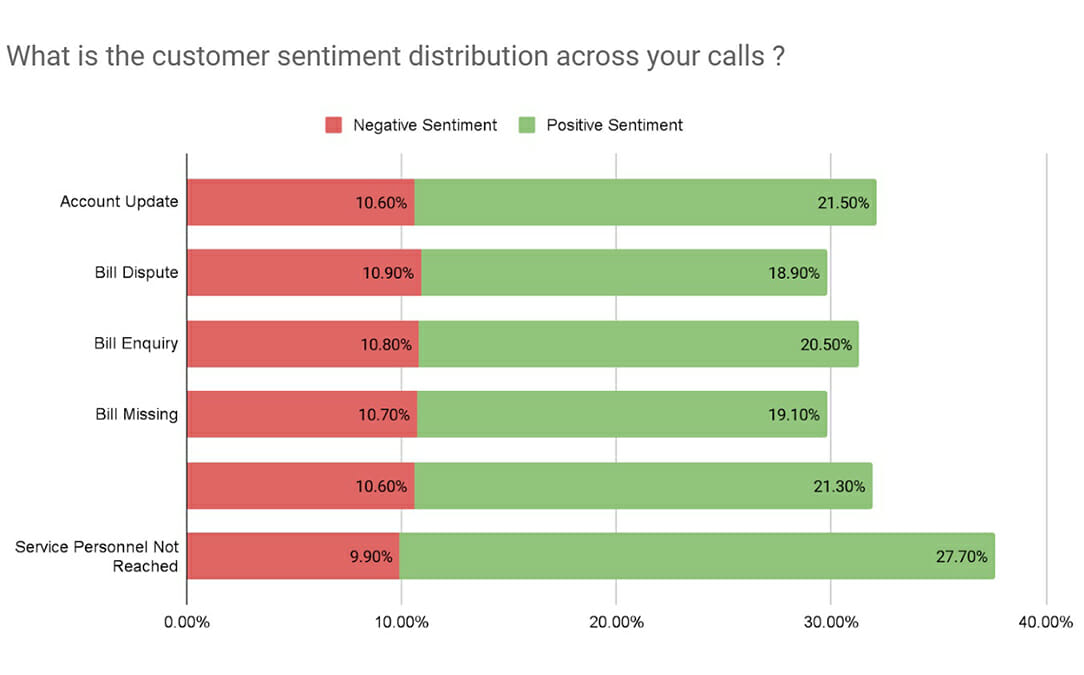 To understand how this works, let us consider for a moment some drawbacks to CSAT surveys. CSAT scores are typically taken by surveying customers post-call and analyzing a few other metrics.
That presents us with a few problems.
Not all customers are willing to stay on the line for a survey.

Certain customers aren't willing to express their true thoughts.

Upset customers can be more motivated to leave feedback than satisfied ones.

The results can easily become skewed positive or negative and not reflect everyone's true sentiments.

CSAT scores only alert you to problems when the damage is already done.
CSAT scores and other customer happiness metrics can only provide us with rough estimations of how well things are going. In contrast, with speech analytics, you can accurately measure sentiment in real-time or at daily, weekly, or monthly cadences. You can immediately note any drop in customer sentiment and take immediate steps to rectify it.
Beyond traditional metrics. Identify the root cause of poor sentiment
Now CXOs and team leads can deep dive into traditional metrics to get a more nuanced understanding of customer satisfaction. Take, for instance, Average Handle Time, a metric that contact centers are often under pressure to minimize.
With Speech analytics tools, you can compare this metric against various parameters. For example, you can get a report on Average Handle Time for first-time callers versus repeat callers.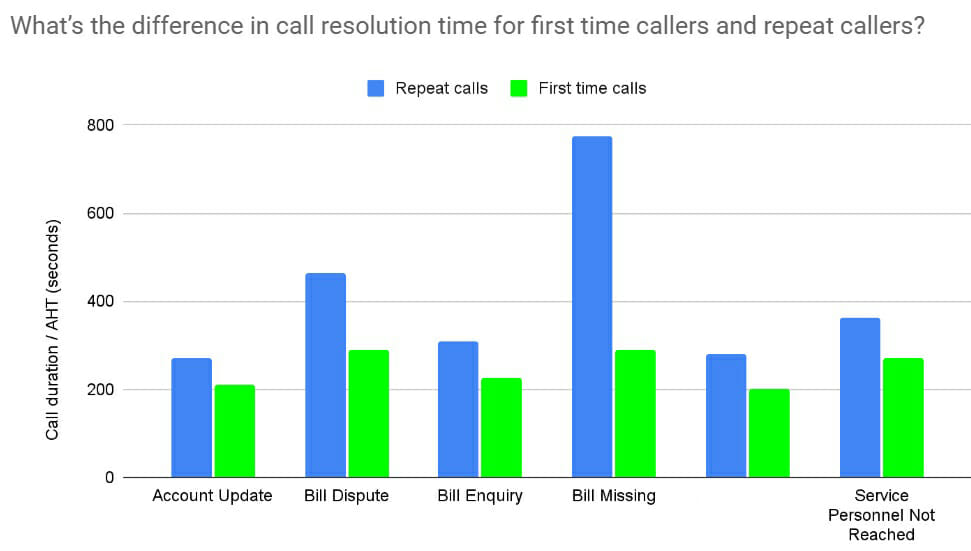 With this report, you can clearly see that when a bill goes missing, customers need extra support, and this is what is causing the spike in handle times. You can similarly look at other metrics. For instance, a report comparing escalations against various customer intents can help you identify, in a single glance, what is causing the problem.
All in all, this technology helps businesses identify the root cause of poor customer experiences, and address it proactively rather than falling back on a reactive, piecemeal approach to improving CX.
Tap internal talent. Build effective communications.
Every CX leader would love to arm their teams with a template for what works when dealing with a customer.
The fact is, that some of your frontline workers already know what it takes to drive a sale, create an upsell, calm an irate caller, or create a superior resolution. But finding these gems amongst the thousands of conversations that take place within your contact center daily is a challenge.
Speech Analytics can help you identify these star performers and pinpoint the call recordings of conversations that drove the highest positive sentiment. You can use these recordings to train your sales or customer service teams and fine-tune their scripts.
Transform your contact center
Finally, Speech Analytics Solutions will improve the contact center itself in multiple ways which will have a knock-on effect on the overall customer experience.
Let's dive into what these improvements are, and how they will help Call Center managers and Supervisors to simplify call center management, call quality monitoring, and agent performance & training.
How Speech Analytics is helping Contact Center Teams
Within the Contact Center, Speech Analytics Solutions can completely transform Call Quality Monitoring, supervision, and training. Team leads report saving up to 30 hours every month thanks to these automated dashboards. Moreover, many of our customers have been able to improve agent scores within the first quarter of deployment. Here are some ways in which they use the dashboards and reports
Higher first call resolutions
First call resolution is a key metric when considering your customer service experience. What's your current escalation protocol? Are you relying on agents to let you know when they need assistance? Or closely monitoring the ones who are inexperienced or underperforming?
It's impossible to get a handle on potential call escalations without listening in to each and every call. A real-time speech analytics software can do this for you.
It understands when a call is going wrong. You will get immediate alerts if customer speech volume rises, curse words are sprinkled in, sentiment sharply declines, or other red flags are detected.
This lets you barge in and intervene faster.
Ramp Quality Assurance: Assess 100% of Calls
Call quality monitoring is another key to improving your customer service experience over the long term. However, we know that current systems have their limitations. For instance, it is just not humanly possible to manually go through hours of call recordings. As a result, most contact centers sample only 10% of their phone calls and customer interactions for quality & training purposes.
Thanks to sentiment analysis, however, you can ramp up your quality assurance program by analyzing every single customer call. It will let you do real-time, current, or historical reviews.
McKinsey estimates that automated AI transcription can accelerate traditional diagnostics time by nearly 400 percent. By our estimates, Speech Analytics is 95% more accurate and 15x faster at processing data than a person.
You might want to assess calls by shift, day, week, month, season, or desired time period. You can segment it out by agent or customer demographic. You can do a general performance overview and delve into problems. Want to know the best time of day to make outbound calls with positive results? Sentiment analysis can tell you that.
When integrated into a comprehensive smart contact center solution, this provides the basis for highly insightful and precise monitoring
Pinpoint Training Needs & Transform Performance
Being able to monitor 100% of calls also gives supervisors and managers a more complete and objective understanding of agent performance. Training requirements are detected more accurately. And agent training cycles become faster. 
With Speech Analytics managers have new ways to measure agents' performance since it evaluates both customer and agent sentiment. You can analyze script effectiveness, monitor their emotional tone, see their responsiveness, and more.
Eventually, this will help agents to self-monitor. Your contact center solution could offer agents a speech analytics dashboard that gives immediate feedback. Agents should be able to view their speech rate, volume, and keyword usage. This will help them immediately change the way they speak.
Ready to get started with Speech Analytics? Check out Ozonetel's Award-winning Speech Analytics Solution
Frost & Sullivan awarded Ozonetel's Speech Analytics Solution with the New Product Innovation Leadership of the Year Award, 2022. They recognize how our proprietary technology outperforms earlier solutions, stating that "Ozonetel is positioned as a new speech analytics solution leader."
Read the complete report to understand how our solution is easier to deploy and more customizable than other solutions, visit our solution page to learn how we can help your business unlock CX insights from your contact center, or schedule a demo today to see it in action.