10 things a Call Center Supervisor should look out for
10 things a Call Center Supervisor should look out for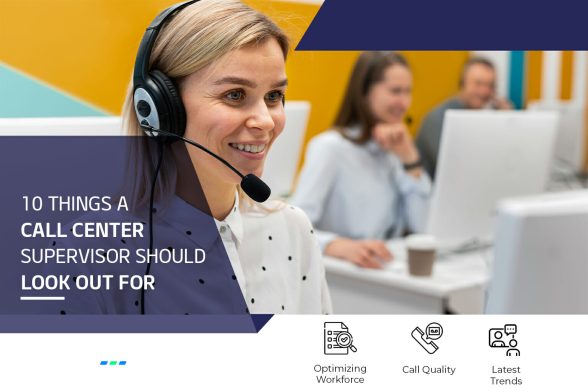 Over the last few decades, the contact center has emerged as one of the most promising industries with a market size exceeding USD 340 billion.  Considering their impact on how businesses are perceived by customers, contact centers have become integral to a company's long-term vision. Despite its overwhelming growth prospects, the contact center has gained a reputation as a difficult place to work. This makes the job of a contact center supervisor even more arduous. Overseeing a significant number of calls daily, adhering to work schedules, working within a strict budget, and getting issues resolved within a fixed timeline are just a few of the challenges faced by supervisors on a daily basis. In this article, we have prepared a list of 10 things a supervisor must look out for to ensure the smooth functioning of the call center.
In this article, we will explore:
10 things a Call Center Supervisor should look out for
1. Stress Management
As frontline employees, call center agents are first line of support for customers. They are required to work reactively and expected to deliver a response in a time-bound manner. Their actions represent the beliefs, culture, and values of the company. As it often happens, customers reaching out to contact centers are not always in their best mood and may vent out their frustration on agents. The emotional exhaustion of dealing with irate customers over a long period may cause chronic stress. A 2021 survey by customer experience intelligence company Calabrio revealed that nearly 96% of contact center agents feel acute stress on a weekly basis. Another study by Harvard Business Review found that the percentage of calls rated as "difficult" rose by over 100% from the usual level of 10% to more than 20% over the past two years.
2. High turnover: 
The industry suffers from a turnover rate of around 35-40%, highest across all segments. This, in turn, impacts the quality support. Notably, a sizable portion of agents hired for entry-level roles are either freshers right out of college or those who are undecided in their careers. This makes the task of hiring and retaining quality employees more difficult. Another key reason for the high attrition rate is the lack of effective employee engagement. A surveyby US-based analytics firm Gallup revealed that only 15% of employees worldwide and 35% in the U.S. fall in the "engaged" category. Therefore, it becomes imperative for managers to select the right people for the job and hone their skills with adequate training and promote a culture of tenure. 
3. Chinks in onboarding program:
An effective onboarding process can improve employee engagement, boost productivity, and reduce turnover. Great onboarding can increase employee retention by 82% per cent and productivity by over 70% per cent, reveals a survey. Conversely, failure to get off on the right foot may double the chances of employees seeking other jobs. Not to mention, the high cost of losing a top talent within months of recruitment. A robust onboarding strategy with active interdepartmental participation along with an intensive training program can help combat this issue. Additionally, direct feedback from new recruits can help businesses improve and build a more cohesive team.
4. Optimizing workforce: 
For a contact center to operate efficiently, it is important to have an optimized workforce. Under-staffing and overstaffing both are detrimental to call center business. The real challenge is to forecast call volumes at a given point of time and reviewing staffingreview staffing levels so that you can predict how many team members you'll need in any situation. Supervisors can identify call peaks and troughs by analyzing call records and creating e work schedules accordingly. They must ensure enough agents are available during peak periods and at the time of troughs, numbers of agents can be reduced and the idle ones can be assigned 
Other productive work such as making sales or follow-up calls.
5. Analyzing call quality: 
Supervisors need to constantly evaluate call quality to assess the performance of an agent. Since they have access to recorded calls, supervisors can analyze calls by checking hang-up details which can help them understand whether the call was hung up by agents, customer's or due to a technical snag. Moreover, while training new agents, they can use recorded conversations to offer insights and set a parameter for call quality. Giving targeted feedback to agents based on their performance can help them improve in the long run.
6. Pursuit of improvement: 
An efficient call center supervisor must have a penchant for self-improvement. If a certain skill set is required for better performance of the contact center, the supervisor should lead by example and never turn his back on new learnings. This will inspire their subordinates to hone up their skills. A supervisor should never shy away from putting himself in the agents' shoes. Donning headsets and directly engaging with customers can help supervisors understand the day-to-day challenges faced by the agents. Moreover, it will help them recognize the customer need and strategize accordingly. As a team lead, supervisors should build good repo with agents and seek qualitative information to help improve call center processes.
7. FCR Rate: 
First Call Rresolution rate is a critical metric to evaluate a call center's performance. With ever-increasing competition and higher customer expectations, it has become harder to satisfy callers. If a customer ends up speaking with multiple agents, it may have a direct impact on their satisfaction level. Supervisors need to tread cautiously, especially in the digital age. An irate customer who had undergone a bad phone support experience may vent out his frustration on social media and create a PR nightmare for the company.
8. Keeping up with the latest trends: 
Adaptability is an essential part of call center business. A supervisor needs to be constantly updated with the latest tech trends in the business. Companies that have resisted change, often struggle to compete with major players in their fields. The lLast 10 years have seen a sea change in call center tech development and the businesses that have incorporated those changes have grown tremendously. From records access to, advancedto advanced search functionality to CCM software suites, technology has helped call center agents to move towards creating a quick, easy, and seamless experience for their customers. 
9. Insufficient Knowledge sharing: 
The contact center is no more an isolated entity. In fact, it has become integral to an organization's day- to- day operations. Contact center employees need to understand the product inside out and must possess the ability to see it from a customer's perspective. Especially in BPOs, knowledge management becomes a challenge due to geography. The entire knowledge-sharing process should be precisely planned and controlled to ensure that proper people are trained in the right domain, on time. Maintaining a central database and a chat channel along with standing meetings can be a great way of knowledge sharing. Cross-functional initiatives involving HR, marketing, and product could help in ensuring that they feel a part of the process.
10. Proactive customer engagement: 
Supervisors should emphasize on providing proactive customer service. Businesses are expected to identify the potential issues cropping up and anticipate customer needs. Using technology and human expertise together can enable contact centers to proactively iron out these issues and turn potential challenges into opportunities. An efficient supervisor should constantly review and evaluate potential techniques to improve existing procedures. Especially after the pandemic, technology has become indispensable. Studiesreveal that 79% of contact centers are planning to invest more in building greater AI capabilities within two years. The future belongs to businesses that can leverage highly trained agents along with digital tools and predictive technology.