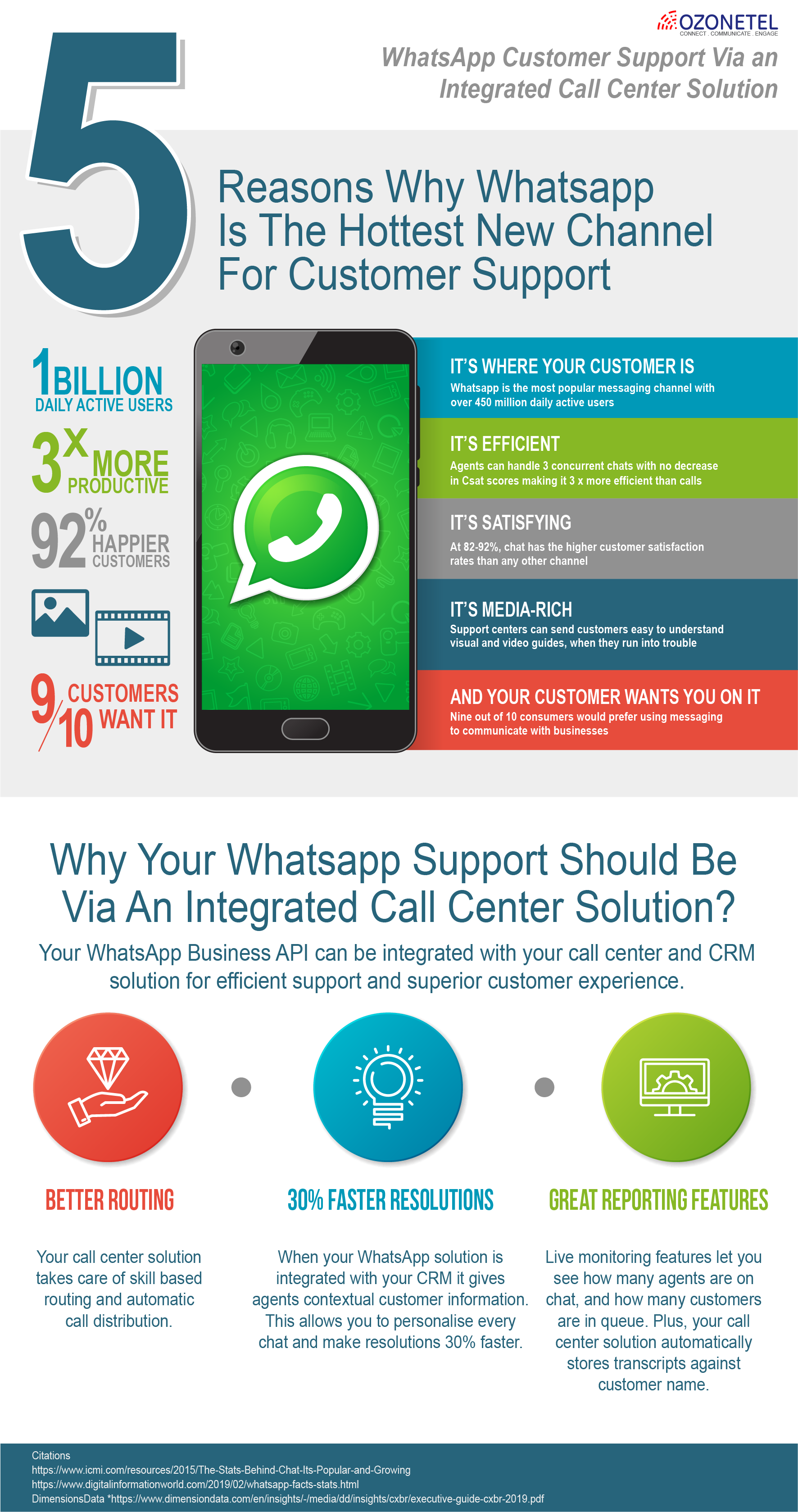 Should Enterprises use WhatsApp for Customer Support?
The answer is yes! Today, customers want to speak to businesses on the same channels that they are able to connect to their friends. It's easy and convenient for customers to follow up on an order or chat with a customer care executive on WhatsApp. Moreover, with Whatsapp Business API and readily available WhatsApp Support solutions, it's now easier than ever for businesses to streamline their WhatsApp support from within their existing call center.
Here are the top 5 reasons to consider WhatsApp Support.
#1. It's a valuable communication channel.
WhatsApp is actually one of the most popular messaging apps in the world. It has over 1.5 billion monthly active users and 450 million daily active users. And those numbers are expected to grow. The number of US WhatsApp users is predicted to grow to 25.6 million by 2021. Huge, isn't it?
With WhatsApp, customer service agents can engage with customers on a global scale, on a platform they're already on. It brings live chat directly to the consumer, so they don't have to go to your site. Additionally, it's a secure channel that customers feel is credible. Since all business profiles on WhatsApp are verified, customers are comfortable communicating with businesses via messages.
#2. It's efficient
Your agents can chat with multiple customers at the same time without a hitch. Statistics say it gets your team 3X more productive than before. Also, just like live chat, WhatsApp also has chatbot capabilities. This means you can automatically answer common questions with a chatbot, so your customer service team spends more time on more important issues. 
#3. Improves CSAT
Customers like WhatsApp. It proves to be a better communication tool than other channels with 92% happier customers. Also, gathering feedback is one of the most important roles of customer support. If your customer service team wants to gather feedback (and which team doesn't want that?), you can create a group in WhatsApp. It's as simple as ABC to get information and solve queries on WhatsApp.
#4. It's media-rich.
As a customer service team, you might have to send photos, videos, or PDFs to the customers you're talking to. With WhatsApp, you can send all of that in one thread. Additionally, you can use the app for voice and video calls as well. If you need to jump on a quick call to explain something, your agents can do that right in the app.
#5. Customers love it!
9/10 customers prefer WhatsApp over other communication channels. It can majorly be because it been already used by them, is easy to operate, and get faster replies than other channels. Overmore, most people prefer chatting over calls today to save time and have the entire history in place. 
Get an edge on your competition by adopting the emerging technology that will pave your path to success. Request a demo to understand how to leverage WhatsApp support for your business.