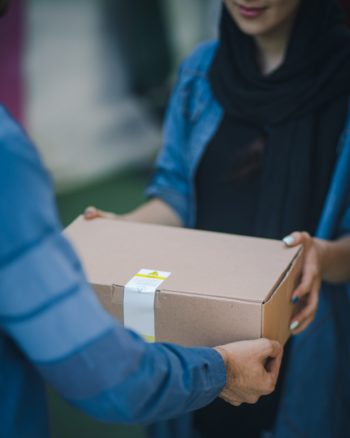 Contactless but Connected – Transform Delivery Experiences with Better Communication
Last updated on August 12th, 2020 at 05:35 pm
Learn how better communication solutions can create a contactless delivery experience that your customer loves.
If you are reading this in 2020, chances are you have just washed your hands for the nth time today and sanitized your devices! The COVID-19 pandemic has sent shockwaves globally and altered pretty much all habits today, both personally and economically.
As businesses are struggling to adapt and keep afloat, they are also learning to adapt to drastically altered consumer habits. As the world moves towards a new (ab)normal, changes will abound and alter the consumer landscape!
One such change has been the growth in demand for 'contactless' options. For instance, online purchase and home delivery are now the safest and therefore the most desirable options for most people. Not only do online businesses need to step up and handle the increased demand, but they also need to support a completely new kind of customer, one who may be exploring online shopping and home deliveries for the first time ever.
"Contactless is retail's new must-have safe word, but executing it is easier said than done." – Forbes
So how can businesses ensure a personalized, smooth customer experience for these customers old and new? The key is to eliminate touch without eliminating the "keep in touch"!
Excellent communication processes are more important than ever to ensure a great contactless delivery experience. Here are three ways businesses can ensure easy, hassle-free experiences:
Keep the customer informed and updated on a channel of their choice.
Make it easy for them to connect with your business and your frontline workers.
Blend automation and human support to ensure personalized, speedy support.
Automate your Notifications
Communication with customers in this new contactless era should be seamless, efficient, and available on the customer's channel of choice. For this, communication channels like SMS, WhatsApp, and IVR can be offered to the customer.
80% of consumers are satisfied or very satisfied with support over messaging apps.*
Here are some potential uses for automated SMS, WhatsApp messages, and IVR:
Payment confirmation
Order status and updates
Location and contact sharing
Update from drivers and delivery agents
Package delivery confirmation for doorstep or apartment lobby drop-offs
Customer vehicle details for curbside pickups
Customer ID verification for curbside pickups
Feedback collection
Live location sharing
Also Read: Using Bulk SMS Solution
Choose the Right Channel
Every channel offers its advantages. Let's explore the perks of each of these automated channels during the contactless delivery experience.
SMS
Simple and familiar
Cost-effective
Quick and can be sent in bulk
WhatsApp
Hugely popular and easy to use.
Can share images, locations, and live locations.
IVR
Assuring for customers who prefer the phone channel.
Businesses can cost-effectively deliver self-service.
Easy to escalate to a live agent.
Also Read: How to Deliver WhatsApp Customer Support
Be Available
When it comes to ensuring a smooth delivery, one-way communication is not enough. A delivery agent may need to clarify confusing or incorrect address details. Customers may need to reschedule deliveries. Customers may have complaints or feedback. Or they may just need the reassurance of a human voice. Being available for customers when they need you is critical for good customer experience.
Enable two-way communication via WhatsApp, SMS, live chat, or phones.
Mask customer and delivery agent phone numbers while enabling easy communication between them.
Provide self-service options for speedier resolutions.
Quickly escalate to live agents for complicated queries.
Also Read:
Customer Communication Solutions for Ecommerce
Streamline the Backend
Businesses need to find efficient, cost-effective ways of providing this kind of customer support at scale. For this, seamless backend support and integrations are vital.
Use blended agents to manage your calls and chats.
Efficiently distribute calls and chats amongst your agent to keep call queues short
Use an omnichannel solution to ensure your agents have access to customer interaction history across every channel.
Conclusion
The world as we knew it has changed. Your processes have changed. And most of all, your customer has changed. You need to ensure that you give this new customer the support they truly desire. They want timely access to information and support. They may be willing to wait for their orders, but they don't want to be kept on hold for information!
Providing ease of service and upping the contactless experience, will bring you closer to your customers…at a safe distance of course!