Learn how auto dialers improve both your sales and support processes
Introduction
Learn how auto dialers improve both your sales and support processes.
Use cases | Guidelines | Comparison Charts
Why use auto dialers?
Did you know that in most sales departments, representatives waste nearly 60% of their time on unproductive work such as dialing, waiting for leads to answer, and listening to busy tones? That leaves them with less than half a working day to do their actual job, that is, to converse with leads and convert them.
Over the years we've successfully setup cloud communication solutions for 1500+ businesses. Auto dialers are an integral part of these solutions, and though every business uses the tool differently, they've all achieved the same result: smoother processes & higher productivity.
There are many kinds of auto-dialers to choose from. If selected correctly, they not only improve your outbound sales productivity but also help you automate reminders, inbound lead response, and callback automation. Learn how auto dialers can:
Double your outbound sales teams' productivity.
Accelerate response times on inbound sales.
Automate collection and reminder calls.
And automate callbacks.
If you are a contact center manager, entrepreneur, or sales manager, this ebook will also help you understand the differences between the various types of auto dialers, use cases and step by step guidelines on how to select the right one based on your data quality, and calling requirements.
Auto Dialer 101
Learn what is essential to know about the technology, so that you can make a better-informed decision when purchasing your Auto Dialer software.
What is an auto dialer exactly?
Auto dialers are a software used to quickly dial down a list of contacts and connect them to a live agent or an IVR. They skip busy tones, unanswered calls, and answering machines to connect agents directly to live contacts.
Auto dialers are available as a SAAS (software as a service solution). This means that you need no specialized hardware or software to use it. It can be setup in minutes with zero setup costs. Your supervisors simply log in to upload data and start the campaign, while agents login from their desktops or mobiles to speak to the contacts.
---
CLOUD-BASED AUTO DIALER ADVANTAGES Zero Hardware | Zero Software | Zero Setup Costs | Lightning Fast Deployment
---
Auto dialers have multiple applications
Telemarketing
Fundraising Calls
Lead Qualification
Outbound Sales
Inbound Sales
Debt Collection Calls
Appointment Confirmation
Bill Payment Reminders
Automated Callbacks
Feedback Calls
Volunteer Outreach
Customer Surveys
Are there different types of auto dialers?
There are four different types of auto dialers available in the market. Your cloud contact center provider may provide one or all these options. Contact center solutions such as Ozonetel, offer all options as four dialer modes. Select the one you need while setting up your dialing campaign.
Power Dialers
---
A power dialer dials one phone number after the next, sequentially. It skips unanswered, busy tones to connect agents to live contacts. It automatically moves on to another call when the previous one ends.
Predictive Dialers
---
A predictive auto dialer dials more than one contact per agent. The dialer uses a predictive algorithm that uses average answer rates to "guess" how many simultaneous dials will minimize agent idle time. Agents are connected only once a call is answered. Supervisors can control campaign "speeds" using pacing ratios.
Preview Dialers
---
Better suited to smaller call volumes and more detailed or complex cases, preview dialers enable agents to preview data before they decide to continue with a call or skip.
IVR Dialers
---
IVR dialers are used to "blast" messages to a contact list. It works like other dialers, except that it connects the contact to an IVR message rather than a live agent. The IVR can have advanced functions such as auto-personalization of messages or even natural language processing abilities to carry out "conversations" with your contacts.
Which auto dialer does my business need?
The same business might need different auto-dialers for each campaign. It all depends on your calling requirements and data quality. Use our comparison chart to figure which auto dialer you should select for your next campaign.
| | | | | |
| --- | --- | --- | --- | --- |
| | Power Dialers | Predictive Dialers | Preview Dialers | IVR Dialers |
| USP | Fastest campaign completion | High Agent productivity. No Dropped calls | Leads & data preview available for agents | Outbound IVR blasts |
| Priority | Agent productivity | Agent productivity balanced with call quality | Customer information review | Automation Self-service Saving working hours. |
| Disadvantages | Agents may be unavailable when calls connect.This could lead to dropped calls. In some countries, this causes regulatory and compliance issues. | 30% slower campaign completion, than predictive dialers | Cannot run through large call lists per agent daily | Contacts may disconnect during the message |
| Contact list size | 1000+ contacts per day | 100-900 contacts per day | >100 calls per day | 1-1000+ contacts per day |
| Call Volume | 300+ calls per agent per day | 100-250 calls per agent per day | 50-100 calls per agent per day | NA |
| Data Quality | Use for low quality & 3rd party data | Use for moderate to high-quality data | Use for high-quality data & complex cases | Use for both low-quality sales data or opt-in customers |
| Preparation time | Use when agents don't need any time between calls | Use when agents need 0 to 1 minute between calls | Use when agents need 5-20 minutes between calls | Use when agents are not available |
| Use cases | Cold calling Telemarketing | Outbound sales, Inbound lead management Automate callbacks | Niche and high-quality lead caller groups. Inbound marketing for B2B | Bulk messaging Debt collection calls. Payment Reminders Lead Qualification Csat Surveys Appointment reminders |
How do other businesses use their dialers?
Auto dialers can be used across industries to optimize your calling processes. Learn six ways businesses use our Auto Dialers to boost productivity across various industry verticals.
USE CASE #1 | INDUSTRY FINANCE | AIM: TO PERSONALIZE LOAN REPAYMENT REMINDERS | SOLUTION IVR BLASTS
Automate millions of personalised reminders

USE CASE #2 | INDUSTRY EDUCATION | AIM: QUALIFYING LEADS | SOLUTION PREDICTIVE DIALER
3X faster outbound sales
An educational service provider improves its admissions process using our outbound dialers.

USE CASE #3 | INDUSTRY FINANCE | AIM: AUTOMATED CONFIRMATION CALLS | SOLUTION DIALER API, IVR
Fully automate verification calls
A financial services business uses our outbound dialer to confirm trade bookings made on its website.

USE CASE #4 | INDUSTRY ONLINE PHARMA | AIM: QUALIFYING LEADS | SOLUTION PREDICTIVE DIALER
Schedule customer calls
An online pharma company uses our auto-dialers to verify online orders and book repeat orders

USE CASE #5 | INDUSTRY INSURANCE | AIM: INBOUND LEAD MANAGEMENT | SOLUTION: CRM INTEGRATED DIALER
Expedite inbound lead response
A small insurance company uses our CRM integrated dialer to call inbound leads within 5 minutes of their filling up a web form

USE CASE #6 | INDUSTRY ONLINE RETAIL | AIM: AUTOMATED CALLBACKS | SOLUTION: DIALER
Automate callbacks
A customer support center for an online retail store managing 500 daily calls with less than 20 agents uses power dialers to automate call-backs, so it never misses a call.

Advanced Auto Dialer Options
You can use your auto dialer more effectively by using advanced options and pairing it with other tools and features. Read on, to learn how.
How can I optimize my dialer performance?
While auto dialers can automate your dialing process, you don't want to waste time uploading data, or waste leads because a call went unanswered in the first try. Keep these pointers in mind while setting up your campaign, to make the most of your auto-dialer campaigns
Choose the correct dialing logic
---
Switch between the various dialing modes based on your campaign requirements. Change your dialing logic and rules, based on data quality, to optimize campaign goals. For example, select customer-first modes for high-quality data and agent-first modes for lower quality data.
Schedule calls
---
Scheduling your outgoing calls in an organized manner, ramps up performance. Businesses that stick to their promise of calling back at a specified time are definitely considered more reliable and trust leads to better conversion rates. Call scheduling is a critical tool to maximize answer rates and demonstrate reliability by ensuring that calls are made to customers at their preferred time and date. You can schedule calls programmatically via open APIs, using a CRM and conditional API calls. Calls can be scheduled during lead generation, during conversations, and via CRM and telephony integration
Schedule retries
---
Leads are precious. If they don't answer in the first try, you need to try again. Setting up call retries helps maximize your data potential. Call retries can be scheduled by the auto-dialer immediately, at a specific time, or another specified day. For example, the first retry can take place immediately after the call goes unanswered. Or, after all the primary data has been dialed the once, the auto-dialer will go back and systematically call the unanswered calls. Alternatively, you can set a specific time of day for a call retry, along with certain rules like the maximum number of retries. You may find that you need to experiment a bit with the time and date that suits your particular dataset and industry optimally
Monitor campaigns
---
It's important to keep an eye on how your campaign is going. Don't wait till the end of the working day, or the end of the campaign to rectify mistakes. Use live monitoring tools to view how your campaigns are faring. You can view how many calls have been successfully answered, failed (went unanswered), or pending (yet to be dialed). Especially keep an eye out for unusually high fail rates or drop rates.
Reset campaigns
---
If your fail rates are unusually high, you can stop and reset your campaign. We've seen that many times, wrong data can lead to high failure rates. It could be a simple issue, such as prefixing your data with the wrong country code that is causing the entire problem. If this is the issue, you can simply go into your campaign setup, stop and reset data with the correct prefix (with Ozonetel, this is a simple one-click process) to save unnecessary time wastage.
Change pacing ratios
---
When drop ratios are high on your predictive dialer campaigns, this means that too many calls are being dialed per agent. You need to go back to your dialer setting and reduce the pacing ratios.
What essential & advanced features should I consider?
Conclusion
Auto dialers help rule out repetitive, distracting processes that are keeping your frontline staff from maximizing their customer-facing time. Contrary to what is popularly believed, they don't just optimize your sales calls, but can also streamline many customer support and customer engagement processes. Choose a robust contact center solution with dependable auto dialers and all the complementary features you need to unleash your productivity. As with all tools, the impact lies in the hand of the user.
A Peek Into Customer Contact Week – Asia Online: Part I
2020 has been quite the year for working from home! However, amongst the myriad changes we've faced, being able to attend multiple, really insightful virtual events from the comfort our sofas, has definitely been a plus. For instance, we attended both CCW, Las Vegas, and Enterprise Connect virtually this year. (Read more about these events here). And for the next two days, we're attending CCW Asia, where we hope to glean some great insights on the state of CX in Asia. The following article summarises our learnings from day one.
The theme for this year's Customer Contact Week, Asia Online, is "Enhancing Customer Experience through Omni-Channel Integration, Customer Self-service, and Culture Change". One day one, as expected there was a lot of talk about the changes sprung about by COVID, as well as a focus on automation in the contact center and its implications for CX. Most importantly, the event delivered a positive outlook and shared actionable insights for CX leaders in Asia. The focus was on: *
Integrating interaction channels across the business to ensure a seamless experience
Leveraging automation and customer self-service to reduce the number of high volumes and transactional customer inquiries
Using Artificial Intelligence, sentiment analysis, and knowledge management systems to ensure staff have the right information at their disposal
Engaging in training and building a culture of service excellence to increase staff effectiveness"
Here are the highlights of sessions that caught our attention on day one.
Transform Your CX Operations
'Transform Your CX Operations Today by Harnessing the Power of AI, ML and Intelligent Automation' was a fireside chat with Ravi Saraogi, Co-founder & President – Asia Pacific, Uniphore, and Jitender Mohan, Head, Customer Interaction Services, WNS. Ravi and Jitender touched upon critical issues like the need for becoming digitally agile, and the growing importance of Conversational AI and intelligent automation in CX.
On the one hand, we know that Conversational AI and machine learning are transforming the customer experience today, with contact centers worldwide adopting virtual agents and other automation tools. On the other hand, there is a need to integrate digital channels into call centers. This is in spite of the fact that voice still remains one of the most popular channels. According to a survey conducted by Uniphore in April 2020, 80% of people polled said they preferred speaking with an agent. However, the same survey found that 72% of respondents have ended a call while waiting to speak to a live agent.
An AI transformation is critical then, to enhance and boost practices and tackle the challenges that come with lags, delays, wait times, agent availability, and overall customer satisfaction. A change in process can also help alleviate the growing issue of the gap between agent availability due to the change in work situations during the pandemic and the growing number of calls.
But, " AI can't be in the background " Jitender Mohan explains, "It has to be explainable, it has to be very clear and visible to me as a consumer when I'm talking to you through any channel."
Our takeaway:
Conversational AI has been around for a while now. Its time for call centers to start adopting speech analytics, sentiment analysis, voice bots, and chatbots to utilize call center data more effectively, automate L1 transactions, and assist agents during calls and chat interactions.
The Intelligent Contact Centre of the Future
Another session we found really interesting was 'The Intelligent Contact Centre of the Future' by Alaina Franklin, Senior Manager – Customer Success, Zendesk. She discusses the eventualities of the current scenario as well as the growing and evolving challenges for contact centers, agents, and customers due to the increasing levels of stress.
"Customer support operations are fluid and dynamic. Agents are working from home. Lower staffing levels, they maybe can't get to work or have commitments at home, and there's fluctuating volatility in terms of demand. And the importance of easy interactions and resolutions is driving this transformation."

Alaina Franklin, Senior Manager-Customer Success -Zendesk, CCW Asia 2020
As Alaina goes on to discuss AI adoption was seen largely at the backend for a number of years. However, a previously slower customer acceptance for AI is now on the fast-track and has spurred adoption in companies across the globe. Agents have been supported and empowered by AI, and it has enabled and created proactive and productive engagements during the past few months. Although, the phone remains popular it simply isn't enough.
As per insights shared from reports, now changes due to complex multichannel experiences, volatility in request volumes, real-time requests and resolutions and a boom in self-service are emerging trends. Customers increasingly want to connect via chat and messaging. And agile companies are the need of the hour.
Some challenges she shared basis the Harvard Business Review, that display the effect of recent tumultuous changes:
"34% increase in wait times.
2X more calls classified as difficult from typical levels.
68% increase in escalation"
How does one then make it easier for customers?
Self-service
Self-service options and WhatsApp are becoming immensely popular with customers turning to contemporary channels for resolution and ease of use. The changing conditions are changing consumer purchasing and spending habits, all leading to an increase in the need for assistance and help, on channels, they are comfortable with. At the same time, they also expect companies to know them and understand their needs and requirements. This, of course, is only possible with integrated channels across the customer journey. You need to be interactive and connected! Data and intel need to be utilized in the best possible way to create a seamless experience for your customers across all communication channels. Again possible with the intelligent application of AI.
Another interesting stat from the Harvard Business Review shared during this session was that 81% of people try to resolve a matter themselves before reaching out. Companies are therefore adding live channels, messaging options and have increased investment in self-service and the adoption of bots and AI.
Our takeaway:
Not only should call centers be looking at ensuring self-service, and integrating AI into their call centers they should also be looking at integrating new digital channels such as WhatsApp to serve customers faster and better.
Delivering world-class customer experience in 2020
Worldwide, the global pandemic created a surge in customer service calls while businesses dealt with the challenges of pivoting to a work-from-home model for their call center agents. However, Anila Fredericks, Head of Customer Service Operations at Telstra, had a hopeful story to share. Not only was Telstra's call center able to implement their BCP within 24 hours, but they were also able to improve employee engagement, productivity, and NPS scores through the next few months.
Starting early
Part of the reason for their success was the digital transformation initiatives that were already in play within the organization. For instance, this included
Centralizing all platforms so that a single agent did not anymore need to connect to multiple platforms to understand the customer they were serving.
Increasing digital interactions from 20% to 80%
Moved from having three different IVRs to a single cloud-based IVR
An integrated human resources platform
Keeping employees engaged
While customer experience was kept central to all their transformation initiatives, Anila mentioned a number of employee engagement and training plans that were central to their success. For instance, years ago they began rigorous skill assessment programs and qualification criteria for employing new agents. Their best agents were sent to Train the Trainer program to help train the other agents. And continuous training programs helped ensure better performance.
When the pandemic struck and agents in Malaysia had to switch to work-from-home, they were quick to identify the resources that these agents would require such as broadband dongles delivered to them within days, at their homes. Not only did they organize regular check-ins with their teams, but the employees also gathered in more causal and fun ways such as with a "virtual pizza party" where pizzas were delivered to all employees at their homes, before a massive online meet-up!
The results? There was a 93% improvement in employee engagement, a 20% increase in productivity, and most importantly a 20 point increase in NPS scores. A great record by all standards, and even more so during COVID!
Shift left
The whole aim of digital transformation, according to Anila, is to move from a "transactional service center" to a truly Integrated one. One that knows the customer and is able to proactively support them. Telstra has achieved this by acting on episodic NPS surveys, managing jeopardy, better escalation management, proactive updates during events such as outages with next update timers, and most importantly by reducing the volume of incidents.
As more and more tasks get automated, the scope to "shift left" increases. Agents need to be trained to take on more challenging roles, and the organization finds itself in a position to deliver better more personalized, and more proactive service.
Our takeaway:
Call center automation is now the accepted path forward. But what next? We liked Anila's suggestions: shift left, persist in improving systems and engagement levels, and continuously strive to improve customer service with a more proactive, more personalized, and more integrated approach.
Stay tuned for more of our takeaways from the insightful sessions at CCW Asia!
To watch or for more information and the agenda, visit  https://www.cxnetwork.com/events-ccw-asia-online-2020/
Image Credits: Featured Photo by Ross Findon on Unsplash
If your business focus is to increase growth and value for customers, it's important to meet and exceed their expectations. Yet, most businesses use outdated IVR systems that are not user-friendly.
But, it doesn't have to be that way. Technology has made long strides in the last decade to make intelligent automated phone support a reality. Conversational Interactive Voice Response (IVR) is one way to transform how businesses conduct customer service for the better.
What is Conversational IVR?
Conversational IVR uses voice/speech as input to interact with the IVR system, in contrast with a traditional IVR that uses touch-tone (DTMF input.) The result is a human-like and friendly experience for the caller.
Most callers reach for phone support expecting an agent to answer the call, and it can feel disconcerting when they're welcomed by an IVR. But if the IVR system is welcoming and easy-to-use, it can create a positive customer experience for the brand.
How Conversational IVR works and its types
Conversational IVR is of two forms, depending on whether artificial intelligence (AI) is involved along with Natural Language Processing (NLP).
The simpler form of Conversational IVR uses voice/speech recognition in IVR. This technology allows the caller to respond and navigate through a menu using voice commands. When done right, it reduces the caller's frustration in using an IVR— they can now speak into the IVRS with a 'yes' or 'no' instead of shuffling the phone from their ear to hand to press the DTMF.
The advanced version of Conversational IVR combines AI and NLP. This technology is designed to learn and evolve continuously which helps establish the intent of the call accurately. Picture a caller saying 'check refund status' and being instantly given the status instead of navigating via voice recognition and DTMF tones. That's one example of how AI can be used to create a positive customer experience.
When is Conversational IVR right for your business?
Conversational IVR is typically used to handle inquiries and for problem resolution. Leverage it when:
Your IVR menu is too long. The complex navigation and routing frustrate the callers, making them abandon the call midway.
You receive/make large volumes of repetitive calls (especially in industries like travel or IT helpdesk) that can be automated.
You want to provide hands-on support all the time without involving the customer service agents.
Furthermore, here are some scenarios where using conversational IVR is a good proposition for your business.
Based on the use case
Surveys and feedback: Conversational IVR allows for a natural flow of answers, which is crucial when a customer is providing feedback or answering surveys. When powered by AI, it provides a good experience for the customer because it makes them feel that their feedback is heard, as opposed to manual or email surveys.
Lead qualification: Conversational IVR is a good pre-qualifying system for leads. Similar to the qualifying questions on website forms or chatbots, a customer is qualified and the call is directed to a qualified sales agent right away by listening to their response. This seamless transition improves CX.
Based on the industry
Banking: Voice automation can be used in banking and financial services to make outbound collection calls. Call volumes in contact centers are staggeringly high despite the efforts to offer omnichannel support. Conversational IVR helps reduce agents' workload, enhance their experience, thereby improving their efficiency to work on other productive efforts like upselling, cross-selling, etc.
Retail: Another industry where Conversational IVR can shine through is retail, where there are repetitive inquiries about returns, exchanges, product availability, and refunds.
Human Resources: Similar to the lead qualification use case, Conversational IVR is used by HR for candidate screening. Clients using this solution have reported that their candidate reach out has become 10 times faster, and also resulting in a 40% reduction in cost per hire.
Benefits of using Conversational IVR for your customer service
Boosts NPS: Conversational IVR helps maintain high First Call Resolution (FCR) rates— a key performance indicator of customer satisfaction and loyalty— thereby improving the Net Promoter Score (NPS).
Reduces costs: Customer-friendly voice automation reduces the number of agents required to handle the calls, thereby reducing the associated manpower costs. On the same note, agents can handle only a limited number of calls in a day, whereas automation can lead to unlimited volume handling.
Provides answers faster: A conversational IVRS is smart because it is continuously learning. When the system doesn't understand the customer intent, it transfers the call to a live agent without friction.
Delights customers: NLP allows the customer to speak in the words of their choice. This provides an inclusive experience for the caller. It also makes intent recognition easier and provides a resolution seamlessly.
Supports self-service: Callers prefer an interactive self-service option that gets them quick and accurate responses or a swift resolution. Conversational IVR helps boost customer engagement and loyalty.
But every rose has its thorn— Here is when you don't need Conversational IVR:
Conversational IVR is best avoided in time-critical industries like healthcare or disaster management, where the position of a live agent is irreplaceable.
Text-to-speech (TTS) software used in Conversational IVR is inadequate where personalization is key— too much IVR TTS can ruin the caller experience.
Simple interactions such as "press 1 to reach Sales…" doesn't require the sophistication of Conversational IVR. On the other hand, if your customer calls in to get a retail store address or a hotel location, or address for a delivery pick-up point— conversational IVR is a great use case.
AI is only as good as the data it is trained on, any errors will lead to customer dissatisfaction and end up doing more harm than good. Therefore, Conversational IVR is not recommended for light use cases.
Rephrase the conversation
Conversational IVR is a great self-service system that boosts your brand perception by delivering consistent and quality service every single time. After all, isn't that what every business strives for?
Are you looking for a conversational support system that is welcoming and instinctive? Check out the best-in-class IVRS by Ozonetel.
What is CCaaS?
CCaaS or Contact Center as a Service is a cloud-hosted contact center software.
A cloud contact center is a software as a service (SaaS) that is deployed and stored in the cloud. It is always up-to-date with new updates automatically applied by the service provider. Since it is created and maintained in the cloud, it is therefore offered as a "service", This is why is also known as CCaaS or Contact Center as a Service.
Generally available through some form of a subscription model(s), over the last decade and a half, CCaaS has redefined the complexion of call centers. By simplifying, streamlining, and unifying all aspects of call center operations. This agile technology provides call centers a plethora of cloud-powered nifty functionalities that enable businesses to focus on exceeding customer satisfaction and experience. And not be bothered (or bogged down) by service maintenance and running issues.
Benefits of CCaaS
No IT or hardware costs whatsoever. Hardware costs are almost zero. Companies don't need a data center to run operations. Since the service is maintained and hosted by a service provider, companies can safely eliminate IT support costs. Support is provided 24/7, and free onboarding and training are also offered.
Flexibility and scalability. Easy pare down or upgrade of users and functionality as needed through the business lifecycle.
Improved/increased agent efficiency. In-built call management systems, programmable IVRs, and other call queue management tools automate manual tasks, offer customer self-help, and reduce agent effort. All optimize operational efficiency and productivity.
Higher customer satisfaction & experience. Since it includes call center software, it is designed to deliver exceptional customer service. Features of intelligent skill-based routing allow agents to contextually engage with customers across communication touchpoints (platforms, channels, and devices).
Access to cutting edge future technologies. Adapting to and adopting cutting edge technology is easy and seamless. For instance integrations with new digital channels such as WhatsApp, or AI-based technologies such as speech analytics and voice bots.
CRM Integration. Easier integration with third-party software. For e.g. the ability for CRM integration for better operational output and CXM.
What is UCaaS?
UCaaS is Unified Communications as a Service. A cloud-hosted service to meet employee collaboration needs and streamline business workflows. Service is offered in 3 ways:
Customized software platform. Integrates with on-premises applications. It is secure and reliable as customer data is kept separate from other customers and does not get impacted if another customer's software instance goes down. However, it's expensive.
Multi-tenancy approach. Comparatively less customizable and flexible, it is more cost-effective.
Hybrid model. Companies can opt to keep part of their communications on-premise and other applications cloud-based. For instance, this scenario could be used in cases of gradually migrating from PBX (or other on-premise) systems to the cloud.
Being cloud-based, UCaaS offers organizations the following benefits:
Variety of collaboration tools. Such as online meetings, videoconferencing, telephony, unified messaging (email, voice mail, IM, and fax), etc. Employees can work from anywhere and from the device of their choice and remain productive.
Cost advantage. Economically serves and supports multiple locations globally.
Scalability and flexibility. Users and capabilities can easily be added or removed (seasonally, for e.g.) without extensive infrastructural investment.
Consistent user experience. Access is consistent regardless of location. As is centralized management. Both employee and customer experience is consistent and standard.
Infrastructure simplicity. Easy deployment with built-in business continuity/disaster recovery mechanisms. Customers don't need to buy and maintain multiple PBX systems and UC platforms in a different location.
What is the difference between UCaaS and CCaaS?
In the past, UCaaS and CCaaS existed in parallel lives. UCaaS typically met distinct enterprise collaboration needs. CCaaS, contact center needs. Today, their paths are intersecting more than ever and some UCaaS providers are also incorporating contact center capabilities such as:
Auto-attendant, IVR, call routing, and CRM integrations.
Adding APIs to their cloud platform is also on the rise. Customers can use these APIs to embed cloud communication features into their workflows.
So, how is UCaaS different from CCaaS? Good question! There are some salient differences between the two:
Limited customization. In UCaaS, all functions and applications reside within the platform, while CCaaS enables a more "build-your-own-communications model". It achieves a more easily customizable approach by supporting APIs that companies can utilize to embed and build communications within existing business applications and workflows.
Tricky Deployment. In the case of UCaaS, while implementation appears to be a relatively straightforward task, it can be tricky to get it right. For e.g. determining the optimal level of connectivity can be challenging in truly leveraging the true power of UCaaS capabilities. Too little creates frustrating performance issues, and too much is a waste of money.
High bandwidth requirement. Applications like video and Web conferencing require high bandwidth. Voice and video need low latency for the best quality. In a UCaaS environment, along with wireless LANs, organizations may also need to invest in more bandwidth and better coverage to support cloud-based unified communications. Other considerations would include issues of integration, security, and enterprise support.
Limited interoperability of UCaaS makes switching, integration, and deployment challenges.
IT support needed. Challenges of proper implementation, for one, make it clear that companies would need to invest in maintaining an in-house IT team for training, deployment, and other troubleshooting tasks. Thereby adding to the cost of running a business.
Different use cases. UCaaS is typically used in cases where aging PBX / legacy systems need to be replaced. Or when there is a need to consolidate existing telephony, conferencing, and collaboration services. It is primarily used to streamline workflows for enhanced employee collaboration. CCaaS with its contact center software capabilities on the other hand empowers agents to optimally interact with customers.
Work in progress. UCaaS capabilities are still evolving to meet industry demands. Currently, enterprises are concerned about issues of security and confidentiality. Positive developments are underway to dispel negative perceptions around UCaaS security and support.
The table below summarizes the differences between UCaaS and CCaaS.
| | | |
| --- | --- | --- |
| | UCaaS | CCaaS |
| | Employee Collaboration & streamlining workflows. | Optimally meeting complete contact center needs |
| IT Department | Still required | Not Required |
| Customization | Limited | Available |
| Security & Confidentiality | Work in progress | Excellent |
| Call monitoring & live supervision | Limited | Available |
CCaaS vs On-premise
A decade and a half ago, contact centers were mainly run with on-premise software systems. The software was downloaded and maintained on in-house servers (centralized corporate LAN). Companies that utilize on-premise software systems continue to invest in regular upgrade costs and IT staff that manages all updates and security patches (that don't occur automatically). The introduction of new apps may also require additional capital and investment in admin support.
The popularity of CCaaS offers several advantages over the on-premise model:
Reduced recurring costs. IT staff is significantly reduced, as is the cost of maintenance and upgrades.
Greater mobility. Instead of accessing software through specific call center computers, agents can log in remotely. They can now work from the comfort of their homes across time zones and geography. Companies don't need to invest in a brick and mortar office space.
Scalability. Businesses have the freedom to easily scale up or down to meet seasonal demands. They don't need to commit to an annual/ multi-year fee structure.
The table below summarizes the differences between CCaaS and on-premise systems.
CCaaS
On-Premise
Upfront development costs
Nil
High
In house IT Support
Not Required
Required
Employee Mobility
(work from anywhere)
Available
Not Available
Integration with third-party software
Extensive
Limited
Upgrade Costs
None
Frequent
Automatic Updates
Available
Not Available
Conclusion
It's apparent that cloud solutions today are the way forward in optimally meeting business complexities. Also, companies are spoilt for choice! In a competitive landscape, it's up to organizations to do their due diligence and opt for a solution(s) that would best meet their needs. Each category of cloud service offerings meets a niche need, has distinct pros and cons, and cost/ infrastructural implications.
Ozonetel offers the fastest and most flexible options for businesses migrating from on-premise to cloud call center solutions. Learn more about our offerings on www.ozonetel.com, or contact us here.
The advantages, disadvantages, and 5 realistic use cases for conversational AI
When it comes improving and enhancing customer service and support processes, AI holds incredible promise for both support and sales call centers. Especially with discerning customers wanting service quicker, faster, and as stress-free as possible.
(Also Read: What is Conversational IVR? And how can it improve customer service?)
Like with any technology however, it is unrealistic to assume that Conversational IVR can be used effectively in every scenario. I've noticed that for rapidly evolving tech such as conversational IVR, decision-makers often find it tough to distinguish between what is ready now, versus what is possible in the future.
In this blog, I try to take a balanced approach, weighing both the pros and cons of conversational IVR before delving into the best business use cases for the technology. Wherever it is relevant, I've also mentioned other automation options that might solve your business pain points more appropriately than conversational IVR.
Benefits of Conversational AI
Let us first look at the big advantages that conversational AI offers
Undoubtedly, conversational IVR is a fantastic tool.
It reduces queues and customer wait times while enabling cost optimization for businesses.
In comparison with physical agents who can only handle limited calls, automation with conversational AI can lead to unlimited volume handling.
Moreover, you can use the same AI across all your text and voice channels leading to consistency and software redundancy.
However, this does not mean you can use this technology indiscriminately.
Drawbacks of Conversational AI
As is the case with a lot of technology, Conversational AI too is effective only when used in the right customer support and service situations. Here are some caveats to keep in mind when considering the technology.
No voice AI has passed the Turing Test.1 Did you know that even Siri is unlikely to pass the Turing test? In other words, we can't expect to carry out a full-blown conversation with a bot anytime soon. Although a lot of us are now comfortable with voice assistants in our home, we tend to keep our sentences short while speaking to Siri. But our customers often need more human conversations. Especially since many turn to a phone channel only after they have exhausted other means of solving their problem.
Errors may damage customer experience. While error rates may be forgivable and non-consequential when you're telling Alexa or Siri to change the music or answer a question, it can easily anger a customer calling your call center with an issue. In this case even the smallest margin for error can damage your customer experience.
Your AI is only as good as your data. An AI-powered conversational IVR solution is only as "intelligent" as the data it gets. If you do not have enough training data, your solution will not give optimum results. (Also Read: How to develop a voice bot for your sales or support?)
When should you use conversational IVR?
In spite of the drawbacks, there are still a plethora of use cases where Conversational AI can make a huge difference to productivity without affecting, and in fact often improving, customer experience. Let's take a look at these five use cases that are primed to making good use of conversational AI.
Use Case 1: Quick Data Capture
Whenever there is information flow from a CRM or database in the backend to an agent and then to the customer, Conversational AI can help do away the agent leg and automate it instead. For instance, lets take the case of cancelling a reservation or changing a delivery instruction. These tasks can be completed faster when a customer interacts with a conversational IVR.
This also includes use cases when you need to capture data that cannot be conveyed via DTMF inputs. For instance, descriptive feedback surveys, or user details like names and addresses.
Use Case 2: Straighforward communications
Whenever there is a standardized set of options, a conversational IVR is good idea. For instance, when placing a pizza order, a conversational IVR can easily replace the human agent. (Though the system should always have the option of quickly routing to alive agent in case of any errors or complications)
Use Case 3: To replace long menus.
Because they are not limited by DTMF inputs, long multi-level menus can be simplified by conversational IVR. These are especially useful for banking, finance, and travel sectors.
Consider, for example, when you call a bank for a home loan. First, you need to select which department to connect with (dial1 for credit cards, dial 2 for loan and mortgages, dial 3 for banking related queries, and so on.) Once this is answered you might have to listen and select from a new set of options regarding which loan you want to know about (1 for home loan, 2 for student loan, 3 for personal loan) and so on.
In contrast, you can just tell a conversational IVR that "I want a home loan" or " I want to know about the Egypt Holiday package", and it should connect you to the right department.
Use Case 4: Collection Calls
Speaking of the use of Conversational AI in verticals such as the financial sector, Sagar Rane, who leads Ozonetel's business teams in India West, and UAE, had some great insights about the use of AI for customer support and service activities like collections. He goes on to explain how conversational AI solutions can be effectively used in debt collection calls. These calls are otherwise notoriously unproductive and often unpleasant. In fact, research suggests that out of every 2,500 calls dialled, only 1000 connect, out of which only 200 may respond positively, and 200 may want to ask the agent something. Moreover, customers may prefer to hear about a pending loan payment from a bot rather than a human being.
Also Read: How debt collection work can greatly benefit from AI.
Use Case 5: For candidate screening
Another extremely viable use case for conversational AI, as Sagar states is for Human Resources. Here, the cumbersome job of candidate screening can be handed over to a chat bot. In fact for clients who have used this solution, their candidate reach out has become nearly 10 times faster, and led to a 40% reduction in cost per hire!
When should you avoid conversational IVR?
For a very diverse audience
Conversational IVRs are available in a multitude of languages. So it isn't difficult to handle many different audiences with this technology. But within a single language, speaking styles and accents may vary greatly.
In these kinds of cases, explains our presales expert Namisha Gupta, Conversational IVR should be avoided. Namisha, who has successfully executed a number of self-service solutions, explains "In India, we've noticed that amongst amongst urban audiences, the speaking styles are similar. Whereas, for a rural audience, the dialects and speaking styles vary so much that the chances of failure increase."
Therefore, when there is a lot of heterogeneity in the way a language is spoken, conversational IVR is not recommended. Here self-service can be delivered via DTMF input.
Also Read: How a logistics firm tripled their call handling capacity by implementing self service IVR with DTMF inputs.
Does your customer primarily use the phone when they have an issue? Or do they prefer to use a digital chat? If your voice channel primarily handles escalations, then a conversational IVR is best avoided. (In fact, I recommend skipping the IVR and connecting to a live agent right away!) It's important to understand your customer and place your self-service options on the channel they prefer, This may be as an FAQ page or easy to search video tutorials, a Chatbot or automated WhatsApp bots.
Also read: How to plan your self-service strategy?
Conclusion
We can conclusively say that if your call center has some simple conversations that need can be automated, then Conversational IVR is an excellent solution. It can reduce your call loads while ensuring a personalized and convenient customer experience. Like every successful implementation, the trick lies in identifying your problems correctly, and as always, deeply understanding your users, and their journeys.
Note: If you are planning to automate some of your customer conversations, Ozonetel provides excellent chatbot and conversational IVR and simple IVR solutions. Go to www.ozonetel.com for more information or contact a sales representative today.
This year, between lockdowns and quarantines, contact centers across the world are impacted both in terms of being able to stay open as well as unavailability of agents. The agents who are now working from home also face numerous hindrances like poor connectivity and lack of the right technology. At the same time, companies are facing higher call volumes, almost 60% in some sectors, with customers who are increasingly frustrated and stressed.
The need of the hour in these increasingly digital times is a self-service option that lets both customers and companies quickly deal with customer support needs. Implementing a good self-service plan has a double-edged benefit: First, simple queries are resolved faster. And second, your call queues get considerably shorter, letting customers with more complex queries or complaints, reach your live agents faster.
At the beginning of this year, we held a webinar with Mayur Kansal, Customer Experience Manager, Delhivery, Namisha Gupta, Presales Manager, Ozonetel and Ashik Basha, Product Marketer, Freshworks— a team who has successfully implemented self-service solutions that have improved operational efficiency by 40% or more. In the following blog we summarize the most important insights:
What is customer self-service?
Customer self-service is a means of empowering customers to solve problems and complete simple transactions by themselves. There are three ways of delivering customer self-service
An FAQ page on your website
Chatbots
Self-service IVR
Examples of customer self-service
Self-service can be implemented across any sector and all customer touchpoint channels. For example, in healthcare, customers can get their test reports through IVR with a link to download their report. In the travel sector, it can be used to allow customers to address simple queries like getting hotel addresses, checking ticket statuses or cancellations, and refunds through IVR and chatbots both. Recruitment companies can screen candidates through IVR or do reference checks. And in the retail space, there are multiple uses for self-service like getting retail outlet addresses or tracking and rescheduling deliveries.
Benefits of implementing a self-service support strategy
Here are the top two reasons why you need to implement a self-service strategy for your customer support:
Boosts efficiency
Self-service helps customers find information and solutions faster. It gives them an option to find the information needed for simple support questions without going through a long chain of communication. Similarly, this also frees up agents from time spent on repetitive basic questions and allows them to focus on more critical issues, leading to more productivity and the ability to handle more volumes.
"What we have found out is that implementing any single query through self-service leads to a 12% increase in contact center efficiency."

Namisha Gupta
Meets changing customer preferences
Today's customer prefers to resolve things themselves and quickly and easily get their needs addressed. In fact, 81% of customers today try to solve problems themselves before reaching out to a live representative.* While 72% of customers prefer self-service to resolve issues over calling or sending an email. **
While it's pretty clear that customers would prefer to resolve things themselves if they could, there's a clear gap between business provisions for the same. Strangely enough, according to studies by Gartner, only 9% of customers are able to resolve their issues via self-service. And 51% of calls to customer service were from people who had unsuccessfully attempted self-service.*
How to create an effective customer self-service solution?
Here's how you can deliver self-service in a way that actually produces positive results by leveraging IVR, CRM, and cloud call center tools:
Step 1 – Collect knowledge from conversations
The first step to a good self-service strategy begins with identifying what conversations can and should be automated. Track repetitive questions and common queries and issues from customer conversations across all your channels. You can assess:
Emails
Chats
Search engine queries
Search bar queries
L1 tickets within your helpdesk
Call dispositions.
Call recordings.
You can use keyword analysis to collect keywords from call recordings and compare their volumes. This will give you an insight into where all you can implement self-service and where you may need human intervention.
Mayur recommends that you categorize the various reasons why your customer contacts you, and then analyze which of these can be automated. For instance, upon analysis, he found that within his call center nearly 60% of the calls were for status updates or rescheduling deliveries, both of which could be automated.
Step 2 – Prioritize and create content
Once you know what you need to focus on, it is also important to create the right kind of content. The three most helpful content categories here would be:
FAQs
Video Tutorials
Articles
This content repository can be shared both internally, amongst your agents as well as externally to users. This content is the base for creating useful searchable content online such as creating better bots.
"Having a foolproof knowledge base not only helps customers, but also enables agents to get onboarded quickly and know your products quickly so that they can ramp up their support game."

Ashik Basha
Also read: How to create a bot for your customer support
Step 3 – Give choices, Improve usage
Once the content and self-service portal is ready, it is better to make this content easily accessible across all-available channels. Customers should be able to find what they need via a channel of their choice, be it chat, calls, web forms, search engines, or social media. Here are the various forms in which you can enable customer self-service:
FAQ page
Online Video Tutorials
Chatbots on your app or website
Conversational IVR or voice bots
Self-service IVR via DTMF inputs
A lot of our clients could reduce their call volumes between 12% to 60% by enabling self-service via DTMF inputs on their IVR.
Also Read: How a furniture e-tail store used its IVR to reduce call traffic and serve customers better
Step 4 – Deflect With bots
Take self-service a step closer to customers by automating it with interactive bots. This not only makes the process conversational but also provides quick answers and suggestions while a customer is typing their question. Voice bots or conversational IVR are extremely efficient tools for general queries like order status checks, reschedules, cancellations, etc. These should be directly integrated with your databases, so the minute a customer puts forth a query on a call they get a response. No lag, no wait time, easy to use, completely automated, and no agent intervention required.
Also Read: What is conversational IVR?
Step 5 – Track feedback
Customer satisfaction is the ultimate goal, therefore it's necessary to track and analyze feedback from all conversation channels to know if you are doing right, through surveys and other modes. It is extremely important to know if issues have actually been resolved if your channel is easy to navigate and whether customers are happy with the process.
We were able to see a 25% increment in our CSAT scores over self-serve and automation implementation across various channels, in a very short period of time of about three months." – Mayur Kansal
Step 6 – Measure. Refine. Repeat
Creating and implementing successful self-service isn't a one-time process. Now that you have implemented and analyzed, keep checking your knowledge bases and databases, and keep listening to customers. Measure how it is working and refine to make it even better. Queries keep changing, companies grow, services and products change, and so forth; it is an ongoing process to ensure your self-service channels are updated and efficient.
Conclusion
At the end of the day keeping customers happy and seamless CX gives a business an edge over competitors and builds relationships. Self-service plays a pivotal role in communication today.
For a deeper dive into successfully implementing self-service and how Delhivery tackled their customer service challenges, watch the recording here.
Citations*Harvard Business Review. ** Forrester
What is Omnichannel?
Omnichannel is a unified communication strategy across content and media that businesses utilize to engage with customers and improve overall customer experience.
In the business world, the term "Omnichannel" is not new. Think omnichannel retail, omnichannel marketing, or omnichannel customer experience. The stage for omnichannel retail was set almost two decades ago with Best Buy's customer-centric model that offered both on and offline sales and post-sales customer support.
What is an Omnichannel Contact Center?
An omnichannel contact center is one that integrates and unifies customer interactions across your voice and digital channels. This includes creating a unified customer experience across phone calls, emails, webchats, WhatsApp, SMS texts, and social media.
In simple words what this means is that a customer can contact a business on any of its channels and expect the agent who attends them to recognize them and know them from their previous interactions on any channel.
Sample this: A customer browses a company's website and inquires through the chat option. A few days later s/he is back on the site and clicks to call to reach an agent. The agent's interaction with the customer is contextual and efficient (therefore impactful?) since the agent is able to access the customer's past interaction at a glance and have a meaningful conversation with the customer.
What do we notice here?
All support channels automatically sync and share information
Agents have easy access to this information
The customer doesn't have to state the intent of his/her call and the agent is able to jump right in and pick up the thread from where it was left off.
As a result, the customer's experience is great as is the agent's productivity metric! This is a simple scenario demonstrating one of the many powers of an omnichannel contact center.
To quote directly from the CCW Special Report 2020 Predictions:
"Omnichannel doesn't [simply] mean having a website, having a chat interface, having a phone number, or having an email. It means all of that and meeting the customer where they are every day. On their Facebook Messenger interactions, on WhatsApp, on wherever they require us to be. It is important to reduce customer effort and be there for them rather than [force] the customer to find us when they need help."
What is a Multichannel Contact Center?
A multichannel contact center also allows agents to interact with customers across a plethora of channels. Thereby providing customers the flexibility to choose the channel(s) to engage with a company.
"Multichannel" includes voice, email, web forms, fax, chat, and SMS interactions. Interactions with channels, however, work in isolation, with each channel acting as a separate department. There is no sharing of data between these different departments.
Sample this: A customer interacts via live chat on a company's website and then a few days later clicks to call. In a multichannel contact center scenario, since all customer engagement and interactions are not unified, the live agent who s/he speaks to may not necessarily have easy access to the customer's previous engagement. As a result, the customer spends time to bring the agent up to speed.
Should the customer call again, a different agent is likely to answer the call, and once again the agent would not be able to easily and quickly navigate to the customer's interaction history. Once again, the (now possibly frustrated) customer would have to spend time to bring this agent up to speed. Good luck getting the customer to call again! An unhappy customer = A lost customer = Lost revenue.
It's certainly workable, but customer experience isn't the best and there's a fair amount of precious time wasted that directly impacts operational output and bottom line.
How is a Multichannel Contact Center different from an Omnichannel Contact Center?
The key difference between omnichannel and multichannel contact centers revolves around the benefit of centralized and unified backend integration.
In a multichannel environment, customer communications and information live in isolation and are not integrated or unified. Thereby leading to inefficiencies in the form of wasted time, reduced output, and customer dissatisfaction.
In an omnichannel contact center solution, comparatively, boundaries between channels are nonexistent, offering customers a consistent experience across touchpoints, and thereby a higher agent productivity and customer experience management (CXM).
Also Read: The differences between a multichannel and an omnichannel contact center
The business benefits of setting up an omnichannel contact center solution
So why should businesses invest in an omnichannel contact center? The short answer: To reap the benefits of amazing customer experience and service! And why is customer experience so important? Because it's the best way to stay ahead of the competition.
Today, customers reach out on their own terms using an ever-growing variety of platforms, services, and channels. Whether it's text, live chat, Facebook, or WhatsApp, an omnichannel contact center makes it possible to engage customers with ease, providing a personalized and consistent experience across all touchpoints. Agents can optimize for operations and executives can make data-driven smart business decisions thanks to a streamlined, simpler UI and richer set of data and reporting options. It's no secret that a superior customer experience predicts loyalty and repeat business.
If, as a business, you aspire to provide the FP3 model of CXM 1, it's time to switch to an omnichannel contact center. Chances are, without it, you're falling short. Research shows that businesses providing an omnichannel customer experience have a 91% higher year on year increase in customer retention. A McKinsey report recently demonstrated how an omnichannel approach increased a regional bank's product sales by more than 25 percent per month. 2 That's compelling!
It has already been established that the multichannel contact center experience isn't exactly seamless, both for agents as well as for customers. An omnichannel contact center solution's unified customer experience, comparatively, has three big advantages:
Boosts customer experience. Optimizes customer relationship, engagement, and loyalty.
Reduce customer effort where customers don't have to repeat prior information and can easily access self-help.
Wow the customer, by exceeding customer expectations. Make your customer interaction meaningful, personalized, and contextual.
Make dropped and missed calls a thing of the past. By storing call data, you can ensure callbacks, even automate them.
By offering your customer a variety of channels, you allow them to choose a channel they prefer for their communications.
Improves overall contact center efficiency
Reduce agent effort through easy and quick access to customer engagement history (purchase patterns, issue log, etc.), issue resolution, and improved customer self-help as opposed to requesting help from a live agent. Thereby lowering agent burden. High agent burden = High agent attrition.
Improve operational efficiency through intelligent omnichannel IVR programming and automation of manual tasks.
Overall reduced operational costs.
Reduce call volume. Thanks to the seamless integration between channels, an agent on an omnichannel contact center would be able to spot customer inquiry channels and will be able to expediently correct the situation. It could be done either through a pleasant and personalized call from the agent or through the implementation of a relevant chatbot. A business that rejects omnichannel would struggle to find the relevant data in the first place to meaningfully triage the situation.
Create actionable intelligence
Cultivate "actionable intelligence" through in-depth, valuable omnichannel insights from all sources of feedback (calls, chats, surveys, reviews, and social media) and behavioral intelligence. Gain insightful information about campaign impact, purchase behavior, future business decisions, etc., for example. (Source: CCW Digital)
How to switch to an Omnichannel Contact Center Solution?
In spite of the advantages, 63.5% of US companies don't or can't provide their customers with a unified communication experience.1
Switching to an omnichannel mode is not as intimidating as it may be perceived to be, and pales in comparison to the benefits companies are likely to reap by implementing an omnichannel contact center solution. There are two simple steps to creating an omnichannel call center:
Share data: What businesses essentially need is to ensure that customer data is stored and organized within a centralized database. For most businesses, this is their CRM. Here customer information, as they move through the journey from prospect to after-sales support can be captured.
Integrate to automate: Next, you need to ensure that this data is accessible to agents when they speak or chat with customers. That is, agents managing your digital (email, WhatsApp, chats) and voice (phone calls) channels are automatically presented with the relevant data as they speak or chat with the customer.
Note: Ensuring that customer data is available to agents when they answer calls is also known as Screenpops. You can learn more about this feature in our blog on Screenpops
Common challenges in switching to an omnichannel call center
In the next part of this guide, we get into the nitty-gritty of how this can be executed for different businesses depending on the current state of their call center. If your company runs a call center, but it's not an omnichannel solution, you would most likely be operating in one of these three scenarios
Scenario 1: You have a legacy call center solution that is not integrated with your CRM. If you offer more than one support channel, they all work as standalone systems.
Scenario 2: Your business uses a single channel, usually the phone channel. This phone channel may be supported by cloud telephony and integrated with your CRM. But you do not offer any digital support channels.
Scenario 3: Your business has a cloud telephony solution and one or two more digital channels, but you don't have a CRM solution that unifies the customer journey across these channels
We'll now cover how to migrate to an omnichannel call center in all three scenarios.
Solution 1: Migrating a legacy call center to an omnichannel solution
The challenge: For legacy call centers with on-prem hardware, the biggest challenge to an omnichannel solution is an inability to integrate with the CRM. Or the inability to quickly add new channels. For hardware intensive call centers, adding new channels can be prohibitively expensive.
The Solution: Getting cloud capabilities is the only way to economically keep adding new channels, while seamlessly integrating with your CRM. One option, of course, is to migrate your on-prem solution to a cloud solution. The other would be to add on a cloud solution to your existing on-prem solution. This cloud solution can give you the integrations and digital channel capabilities you need, while you continue to use your on-prem solution in the backend.
Note: Ozonetel provides the fastest legacy to cloud migrations. It also offers an "add to the cloud" solution to add cloud capabilities to your existing on-prem hardware. To know more, contact us today.
Solution 2: Adding new channels to your cloud call center
The challenge: For call centers that are currently offering only a single channel, what holds them back from trying out new channels is often the inability to start small or experiment. Setting up a new channel often requires onboarding a new vendor who provides that solution and getting together a new team to respond to this channel. This can be tricky when you're not sure about your returns on a new channel.
The solution: Initially, rather than investing in a new team, use your existing team to handle the new channel. For instance, if you add a chat channel, divert the chats to some members of your call center team. You can select which call center agents to assign these chats to within your chat routing options. Additionally, if those agents can answer both calls and chats for the first few months, it would be even more useful. A good contact center solution should have a dynamic agent interface. Agents in blended mode should be able to answer both calls and chats here.
When you add a new channel, don't forget to integrate it with the same CRM that your other channels use to ensure an omnichannel experience. Also, keep testing usage and satisfaction levels to see if you should continue with the channel, scale it up, or do away with it.
Note: Ozonetel makes it easy for you to add new digital channels and scale up or scale down with ease. Learn more about our omnichannel offerings here.
Solution 3: Unifying with a CRM integration
Challenge: When you have two or more channels, but they are not integrated with a CRM solution, it's difficult to get a seamless omnichannel experience.
Solution: Use a contact center solution that deeply integrates with your CRM solution. That means it passes on call and chat data automatically to your CRM system, and seamlessly extract the relevant data, and presents it to your agents when required. Our clients have found that these kinds of CRM integration have reduced Average handle times by 40% or more.
Note: Read customer stories that demonstrate how an integrated call center solution can improve both operational efficiency and customer experience, or learn more about our CRM integrations.
Guide to choosing an omnichannel solution provider
There are omnichannel contact center solution providers out there that provide readymade integrations with your CRM. Here are some factors that mid-sized and growing businesses should keep in mind when selecting their solution provider.
Support. 24/7 email as well as live phone support. Not all services offer the latter, which is a saving grace especially when businesses are adopting new technology and solutions.
Fast Setup. Agility is critical when testing new channels. Get a cloud solution that sets up in days, not weeks
Scalability. A plan that scales with your business. Opt for an omnichannel contact center solution that allows you to cancel anytime without any penalty, lets you move up and down the subscription ladder based on your business needs. Basically, allows the flexibility of a 'go as you pay plan', whereby you pay as your business needs scale. You do not have to commit to a flat rate for an extended period where several product offerings may not even be applicable to your current business needs.
Deep CRM integration. It's critical to ensure that the omnichannel contact center solution you select has seamless CRM capabilities from within the contact center solution (as opposed to having to toggle between windows and tabs). At no additional cost. One that also works with your existing CRM platform, so that's one less thing to switch.
Additional tips to help switch to an omnichannel contact center solution
Ensure seamless ticketing integration. A robust CRM/Ticketing Integration ensures that users switching between email, live and voice channels never have to repeat information. A CRM Phone Integration, for example, gives agents all the necessary information on a screen pop on the dashboard. Agent effort is reduced and productivity enhanced. When the phone call is over, agents update the status in the dashboard. The integration automatically updates status in the contact center as well as in the CRM/ticketing software.
Combine your biggest support channels. For example, connect your website to your contact center in real-time to harness the power of live voice + chat support online. This can usually be done with easy to use programmable APIs and interactive assistants. By so doing, you won't need different vendors/ agents to manage live chat and voice calls. It's easy to operate, scale, and manage your omnichannel service right away.
Prioritize changes. Be mindful of customer behavioral diversity and prioritize pain points for an effective roll-out strategy. For instance, during set-up, companies can create flexibility in allowing varied options for customers to reach the same endpoint. It may be best to prioritize pain points to assess which changes to make first, gradually making the entire process simpler and more effective for customers.
Check the health of the omnichannel solution. It's also important to periodically re-examine how the omnichannel model is functioning. Identify improvement opportunities and translate gaps into new rounds of implementation initiatives.
Conclusion
While an omnichannel contact center reality is a relatively new idea, frictionless, personalized, predictive, and proactive (or FP3) customer-centric industry standards are not. Modalities of seamless, 360-degree customer engagement and satisfaction have changed and are more complex in our times.
Today's busy customer dictates the nature and mode of a business transaction through a plethora of devices and channels. Customer engagement is on a 24/7 cycle. Now, more than ever, metrics of customer loyalty, satisfaction, and retention are critical, simply because, in a highly competitive environment, loyalty is a thing of the past. Today's customer is discerning, who demands the highest level of customer experience, lacking which, s/he readily switches loyalty.
An Omnichannel contact center enables companies an increased analytics-based personalization to make the customer experience journey seamless and satisfying.
Note: Ozonetel prides itself on being the best solution for growing businesses. If you are a mid-sized business, looking for an omnichannel contact center solution or better customer experience solutions, learn why Ozonetel is the best bet for you on www.ozonetel.com
1 Source: CCW Special Report 2020 Predictions
What is customer engagement?
Broadly speaking, customer engagement is the way(s) a company interacts with customers to create a relationship with them. This is done to foster brand loyalty, wherein in a competitive landscape, your customer base prefers your brand over the competition.
What is a customer engagement model?
A customer engagement model is one where at every stage of the customer lifecycle the company makes a strategic yet sincere attempt to create brand loyalty by exceeding customer satisfaction and experience through proactive, meaningful, and contextual customer interaction. This is true across multiple industry verticals.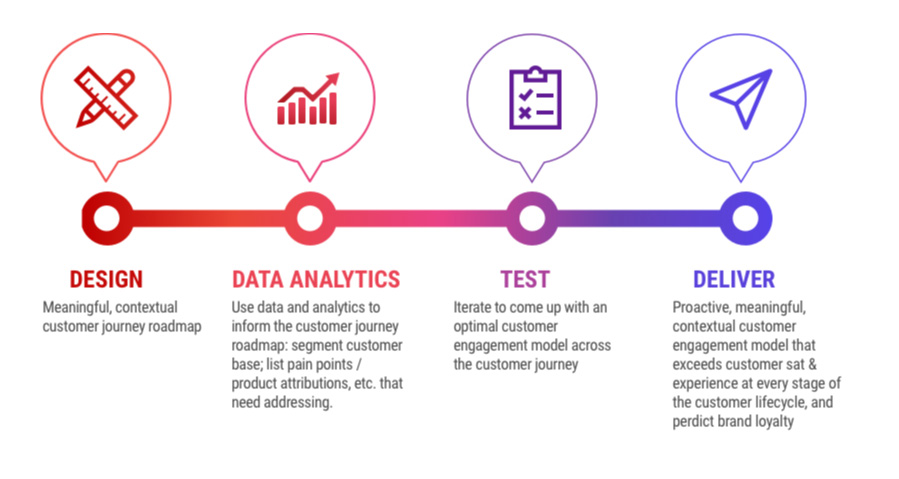 Factors that determine your customer engagement model
A customer engagement model is specific, where one size doesn't fit all. It is dependent on several factors such as product or purchase lifecycle, customer type, and perceived product value. Based on these and other factors, companies can strategically segment their customer base and optimally meet their customer where they are. Thereby creating brand loyalty based on a clear customer engagement model to meet and exceed customer experience and satisfaction proactively, meaningfully, and contextually.
Lifecycle
Companies will likely engage differently with customers based on their usage, need, and whether they are new or have been customers for a while. Whether they're at the onboard stage or in the retention stage.
Perceived product value 
Your customer engagement differs based on your perceived product value. As a business, you need to determine: the following
Are customers finding value in the product? What is it? How can it be enriched?
What is the customer using the product for?
What's product feedback like? Is the brand/product sentiment positive, negative, or neutral?
Communication Preferences
To determine your customer engagement strategy, you need to know your customers' communication preferences. This includes knowing which communications channels they are most receptive towards. It includes their social media preferences, For instance, a younger customer base may prefer Instagram to Facebook.
Why do you need a customer engagement model?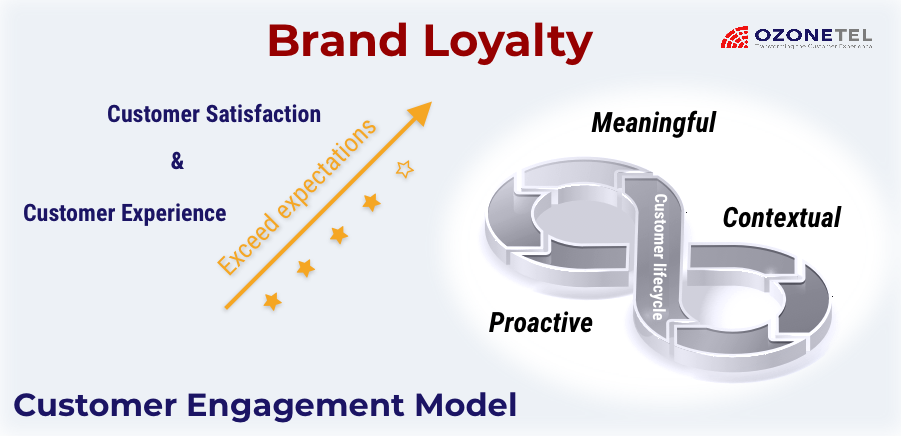 How to create effective customer engagement?
According to a 2013 Survey by Gartner, the importance of customer engagement has increased manifold because of an increasing transition to "communicating and buying through digital channels" A well-strategized and implemented customer engagement model gives you the following benefits:
Creates a loyal customer base; acquire new customers through word-of-mouth
Enhances brand loyalty and reputation
Increases retention
Identifies upsell opportunities
Reduces customer churn rates by prolonging the customer journey
Lowers conversion costs through repeat purchase
Increases overall revenue
How to create an optimal customer engagement model?
To create an optimal customer engagement model, your focus is simple: Make the end-to-end customer journey rewarding! A good customer engagement model is one that optimally meets and exceeds customer needs at different stages of the customer lifecycle.
Start by breaking down the customer lifecycle process. List out the various stages for a closer examination.
List tactics and operational strategies to implement at every stage to create an overall customer engagement model.
Ensure that each operational strategy meets the customer lifecycle process goal.
Check-in with customers and ops team periodically to eliminate redundancies and further streamline workflows.
Let us now examine each step carefully.
Customer engagement during onboarding
During onboarding you can have the following customer engagement goals:
Firstly, create a seamless, stress-free, inexpensive on-boarding.
Secondly, outline clear communication of expectations around billing and subscription modalities
There are operational strategy or tactics that can be used to improve customer engagement during onboarding:
24×7 on-point customer service: across multiple touchpoints (channel/ platform, including phone)
Zero-minimal infrastructural costs
Transparent billing & scalable plan so the customer can upgrade/downgrade services based on need
Customer engagement for ongoing customer interactions
For active customers, you can have the following customer engagement goals:
Streamline customer interactions.
Ensure operational and communication efficiency for both customers as well as for agents
Three operational strategies for achieving this:
Personalize communications
Ensure you meet and exceed customer satisfaction expectations
Leverage system generated reports & analytics to understand operational efficiency (handle times, abandoned calls, productivity metrics, conversion rates, etc.) and measure customer satisfaction for an agile, robust, and iterative ops model
Customer engagement for retention
Based on your customer journey, you can identify which customers are in the retention stage. This could be active customers, customers with declining participation, or customers who have become inactive. Your customer engagement goals here would be to:
Deepen customer relationships by keeping the customer connected with your business
Encourage additional sales through relevant, customized offers
Key operational strategies for achieving this include:
Integrate your CRM capability
Use AI-based capabilities to identify and alert agents on upsell opportunities
Customer engagement for loyalty
In order to address customer loyalty, you would need to focus on the following goals:
Recognize customers as brand advocates (customer referral through word of mouth, social media referrals/shares, etc.)
Create a relationship of exclusivity where customers don't switch to a competitive offering
Key operational strategies for achieving these goals would be:
Deploy AI-powered voice recognition technology and Chatbots for seamless, contextual, frictionless, human-like interaction Exclusive offers & promotions; leverage social media for contests; create a referral program; rewards
Offer exclusive offers and promotions; leverage social media for contests; create referral & reward programs
Example of a good customer engagement model
In a compelling pharmacy case study, highlighted by Mc Kinsey, we see how customer satisfaction takes precedence over product. This study was conducted among 600 immunologists in Europe and the United States revealed that when prescribers are 100% satisfied with their journey for a particular drug and the pharma company's contribution to it, they are more than twice as likely (as those dissatisfied) to prescribe it. This was done by:
Designing / Creating segmented customer personas to meet customer needs and meaningfully address pain points to develop a targeted customer journey.
Testing prototypes to optimize stakeholders' experience (in this case physician and patient).
Delivering an optimal and targeted customer journey (experience and satisfaction) to create brand adherence and loyalty.
The study clearly showed that, firstly, by improving customer experience on end-to-end customer journeys, rather than individual touchpoints, companies find the greatest impact in creating brand loyalty. Secondly, by paying more attention to the customer experience, companies not only increase satisfaction but also boost sales and market share.
Customer engagement model toolkit
Today, the challenge is to meet and exceed customer experience and satisfaction in a proactive, meaningful, and contextual manner. Without this, a customer engagement model is redundant. Also, at any stage of a customer lifecycle, if the customer isn't satisfied, s/he is likely to switch.
Although the customer is at the center, and not technology, a variety of tools can valuably assist in making the overall customer engagement model seamless and streamlined. Thereby rewarding. Here are some examples:
Customer relationship management (CRM) software. Customer needs are complex, immediate, varied, and, multi-channeled. An in-built CRM capability to your business ops dashboard adds tremendous value by reducing the effort/burden on both the company and customer. Overall efficiency and streamlining workflows are vastly improved, as a lot of manual labor is automated:
An Integrated Omnichannel Contact Center Solution. CRM integration built into your contact center will map calls and chats to a single customer. An omnichannel solution will help you unify conversations across various digital and voice channels.
Advanced Contact Center Features: Features like autodialer and scheduled SMS can be used to schedule communication with customers. Use reporting and live monitoring features within your contact center software to manage call queues.
Self-service. Offer self-service. It allows your customer to interact with you on their own terms.
Also Read: Importance of call management
Conclusion
Studies prove that it costs businesses 700 times more to onboard a customer than to retain one. For this, it is essential to align customers across the entire customer journey; breaking down silos that exist between marketing, sales, and support. In order to create successful customer engagement, it is essential to use this data to personalize experiences, identify opportunities, and be there for customers when they're most open to communication from you.
Customers don't care whether you are communicating with them via a call center, a multichannel contact center, or an omnichannel CX hub. What they do care about is results and the quality of their experience.
Today customers use a variety of platforms, services, and channels. Whether it's text, live chat, Facebook, or WhatsApp, they like to reach out to businesses via these same channels that they use for their work and personal life. Plus, they demand easy 24/7 access, personalized, and consistent experience across all these touchpoints.
Businesses are working hard to meet and exceed these customer expectations. In the process of doing this, contact centers often use the terms omnichannel and multichannel interchangeably. However, in reality, an omnichannel and multichannel contact center differ greatly in terms of both operations, as well as customer experience. This article explains how.
Let's get to the nuts and bolts!
An omnichannel and multichannel contact center vary right from their very definition:
An omnichannel contact center solution is one where all support and communication channels are unified in the backend. An agent can quickly access this through an easy-to-use simple dashboard, so she can view all the data required for a contextual and personalized conversation with a customer.
A multichannel contact center solution also allows agents to interact with customers across a plethora of channels: voice, email, web forms, social media, fax, chat, and text. Thereby providing customers the flexibility to choose the channel(s) to engage with a company. Channel interactions, however, work in isolation and are not integrated on the backend.
Comparison between a Multichannel and an Omnichannel Contact Center
While both solutions offer customers a vast choice of touchpoints to engage with a business, they use contrasting technologies that offer different end goals, meet different business challenges, and require differing levels of agent training and infrastructural needs.
Difference in technology
In a multichannel contact center solution environment, each communication channel works in isolation. Customer communications and information are not unified. Agents access customer interaction history by toggling between tabs.
An omnichannel contact center, on the other hand, offers a unified communication solution where channels are unified on the back end. Agents can easily access customer engagement history through a dashboard to have a more personalized, meaningful, and contextual conversation with customers.
To truly deliver on the omnichannel promise, proper integration of an omnichannel contact center solution is critical. Comparatively, it's more evolved and complex. For e.g. there needs to be proper integration of new channels with existing ones; integrating channels with one another, and with existing business and back-office processes.
Difference in agent training
In a multichannel contact center solution, agents receive channel-specific training. They're trained to manage specific channels to meet customer needs that arose through a specific channel.
In an omnichannel contact center environment, agents are trained to triage customer inquiries across channels. They also need to know the technology inside out to truly deliver exceptional service across the customer journey. Agent training needs to be methodical, requires time and effort.
Differences in business challenges
In a multichannel contact center solution, standardized and personalized customer experience across platforms is not uniform or streamlined. Agent and customer effort are required to optimally meet customer needs, especially if customer interactions have been across channels.
In an omnichannel contact center on the other hand, as mentioned earlier, proper implementation is complex and agent training is more evolved and the learning curve steeper.
Differences in business impact & output
Relative to a multichannel contact center solution, an omnichannel contact center is better at managing the overall CMX.
Research1 shows that an omnichannel customer experience predicts a 91% higher year over year increase in customer retention. Since it's unified it also reduces both agent and customer burden. Thereby leading to greater conversions, sales, and overall improved profitability.
Here's a nifty chart that enumerates the key differences between these two solutions:
| | | |
| --- | --- | --- |
| | Multichannel contact center | Omnichannel contact center |
| Multichannel customer engagement | yes | yes |
| Unified customer journey | X | yes |
| Consistent standardized & personalized service across channels | X | yes |
| Streamlined dashboard for easy access to customer engagement history | X | yes |
| Agent training | Specialized channel-specific training for agents. | Agents are trained to triage customer inquiries across channels. |
| Key metrics | Channel-specific performance metrics. Metrics (conversion, etc.) to evaluate the impact by channel. | Overall business performance metrics as well a channel specific impact |
Conclusion
Today, businesses have the freedom to choose between two great yet fundamentally contrasting contact center solutions. To make the optimal choice, businesses should:
Learn everything about both multichannel and omnichannel contact center solutions.
Evaluate which type of contact center solution will optimally meet business goals.
Take a hard look at their service offerings, customer profile, and customer interaction journey to optimally set up systems.
Periodically re-examine how your choice of model is functioning. Identify improvement opportunities and translate gaps in iterative implementation initiatives.
Sources:
Handle service spikes with ease.
The month of November officially kick-starts the holiday season. This year, thanks to the pandemic, people have been reaching out to customer support and online sales more frequently than ever before. Now with Black Friday around the corner, you can expect some serious traffic in and out of your call center.
Here's what you can do to prepare for the rush and keep your teams' spirits high.
Digital is the new black
It's never too late to go omnichannel. With cloud contact center technology you can add on new channels to your phone channel in minutes. By doing this you can divert traffic to your digital channels, making your call center nearly three times more efficient. For instance, an agent can handle around three chats simultaneously in the same amount of time it takes to serve a single customer via calls.
Switching to an omnichannel experience also lets customers choose how, when, and how much they want to engage. It streamlines your agent responses and interactions with customers across platforms on a single dashboard. Your agents can get a unified view of your customer regardless of whether they use the phone, webchat, or your agents to see all information at once without delaying the customer experience.
Also Read: Why you should integrate WhatsApp with your call center
Bots can add a human touch
The more cases your team handles back-to-back, the less efficient (and patient) they become. Did you know that automating even a single query, can make your call center 10-12% more efficient?1
Deflecting mundane L1 queries to a chatbot will give your agents the bandwidth they need to handle calls that truly require their attention. By freeing your agents of repetitive tasks, you can focus on training them to be more humane in their responses, and even dedicate more time per call. In fact, our clients report a 25% improvement in customer satisfaction scores (CSAT) by automating mundane inquiries.
Also Read: How a logistics giant tripled its call handling capacity with self-service
Never miss a call
Every missed call is a missed opportunity! More so, on Black Friday, when convenience and speed drive customer success (and sales!) Using simple measures like automated callbacks and voice mails go a long way in mitigating call queues while ensuring you never miss a customer call.
Also read: How Urban ladder automates its callbacks to ensure they serve every single customer
Keep the team motivated
Seamless customer service is only as successful as the agent providing it. Training your agents on how to deal with potentially negative situations is key. This includes giving clear guidelines on when and how to escalate or to route to another specialized agent.
Empower your agents to take control and maintain it throughout an interaction, in a way that they deem fit.
Also Read: Top 10 reports contact center managers use most
We hear a lot about seamless customer journeys, and this is considered a priority by most companies. This becomes especially important in periods of high activity like Black Friday when customers easily switch from one retailer to another. Convenience is the major factor that drives successful customer journeys this season. Make sure you focus on the same and survive the rush easily. Happy Black Friday!
Note: Do you need to quickly add a digital channel to your call center, or automate support and sales processes? Ozonetel offers an AI-based omnichannel solution that can be set up in less than 24 hours. For a flexible solution that can scale up or scale down as per your call center needs, speak to our solution's expert today.